This past week I was lucky enough to spend 7 days in a suite on the Norwegian Jewel for our yearly family vacation. Over the next several days I am going to be blogging a lot about that vacation, what you can expect if you bring your 2 year old on a cruise boat like we did (including my insane cruise parenting paranoia's), pictures of the ship, the food, and a review of the spa and photography session we did.
I was really worried about cruising with a child Phoenyxs age. If you have been around here a long time, you probably know that we took a cruise with him when he was 5 months old and after going to bed at 6pm with him every night because we were all crammed into the same small room, I swore that we would never have another vacation till he was 2. Well, 2 arrived.
It was not much different, BUT the cruise better in some ways so I'll talk about what eased our vacation with a toddler. I do hope that our experiences can help you plan your next family vacation with a cruise line!
Before I launch into all of that though, I really wanted to share these Watermelon Carving Designs that were in between the food areas on the last night on the ship.
The lighting was really dark in there so I am sorry its not fantastic food photography, but the skill is pretty amazing, right??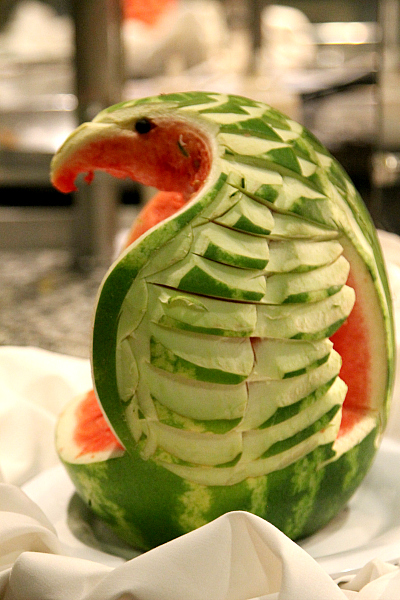 And while I do not typically "undisclose" a post because it should be understood that if a blogger attends a comped or Pr event that they mention that as required by law, I know there are a lot of travel bloggers out right now testing cruise lines and a lot of articles going up. This trip was not part of a media vacation but our personal family vacation, so you will not see disclosures in my reviews.
I hope you stay tuned!
~Trisha