I come from a really patriotic family. With my husband 3rd generation military and much of our family and friends serving, July 4th really brings out the red, white, and blue for me. Now last year I made Firecracker sugar cookies and you all seemed to love them. In fact the internet loved them so much that they went viral. So this year in a tradition of patriotic and holiday baking, I wanted to give you a few things new to try – and to share.
Firecracker "Surprise Inside" Cupcakes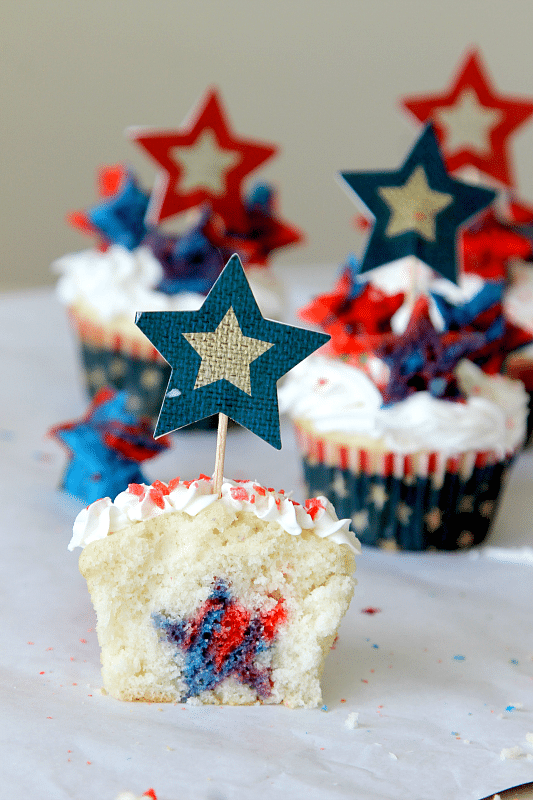 Conceptually these are easy, but because I used cupcakes it tends to be a bit more compact and therefore your "surprise" will need to be a lot more detailed. Here is how I did it.
3 boxes of cake (or your favorite cake recipe if you choose to do this the long way). I used raspberry, pink lemonade and white cake. Other suggestions are all white cake dyed to the colors you need or red velvet in place of the pink lemonade.
pop rocks
icing
small star cookie cutter

First you will need to make up your blue and red cake. As I stated above I used a blue raspberry flavored cake and added a darker blue food dye to make it stand out more and a pink lemonade that I darkened with red food dye. You can buy natural dyes if you prefer or other flavored cakes. Once the two batters were ready, I used spoons to drop in the different colors in a mixed up pattern…think tie dye. Bake this cake according to instructions on box.
While your red and blue cake is baking, make up your white batter. Once your red/blue cake is done, cool completely. Cut your cake in half so its about an inch on each layer and easy to cut a small star cookie cutter into.


Cut out small stars. Your star should be about 1 inch thick depending on the size of your cupcake pan. Add star standing up inside your cupcake. You can stack more than one star back to back if need be. Pour white batter around star taking care that your stars stay standing. Cook according to box. Take out and cool completely.

Once cooled, decorate! I love to use pop rocks around this time of the year because it makes a "firecracker" pop when you eat it! I find that the kids love it. And when you cut your cupcakes open..SURPRISE! Its a star!
Another fun way to decorate your holiday cupcakes are with the new peeps minis! They come in a lot of flavors and Charlotte likes the strawberry ones so I could not resist adding them to our cupcakes too! Walmart loves holidays like I do and has a great "Every Day is a Holiday" promotion going on where your BIG peeps now come in a small sized package (That has big big flavor)! Of course I do not need a holiday to eat peeps…it just gives me an excuse.
By making a "choose your own holiday card" (that seriously took me under 5 seconds), you can enter to win!
What holiday would you make up?
~Trisha
Lunchbox sponsored post, ideas, opinions, and the 5 pounds of cake I ingested while making this, are all mine.