As you already know, I love unicorn crafting. If unicorn poop slime and unicorn poop cupcake cones didn't tip you off. I could not resist at least one more (ok, maybe more coming) Unicorn Poop ideas and this one is just as fun: Unicorn Poop Meringues.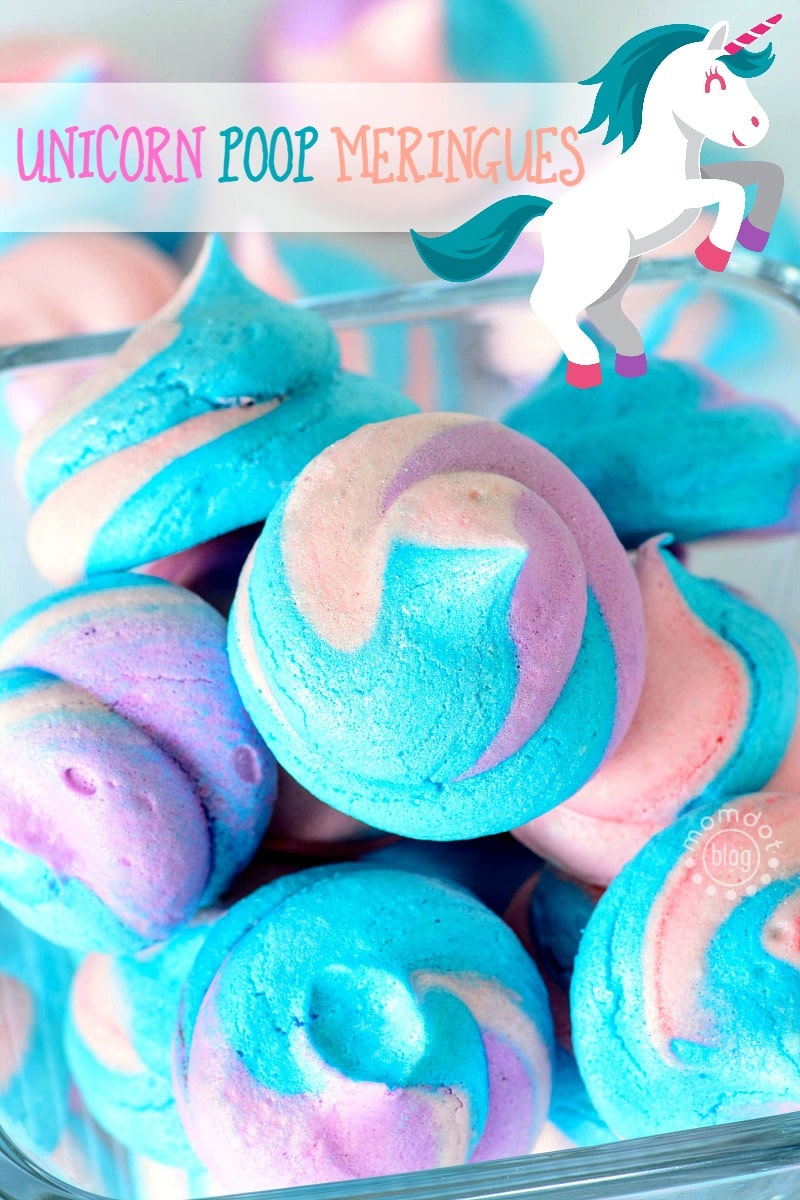 So what IS a Meringue?
According to Wikipedia:
Meringue (/məˈræŋ/,[1]mə-rang; French pronunciation:  [məʁɛ̃ɡ]) is a type of dessert, often associated with French, Swiss, and Italian cuisine, made from whipped egg whites (or aquafaba) and sugar, and occasionally anacid such as lemon, vinegar or cream of tartar.
I would call them little clouds of deliciousness and so much fun to make- and eat. Of course, you can take this swirly beautiful Unicorn Poop Meringue and mix up the colors and flavors to something different to match your party or holiday, but here is a good start (and a good recipe) to pull it off.
---
Unicorn Poop Meringue SUPPLIES
Wilton ColorSwirl 3 Color Coupler, 411-1992
If you are going to get started on these Unicorn Poop Meringues, using this coupler is EVERYTHING. Make sure you pick up this tri-color bag set and coupler, which makes making these swirls super easy. It's really inexpensive on Amazon and will make your entire process much more smooth! You can use these w/ the Unicorn Cupcakes as well!
*Seamlessly swirl 2 or 3 color of icing
*Interlocking coupler pieces for seamless icing swirls
*Decorating Bags and Decorating Tips 1M, 1A, 2C and 4B (sold separately)
* Circles with perforated centers
DO NOT START THIS PROJECT WITHOUT THIS! 
In a hurry to get started? Go HERE to get your Color Swirl Cupcake Frosting Tip Now!
---
Unicorn Poop Meringues
 Easy Meringue Cookie Recipe
Preheat oven to 175
Beat egg whites on high until stiff peaks are formed (about 2 minutes)
Add 1/2 cup powdered sugar and beat for another 5 minutes until glossy and stiff.
Gently fold in remaining powdered sugar and the strawberry extract until well combined.
Separate meringue into 3 bowls
Add a few drops of food coloring to each bowl
Using a 3-Color Coupler fill 3 icing bags with the different color meringue.
Squeeze the meringue onto a cookie sheet lined with parchment paper.
Bake at 175 for 2 hours.
When finished, let cool for 10 minutes before serving.