St. Patrick's Day is just plain ol' fun, don't you think? Rainbows, pots of gold, four leaf clovers, and leprechauns! It's just fun and magical!
Did you know that leprechauns were originally depicted as wearing red, not green? It's just hard to imagine, isn't it? Like Santa Claus wearing blue or a Jack o' lantern being purple!
But have no fear, while I do believe this craft is cute and creative I have no plans of being so creative that I end up giving you directions for something red for St. Patrick's Day!
Instead, I want you to grab just a few materials and whip up these fun little green Leprechaun Hats with your kids. The activity is quick, fun, and practically mess free.
Applesauce Leprechaun Hats
First, grab your materials:
6 Motts PEAR sauce cups $2.00
Black Foam $.17
Yellow Foam $.07
Total $2.24
Each Cup $.37
Second, cut the black foam sheet portrait style, you will be able to get 6 strips, each 1/2 inch, for the band.  It will fit PERFECTLY around the base of the cup.
Third, cut the yellow foam sheet also at 1/2 inch, and then rotate and cut 1/2 inch square for the buckle.
Fourth, cut the black sheet at 1/4 inch, and then 1/4 inch the other way to create a square for the inside of the buckle.
Here's what you should end up with:
Next, it's time to start assembling. As a quick side note, I'll be referring to applesauce cups but you'll actually want to purchase PEAR-sauce in order to get the green color for the leprechaun hats.
Wrap the long piece of black foam around the applesauce cup and secure with hot glue.
Helpful hint: You'll want to turn the cup upside down, so the top becomes the base. The black foam should fit perfectly around the base!
Then, add the yellow square onto the front of the black strip using just a small dot of glue.
Use just a dot of glue to secure the black square to the yellow square.
And that's all there is to it! Repeat with the other applesauce cups.
You've now got a quick, cheap, darling group of leprechaun hats to help you and your friends and family celebrate St. Patrick's Day!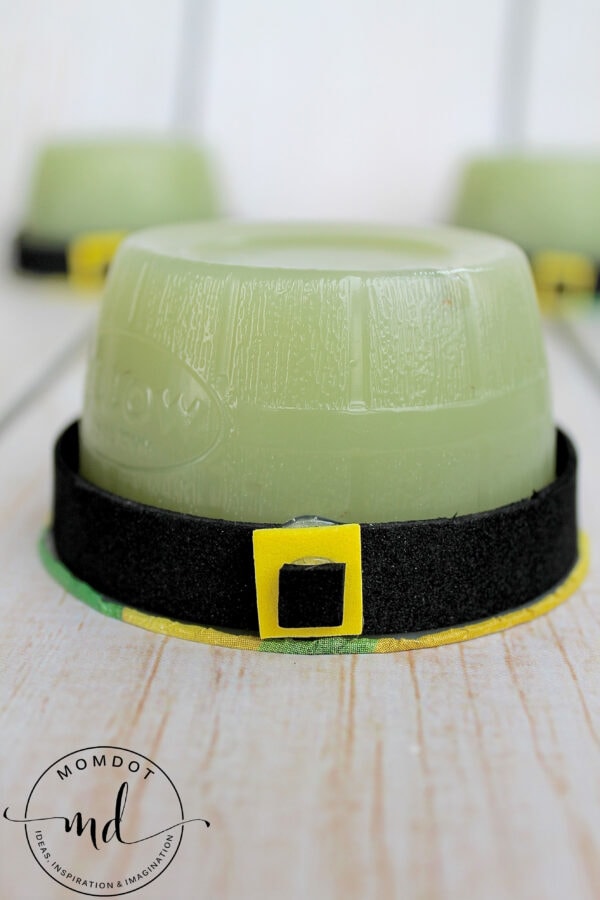 So as soon as you're done creating these cute Leprechaun hat cups let us know in the comments what you used them for or tag us in your social media posts, we love to see what you make!
~Kimberly