Caprese salad is one of my very favorite things to eat. I could throw tomato, cheese, and basil on anything at all and be happy for the entire week. If that describes you and you are looking for a fantastic, quick, and pretty meal to serve tonight, try Baked Pesto Caprese Chicken.
You don't need anything heavy or fried to enjoy dinner tonight and with just a few ingredients, this meal is  21 Day Fix Friendly, Keto Friendly, and a perfect clean diet eating that you do not have to have any guilt over.
Baked Pesto Caprese Chicken
Boneless Skinless Chicken Breasts
Fresh Basil
Pesto
Fresh Mozzarella
Sliced Tomatoes
---
Kitchen Gizmo 2 Sided TPU Anti-Bacterial Cutting Board, Thick Yet Flexible, Knife Friendly, Scratch Resistant, Non-Slip, Juice Groove, Dishwasher Safe, Antimicrobial and FDA Approved (Red/Black)
PRO TIP: Every time I am working with raw chicken, I honestly get grossed out. We all know how sick it can make someone to be exposed to what itleaves behind. I love these Kitchen Gizmos– its a cutting board that takes away the worry! Standard cutting boards get scratches which become a breeding ground for bacteria. This cutting board is extremely scratch-resistant, preventing any bacteria from building up, has two sides, and a juice catcher so your defrosted chicken doesn't leak to the counter.
*You can get rid of a whopping 54% of bacteria just by washing it with cold water.
*To sterilize up to 99.6% just pour boiling water over the board.
*Big working surface 15″x11.75″
*Heat-resistant of up to 300° Fahrenheit
*FDA Approved, BPA free, Dishwasher Safe
Looking for a clean eating, delicious and flavorful dinner that is friendly to nearly every lifestyle diet out there? Try Baked Pesto & Caprese Chicken, a hearty meal with perfectly baked chicken, fresh basil, a slice of tomato (optional) and some melty mozzarella.
How to bake:
Pile on your pesto, fresh basil, tomato and top with cheese.
You need to bake till internal temperature reaches 165 degrees.
Depending on your oven and cut of chicken, that could be 450 at 20 minutes or 400 degrees at 25 minutes.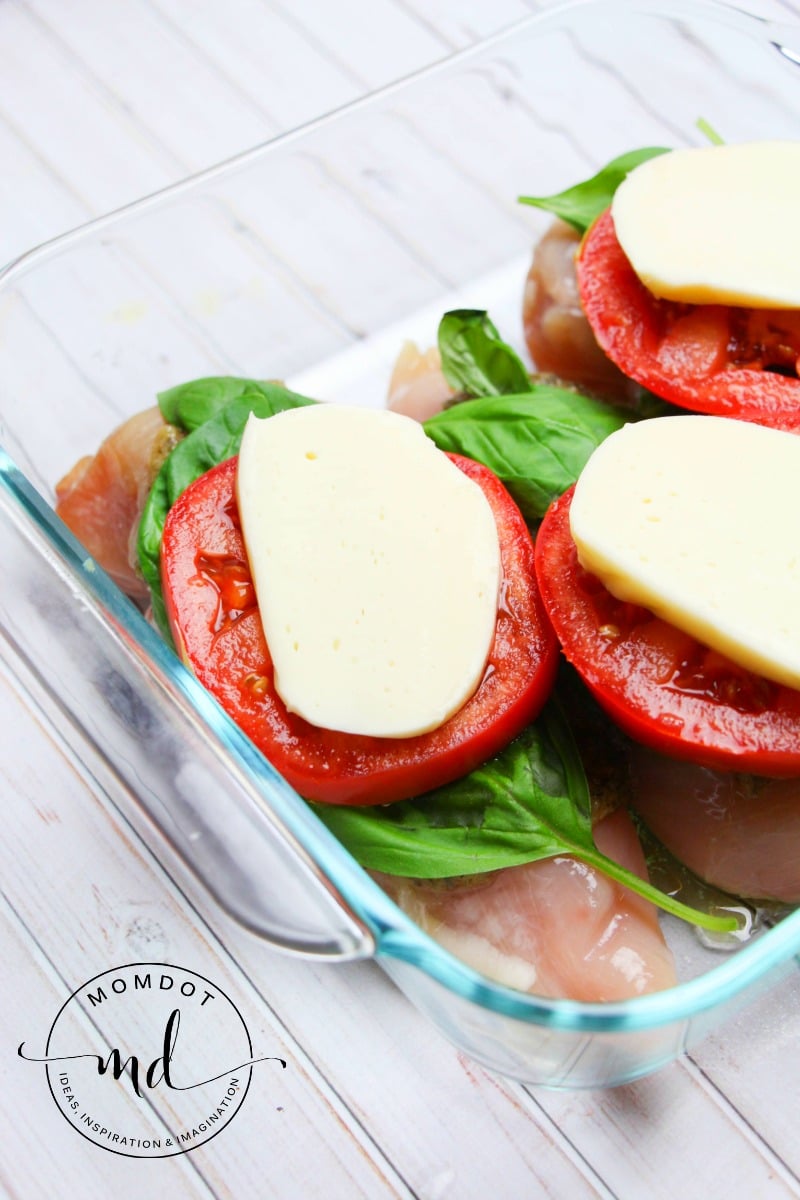 Please check every 15 minutes to make sure you do not overcook.
 Some cook at lower temperatures like 350 for 40 minutes, but caution that you could end up with dry chicken if not checked properly.
Looking for more ways to eat well with no guilt?
Try one of these 21 Recipes that will be sure to make you excited to get into the kitchen!
Looking for another family favorite? This is the most talked about and easiest chicken recipe I have here on MomDot! 2 ingredients and DONE.