Captain Underpants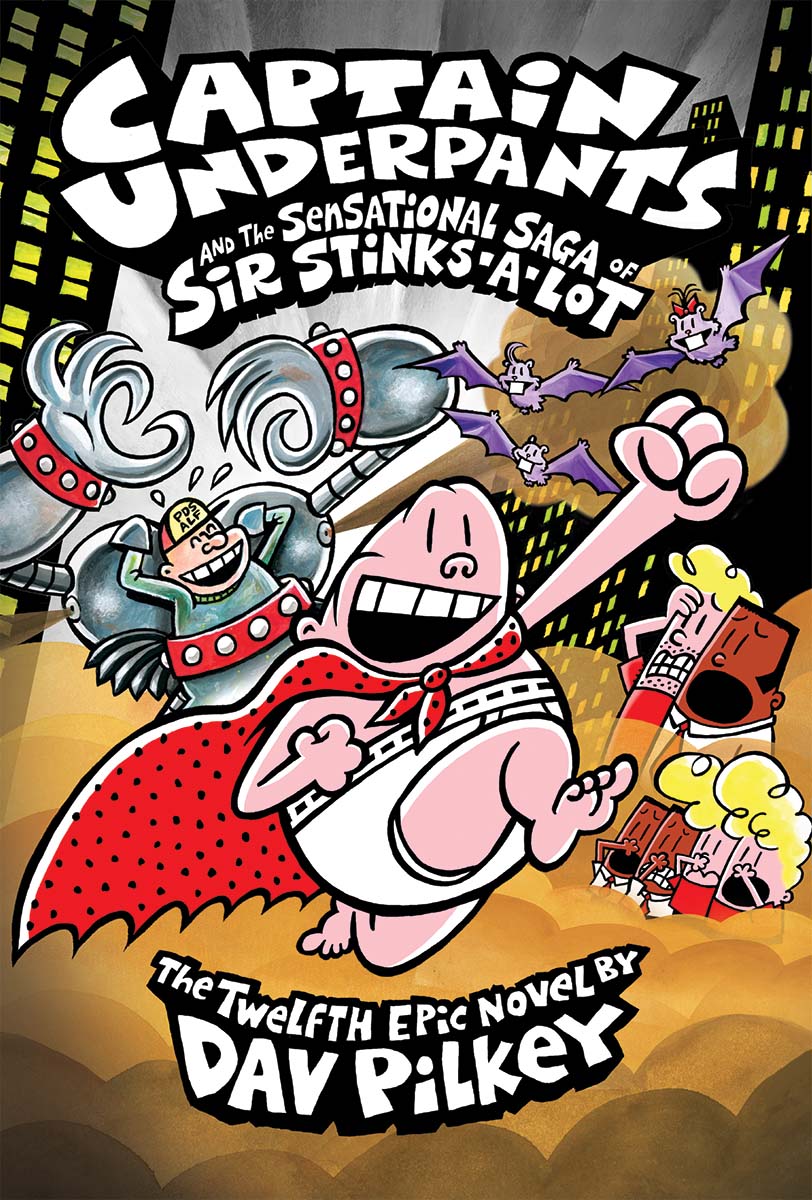 Sponsored by Scholastic
Chances are you have heard of the massive world domination of Captain Underpants, a childrens novel series that includes 12 books and 3 spin-offs. If you haven't, the book, authored by Dav Pilkey, is a favorite of kids everywhere and I mean EVERYWHERE! With silly commentary, bright comic book imagery, and a sometimes "potty mouth" writing style, your kids will not even realize they are reading while they are reading.
And sometimes, that is just the key to getting kids interested in books.
In fact, having books that kids can fall into and even look forward to the next one (as is this case with a series) is like dreaming the impossible dream. Well, dream no more, parents, dream no more! I am here to announce, especially if you have not seen it yet, Captain Underpants newest installment titled CAPTAIN UNDERPANTS AND THE SENSATIONAL SAGA OF SIR STINKS-A-LOT . This brand new book is now available for purchase in all its entertaining glory and is ready to drop your kids into a delightful and fun story time read, which will keep them giggling and asking for more.
 About CAPTAIN UNDERPANTS AND THE SENSATIONAL SAGA OF SIR STINKS-A-LOT
There's something rotten in the state of Ohio, and it's smellier than a pile of putrid gym socks! Steer clear–it's Sir Stinks-A-Lot! George, Harold, and their doubles, Yesterday George and Yesterday Harold, have a good thing going. Two of them go to school, while the other two hide in the tree house and play video games all day–then they switch! But when their malicious gym teacher, Mr. Meaner, creates a method of mind control that turns their fellow students into attentive, obedient,perfect children, the future of all humanity will be in their hands!
 Reading gives you Super Powers!
(My bookshelf~!)
As a massive reader, I encourage spreading the love of books to everyone around you. That is why, this year during the upcoming Halloween holiday, I am going to be handing out Captain Underpants DIY Suckers! This easy to do DIY will be a fun addition to a Halloween bag and you can encourage the love of reading subtly by adding these to your bowl-o-goodies!
Free

Captain Underpants Cape and Underwear

template
I created a fun template that you can use to dress up your Halloween suckers! You can either use a Silhouette
to do the perfect cuts, then affix on suckers by punching the stick through card stock or paper foam. You can print and create a card  and attach a sucker to it separately. You can use with or without the underwear, but I created both for fun. Because sucker sticks are so much smaller than underwear would be, I found it makes the most sense to stick the underwear directly on the cape.
Tip: Make sure your cape is double sided in color to make the nicest cape!
You can print my free Captain Underpants PDF printable:
Best friends George Beard and Harold Hutchins are the unofficial class clowns of fourth grade. There's nothing they love more than making comic books about a silly superhero named Captain Underpants. But now they've accidentally transformed their mean school principal, Mr. Krupp, into Captain Underpants himself! Join George, Harold, and the Waistband Warrior as they fight for Truth, Justice, and all that is Pre-Shrunk and Cottony – and save the world, too!
About the Captain Underpants movie
Have a huge captain Underpants fan in your home? Better get them reading the rest of the series as you can expect the movie in 2017!
 About the Author
When Dav Pilkey was a kid, he suffered from ADHD, dyslexia, and behavioral problems. Dav was so disruptive in class that his teachers made him sit out in the hall every day. Luckily, Dav loved to draw and make up stories, so he spent his time in the hallway creating his own original comic books. In the second grade, Dav Pilkey created a comic book about a superhero named Captain Underpants. His teacher ripped it up and told him he couldn't spend the rest of his life making silly books. Fortunately, Dav was not a very good listener. Dav continues to create books in the Pacific Northwest where he lives with his wife. Visit him online at www.pilkey.com.
Keep up with Everything Captain Underpants
Visit Dav Pilkey at www.pilkey.com
Check out scholastic.com/captainunderpants
#PilkeyPower