We love slime. We love mardi gras. So this weekend we combined two of our favorite things: Slime and Mardi Gras. Honestly, I just wanted to encourage you to get into the middle of some crazy, messy, fun play. Because if you know anything about Mardi Gras, it's a pretty good analogy.
Now in the past we have done some different slime posts. Go here for the full list of Slime Recipes. Depending on the type of glue you use really creates the type of consistency of slime you get. In those other articles you are going to get a far different consistency than we got here. Using white glue
is the best really- but in this case, to get this really ridiculously sticky slime that causes you to have to wash your hands after- we used a mixture of glitter glue and clear glue.
---
SLIME BOOK AVAILABLE!!
Love the Slime Recipes on MomDot? Our first book has been published and you can pick up a copy right on Amazon for yourself or to gift to a slime fan in your house! It features not only some fun basic slime recipes and how to get started on creating your own, but also some ways to use slime for holidays and gifts! Check out the book here! 
---
Messy Play
I'm a big fan of messy play. I keep a (relatively clean house) but when it comes to keeping the kids busy, I'm happy to pull out the flour, cornstarch, shaving cream, and of course glue. As long as we clean up afterwards, I really have about no complaints. This weekend I sat down with Charlotte and we tested different glues and consistency's to find out what we enjoyed the most that wasn't white glue.
Mardi Gras Slime Recipe
Here is the slime recipe we used to come up with this consistency – remember, we only made a LITTLE Bit of slime, you will need to double your glue if you want a lot to play with~!
Mix glue together in one cup with 1 tablespoon of water.
Add any food coloring, paint, additives.
Now add your liquid starch, the slime will form immediately. Stir for about 15 seconds, then take out and start kneading.
Now- this is where you pay attention. If the slime is too sticky, dip back into a little starch and keep kneading. You will need about 2-3 minutes before the slime starts to take hold. It will stop sticking to your fingers when its ready.
Why Slime without Borax
Purex Sta-Flo Liquid Starch, 64 Ounce
PRO TIP: Many people do not like to deal with borax and water when making slime. You can also make slime by using LIQUID STARCH and glue. It's a ton easier. Just mix about 1tsp in 4 oz of glue and add starch little by little until you get the slime consistency you want. Once it's set, then separate the white slime and dye the colors you want in solo cups.
It can be pretty hard to find liquid starch, so pick this one up here (it's the one I use) as well as a huge thing of glue so you can make tons of slime for all occasions. Buying this way is a lot more cost effective and once you start making slime, you will def want to have glue on hand!
&
Purex Sta-Flo Liquid Starch, 64 Ounce
Elmer's School Glue, Washable, 1 Gallon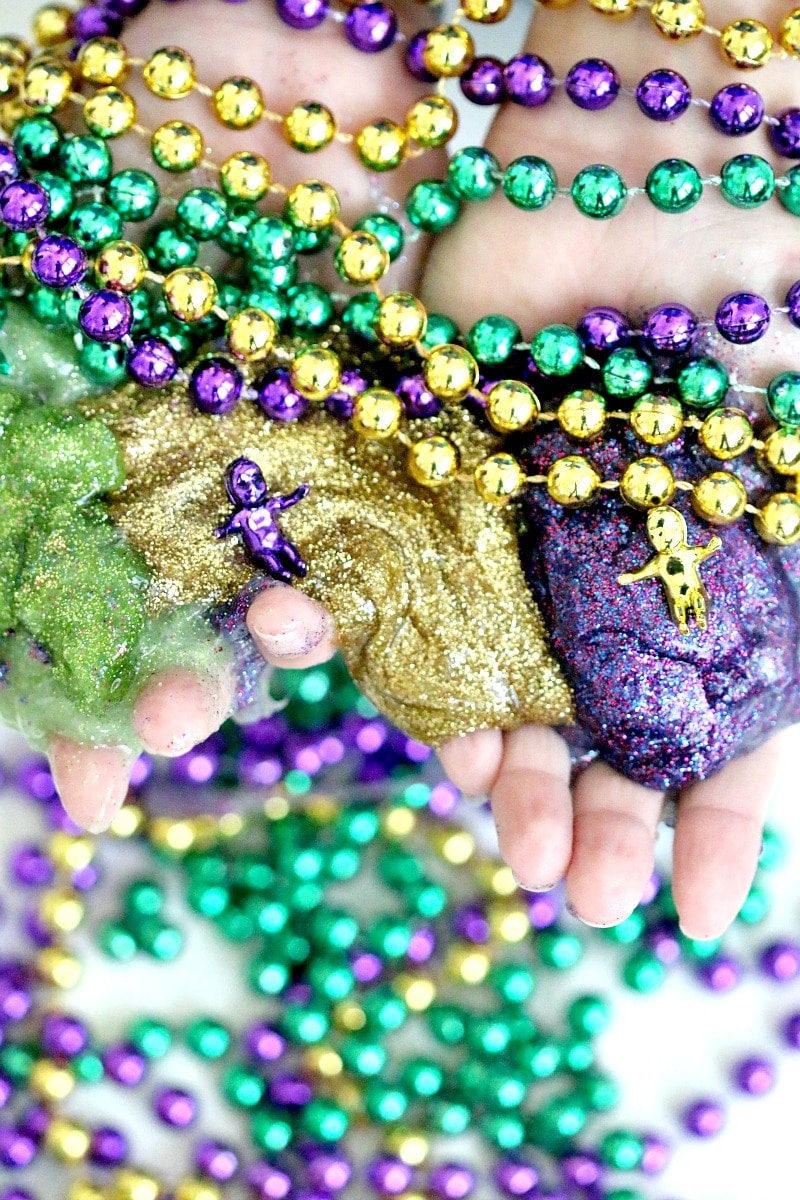 Now two things – First click here to PIN this Mardi Gras Slime. In fact, head here to follow my messy play Pinterest board, where I pin my favorite slimes, playdoughs, and goopy recipes.
Second, if you love Mardi Gras, I wanted to encourage you to check out this brand new Calming Jar we made this week (i know, calming and mardi gras??) that will help your kids unwind and have some quiet time. Just click the image below to see how easy it is!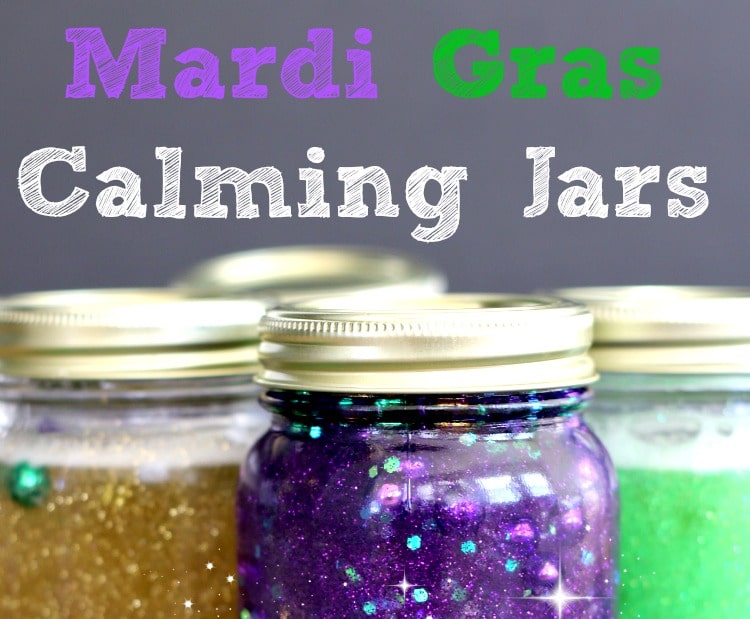 ---
Learn how to make slime here! I made this super short video to show you how to make slime and see some of the stages! Check it out~
---
How to make Slime Video
want to see how slime is made? This short video will give you the skinny on making slime with glue and starch and how unbelievably easy it is! I hope this inspires you to get your slime made!
Having Trouble Making slime?
This video is a longer video that shows you how slime comes together. Many people believe that slime is instant but it can take some time to mix up and kneed. This video will help you understand what you are doing wrong- OR right!
How to make Bubbles with Slime Video
Making bubbles is SO much fun with slime! Learn how to make bubbles alone or with a friend. Who can make the biggest bubble?
Kinetic Slime
We experimented with creating a kinetic slime that sticks together. Come see how we did it!