Making slime is so easy and here on momdot, you can learn how to make all kinds of slime! This Super Massive Fluffy Slime is the perfect recipe to make Easy Fluffy Slime. Whether creating as a fun science experiment or to squish through your fingers and toes, making slime is a lesson on creativity, colors, and texture. This basic recipe can be used to enjoy all kinds of slime ideas,but I also have a lot of basic slime recipes here if you want to look through for inspiration.
Ready to get started making easy fluffy slime? Let's go!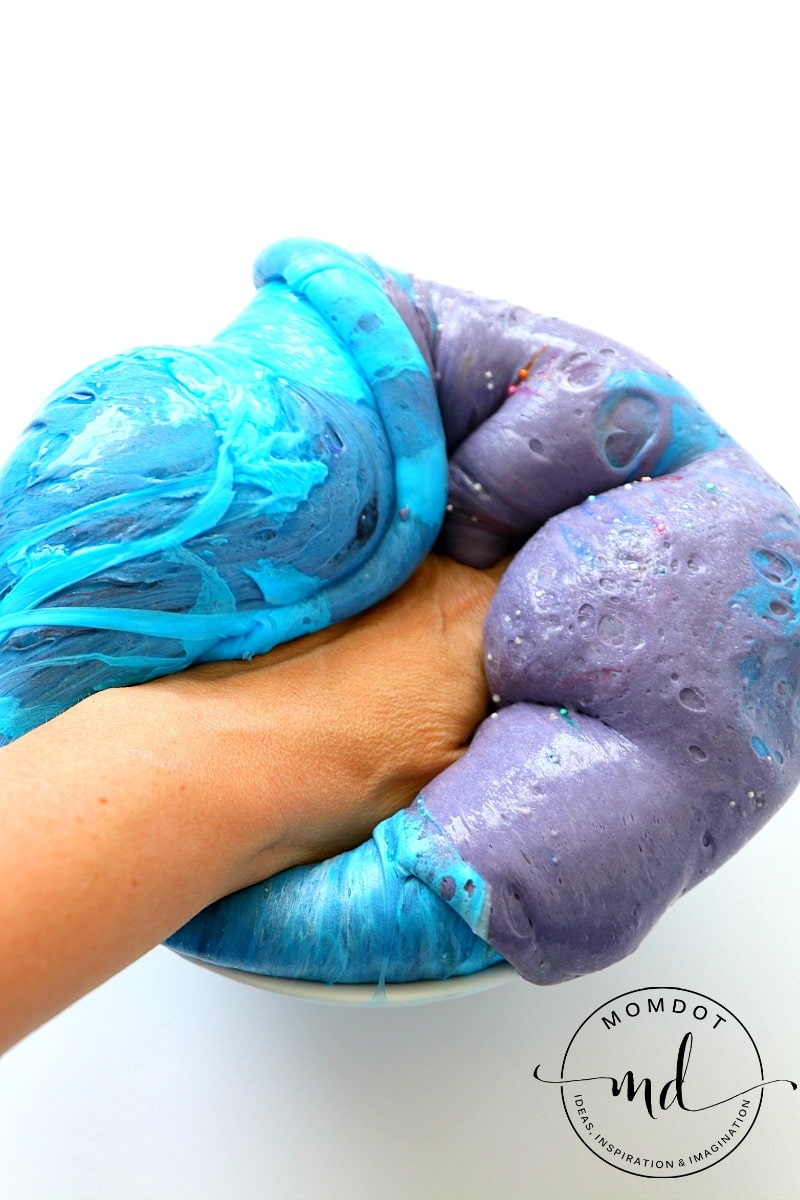 ---
SLIME BOOK AVAILABLE!!
Love the Slime Recipes on MomDot? Our first book has been published and you can pick up a copy right on Amazon for yourself or to gift to a slime fan in your house! It features not only some fun basic slime recipes and how to get started on creating your own, but also some ways to use slime for holidays and gifts! Check out the book here! 
---
Supplies are paramount! Being prepared is a must before any project as getting half way in between and realize you are missing something is un-fun. I also recommend these supplies because its what I do to create such pretty slime, so I wouldn't say use any substitutes for this unless you are really experienced. Personally,  I buy all my supplies on Amazon for a few reasons. One, finding this stuff, while not uncommon materials, can be super hard. Glue
is in a shortage everywhere due to kids making slime!
Liquid starch
is also not at every store. I also have done some experiments and the colorant I listed below is hands down the best for projects where you want some color pop.
You still need the traditional slime ingredients. For us, that is a Gallon of Elmer's Glue
, Liquid Starch
, a colorant if you want it to have color (I prefer Wilton's Food Coloring
) and for this, the additive that makes fluffy slime work, extra moisturizing shaving cream
. Here is a list of items you will need for your fluffy slime recipe. This fluffy slime is made with liquid starch. I have found that its EASY to reproduce whereas slime with borax as the thickening agent can go badly quickly and leave you with a hard rock of slime. Do not wonder what went wrong- just use liquid starch and learn how to make slime without borax.
Elmer's School Glue, Washable, 1 Gallon
Purex Sta-Flo Liquid Starch, 64 Ounce
Wilton Color Right Performance Color System, 601-6200
---
Easy Fluffy Slime
Fluffy slime is actually (in my opinion) the easiest slime you can make. When you add shaving cream
, it puts an extra piece to the recipe that makes it nearly no fail and less sticky. Its still super stretchy, which is awesome, but also less sticky so more parents can get it right the first time.
Spray in about 1 cup of white foamed shaving cream
and mix the glue
and shaving cream together.
Want color? Now add your Wilton food coloring
! It's really bright and a little goes a long way. I use a lot of different brands and this is the only one that ends up giving me a good result . I stopped buying the ones from baking aisles. I made batches of blue, purple, pink and white.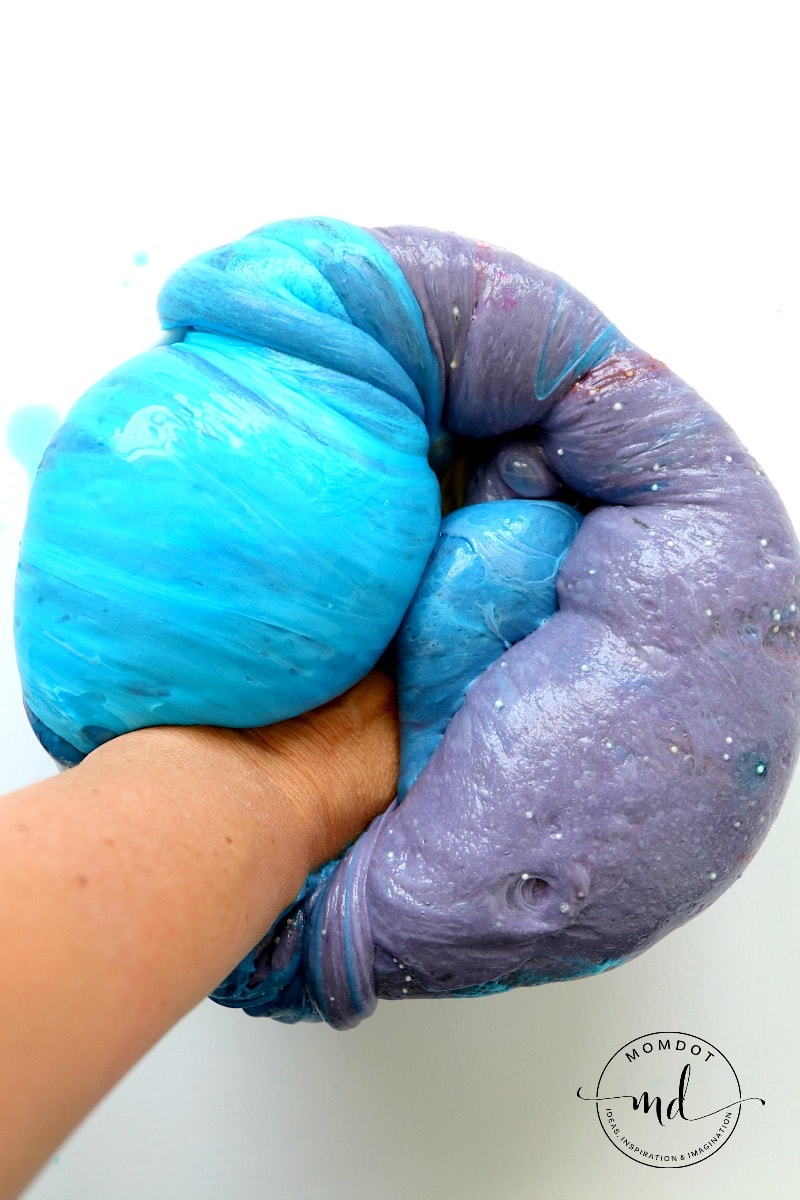 Once your slime is colored, its time to add the liquid starch
. Spray starch is not the same thing, please use liquid. Pour in approx 2-3 tablespoons full of starch and stir. The glue will start to form immediately.Now you can pick up with your hands and start passing back and forth and kneading. The slime will be sticky to start. As it mixes with starch it will un-stick from your hands. If you need to see this, please go to the videos below to help you.
Here is the tip: If the slime is sticking to your fingers, it doesn't have enough starch. Either dip your slime back into the bowl and mix more starch (if there is some left in there) or pour a little bit more into the glue mixture little by little till it starts unsticking. The entire process can take about 5 minutes. Its easier to add more starch than add more glue, so its better to start with less starch and add. The reason there are no hard measurements is because most people make varying sizes of slime batches, so you will need to find the exact ratio.
Once you have all of your slime, combine in a deep bowl and play!
Stages of Slime
So many people message me and ask me how I get slime so perfect…..well, it goes through stages and some people quit before they get to the slimy stage! I did a video showing you what you can expect when you create your slime. It's a lot easier than you think. Yes, there are two ads in this video near the beginning, which help pay for all this slime recipes and ideas that are provided here and we appreciate your support in keeping those costs down. I think you will like this video and it will help get you less frustrated in creating slime and figuring out the direction you are going. Please note this video is specifically about using WHITE glue. Clear glues and glitter glues are a different consistency.
See how slime is made in this helpful quick video
If you are still having trouble, talk to me and see some of the stages! Check it out~