Mermaid fluffy slime is an easy slime recipe with liquid starch and no borax. With a gorgeous array of mermaid colors like sea green, purple, and soft pinks, it comes alive with gold glitter slime added in. Find out how to make mermaid fluffy slime by scrolling below !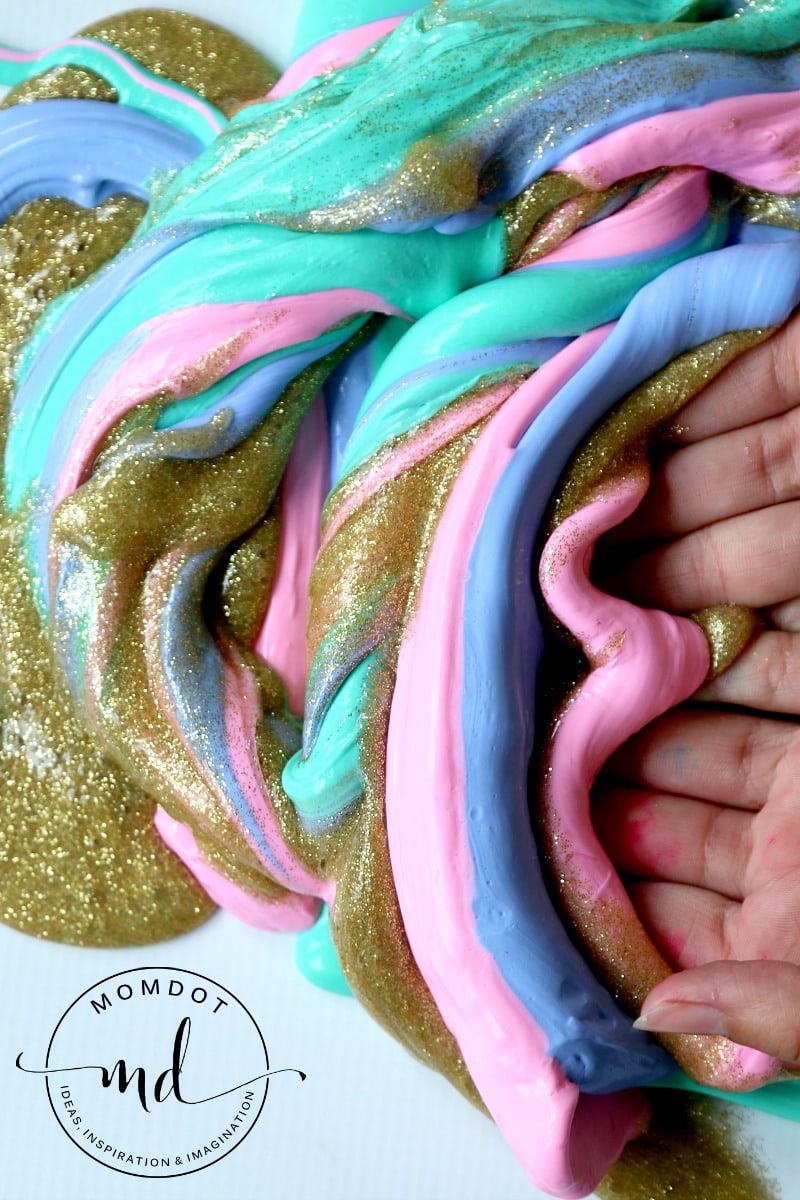 ---
SLIME BOOK AVAILABLE!!
Love the Slime Recipes on MomDot? Our first book has been published and you can pick up a copy right on Amazon for yourself or to gift to a slime fan in your house! It features not only some fun basic slime recipes and how to get started on creating your own, but also some ways to use slime for holidays and gifts! Check out the book here! 
---
Tips for Homemade Mermaid Slime:
This homemade mermaid slime is in two parts.
You will need both white glue
AND clear glue
.
The white glues are for the colored portion of this slime and the clear for the glitter.
If you use glitter in white glue, it will get lost unless you simply sprinkle it on already completed slime. If you actually want to see the glitter, you will need a secondary clear glue for your batch.
Mermaid Fluffy Slime Supplies
Glitter Slime Needs:
Mermaid colors need: 
Mermaid Fluffy Slime Easy Recipe with Liquid Starch
NOTE BEFORE WE GET STARTED ON MAKING SLIME:  Slime is a science project. Learning how to make slime is absolutely fun, but its also messy and requires patience. Additionally, in some rare cases, people can be sensitive to the products it takes to make slime so if you find that you have sensitive skin, I advise that you use gloves before playing. Last but not least, please make sure children are supervised and these projects are not meant for children that are of an age that put items in their mouths. Slime cannot be eaten.
You will first need to make all your colors in separate bowls.
For the four listed here, you need four bowls and four spoons available.
Gold Glitter Slime DIY: To make the gold glitter slime for your mermaid fluffy slime, you will need to do the same thing you always do when you make slime recipes– mix your glue
and your starch
. If you are used to making slime in general, this is pretty easy for you but when it comes to clear glue, it typically needs double the amount of starch to cling together. Clear glue is VERY STICKY!!  I am not giving exact measurements because it mostly depends on how much slime you want to make.
That being said, we typically pour in about a cup of glue, then add your glitter (if you add any colors, in this case we didn't but in other slimes like the Unicorn Poop Clear Slime Recipe we did), and then up to 1 cup of starch when it comes to clear glue.
 I would highly recommend adding only about 1/4th cup at a time till your slime stops being sticky. When working with clear slime, patience is your friend. The more you play, the better it gets.  You will know that its the perfect amount when you can peel it off your hands.
Mix with a spoon until it starts to form, then pull out and knead. This type of slime is very fast flowing so it will take some time to make sure you get the right consistency. Put to the side.
Pink, Purple, and Sea Green DIY Slime Recipe 
To get going on the rest of your slime, you need to start with glue. Pour approx 2 cups of white glue
into a bowl. You do not need to measure this…just wing it. As much glue as you pour is about as much slime as you will get returned. If you want a lot of slime like in this recipe and multiple colors, I suggest you make a few small batches and then combine versus over pouring. This prevents mixing issues and colors being combined too soon.
Spray in about 1 cup of white foamed shaving cream
 (you can do 2 if you really want but if you over shaving cream and under glue, the slime will harden up) and mix the glue
and shaving cream together. If you are interested in making more slime like this, check out our fluffy slime tutorial here.
Add a few drops of your coloring and stir. Make sure you have the right colors before moving onto starch. Once your slime is colored, its time to add the liquid starch. Spray starch is not the same thing, please use liquid
. Pour in approx 2-3 tablespoons full of starch and stir. The glue will start to form immediately. Stir for a few minutes to get it all mixed up and then take out the goop and begin kneading between your hands, passing back and forth.
Love this homemade slime recipe and ready to see more?
Do not leave before you check out Crunchy Slime and all the other amazing and unique slime recipes here on MomDot. You wont be disappointed!
See how slime is made in this helpful quick video
If you are still having trouble, talk to me and see some of the stages! Check it out~