I have partnered with Wet Ones® Hand Wipes to GET MESSY.
The deeper into fall we get, the messier the art crafts and cooking get around here. There is something about October that gives my household permission to get ultra gooey, sticky, paint filled, and glittery and Drip Painting Pumpkins is no exception. In fact, its probably one of the messiest, and fun, crafts we do all season. In the past, I have brought you other no-carve ideas like Marbleized pumpkins and simple finger paints for the kids, but this year we wanted our pumpkins to stand out and be a ton of fun while we get our craft on.
And the results? Gorgeous.

Before we get started, I must warn you that this is a messy craft. No matter how much preparation you do, paint is gonna get on your fingers and your children's fingers. I am the kind of mom that is like BRING ON THE MESS, but I am also realistic. You need to have a quick way to clean yourself up in between your painting without having to risk touching the walls, cabinets, or door handles.  Thankfully, this Messy Moment craft is sponsored by Wet Ones® hand wipes, who made it super easy for us to prevent accidental paint on our clothes or floors every time we finished a pumpkin.  Wet Ones® Antibacterial Hand Wipes are the convenient 2-in-1 way to wipe out dirt and messes and kill 99.99% of germs when soap and water aren't readily available.
 And when you are doing crafts, it most definitely isn't.
Pumpkins Drip Painting Tutorial
To get started with this pumpkin drip painting tutorial, you will need a few things
Milk Paint: Before anyone emails me and asks if you can use other paints, I am not sure, but you can try acrylic paint. Milk paint provides really nice thick coverage, blends well, and dries quickly. It doesn't smell that great, but it works fantastically. I highly suggest using it for the color results, drip effect, and designs you see below. It's available at craft stores.
White Pumpkins of all shapes and sizes
Wet Ones® hand wipes – Trust me on this one- this is a messy craft
Poster board, card stock, paper plates, or newspapers to put your pumpkin on and contain the mess
Kids: Kids love, love, love this, so please include them. This is a no-carve idea that is a blast. My kids adored creating their pumpkin and watching the dripping paint, and because it doesn't include a knife, it's parent's hands-off too!
This is the milk paint we use. Its much easier to just buy it on amazon for all your drip painting projects and drip art.
FolkArt Milk Paint Bonding Primer and Sealer
FolkArt Milk Paint in Assorted Colors (6.8
FolkArt Milk Paint Finishing Oil (3.7 Ounce),
Instructions:  
There are a LOT Of ways you can pour your paint and you will easily get enamored with the way the paint falls. My kids and I are going to demonstrate a few ways we poured to create different looks for your pumpkins. To start off, we had intended to create a sort of rainbow. On one pumpkin, we laid it down and poured the paint in stripes, starting from the bottom up. On the other pumpkin, Charlotte had her mini pumpkin sit straight up and poured paint around it so it dripped down. Because that mini pumpkin had natural curves in it, the paint got caught up down the indention's and made a really amazing look. Because milk paint flows, if you set your laid down pumpkin up for a few minutes or turn upside down, it will start to drip slowly down the pumpkin. You can easily control the pattern by moving it around and then laying it back down to dry when you want it to stop. 
You can see the results from both of them here: 
(This is what the pumpkin looks like when dried)
Pumpkin #2
Charlotte's pumpkin she poured the paint around it in circles, alternating colors.
(This is the pumpkin mostly dried- below)
Pumpkin #3
We liked how the side pumpkin looked, so decided to do another orange and black one.  After we poured the milk paint, we would swirl it around a little bit so the colors could drip all over. Afterwards we sat it on a jar to dry. If you have a design you don't want it to move from, it may be better to lay down as once you sit it on a jar, depending how dry or thick your paint is, it will go the direction of gravity a bit.
Clean up time! 
We went through a few packs of our Wet Ones® wipes but they were SO HELPFUL to have on hand! You can pick these up at any major store in a several pack sizes, but I recommend the BIG size for all season long. If you do a lot of crafts or cooking, they work in a pinch to keep the mess transfer off the walls. 
Want to see what this pumpkin looked like once dry (and a few more other styles), head below to see all!
This post is sponsored by Single Edition Media on behalf of Wet Ones®. I have received product or an incentive from the brand.
This pumpkin below is the dried version of Pumpkin #3!
Pumpkin #4
We actually really loved the flow of this type of pumpkin (see the rainbow version on page #1). The little grooves in the sides makes a fun wall for the paint slide down, so we did another.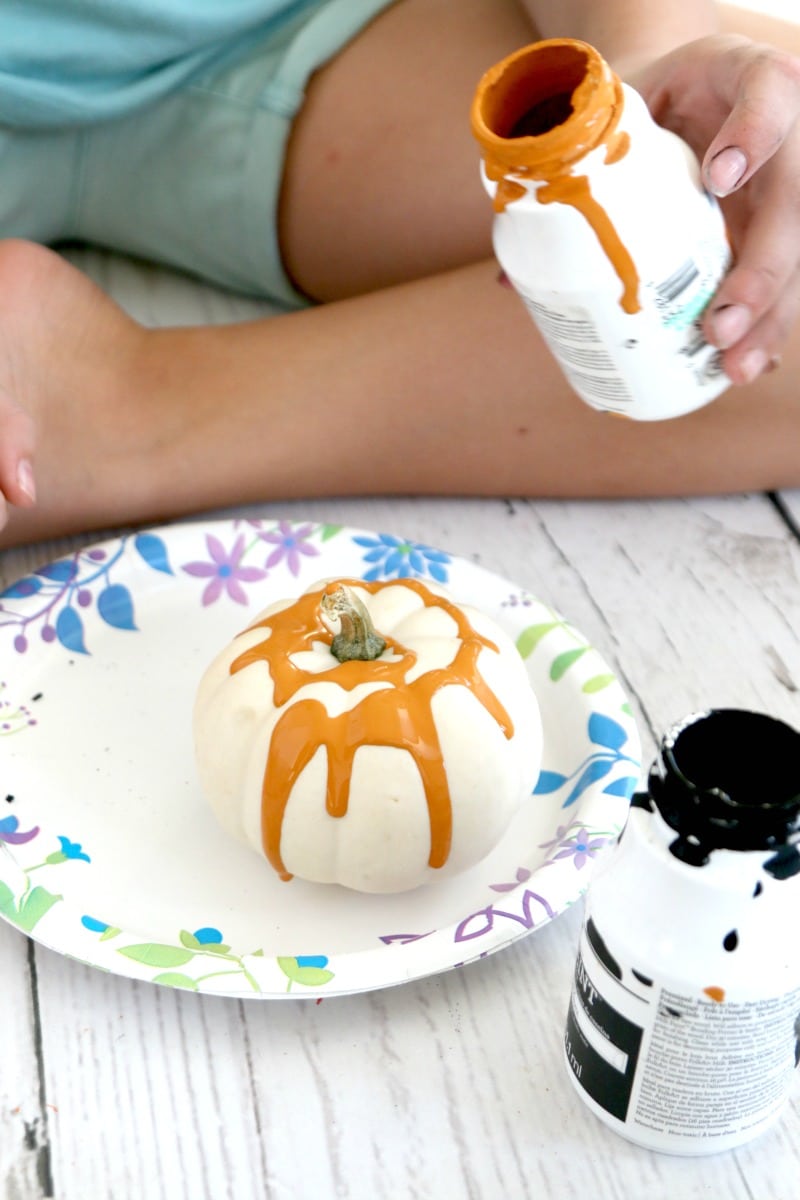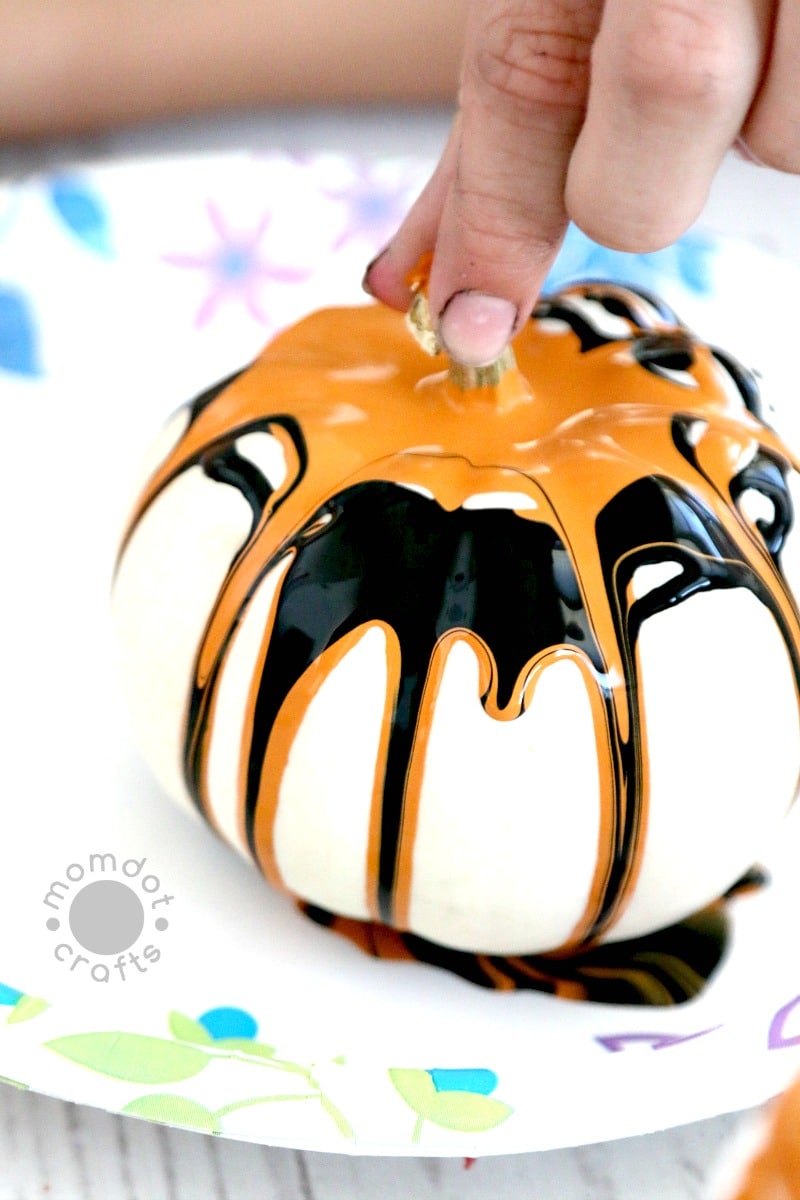 Pumpkin #5
This one we did just by pouring the paint in stripes. Its simple and a good way to do it for the youngest child of your bunch.
(Pumpkin Dry Below)

Pumpkin Drip Painting Fail
Not every craft project is perfect!
This pumpkin we did upside down! We wanted to try to go for the drip jar idea we did here, but it proved far more messy since you have to hold your pumpkin. Truthfully, the kids loved it. The more mess, the better when it comes to them. The only downside is when you do a pumpkin this way and flip it back over, it just turned muddy. We ended up rinsing this one off and starting over. If you want to do this technique, in hindsight, sit on top of a mason jar (which is sitting on a paper plate) and then do it.
Let dry completely before removing.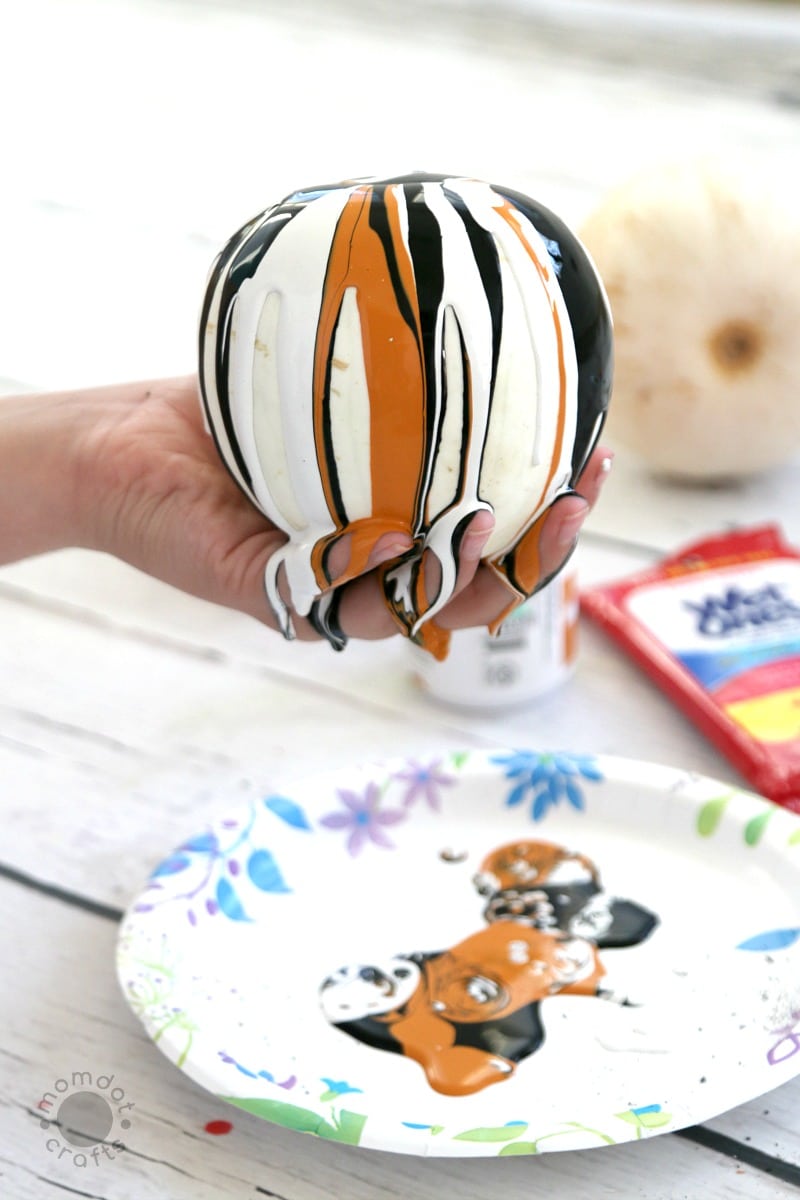 And with all those pumpkin crafts and jars of paint, we were glad to have the Wet Ones® wipes on hand! After using a few packs it was nice to see my floors and our pants, didn't bear the brunt of any paint stains. Wet Ones® Hand Wipes are available at mass, drug and grocery stores nationwide and come in three convenient sizes so you can keep them at home, in the car, and in purses and backpacks.  For more information, visit www.WetOnes.com
Woot!
This post is sponsored by Single Edition Media on behalf of Wet Ones®. I have received product or an incentive from the brand.
Get your Milk Paint!
FolkArt Milk Paint Bonding Primer and Sealer
FolkArt Milk Paint in Assorted Colors (6.8
FolkArt Milk Paint Finishing Oil (3.7 Ounce),