This week I was online sharing my cute little Foot Print Ghost feet and my blog friend Rachel told me they do that in their preschool PLUS Frankenstein Handprints and I was like…tell me more! And she did, which is what I am showing today!
First, I want to say thank you to Rachel. She is a fantastic blogger. If you do not know her, you have to check out some of her Halloween Bento Ideas!
This Halloween craft is super easy and super cute for toddler and preschool age (as Rachel demonstrated by usage in her classroom) but it's also a really great family craft. We all participated (even daddy!) and used our unique handprints to create individual cards that we can send to grandparents. You know what cards are right? Those things that we send in snail mail? People still like to get them. 🙂
Frankenstein Handprints Craft
Here are the following supplies I am using to create this craft- if you click on the links it will show you in Amazon what I personally use.
  1) All you do is paint the bottom half of your hand greet and your fingers black! We painted the kids hands and then let the kids paint ours! Do not be afraid of mess, this one is fun and easy to wash your hands and clean up.
2) Press your hands very carefully to the paper. Note that each hand lays differently! In my hand my palm isn't flat, so it had a big white area, in my daughters her fingers are higher so some of the hair is missing. I love how unique each Frankenstein is!
  3) Let your papers dry and then decorate with eyes, a mouth, and some bolts on the side of the neck!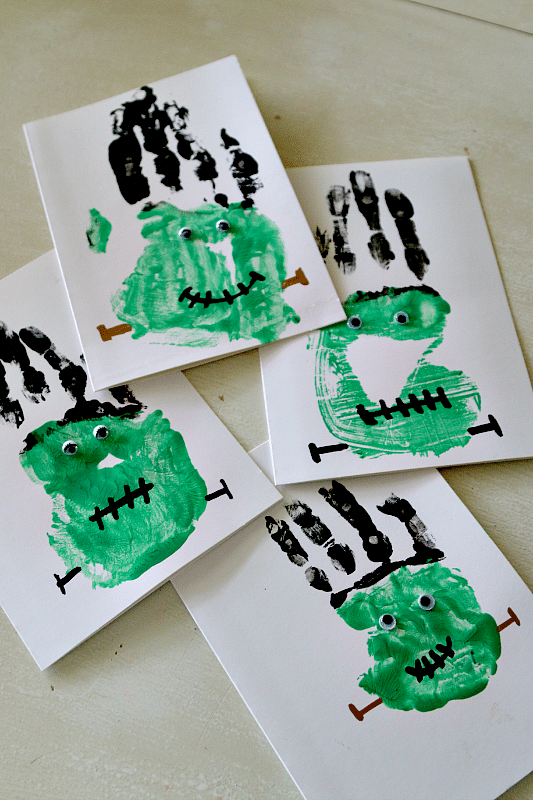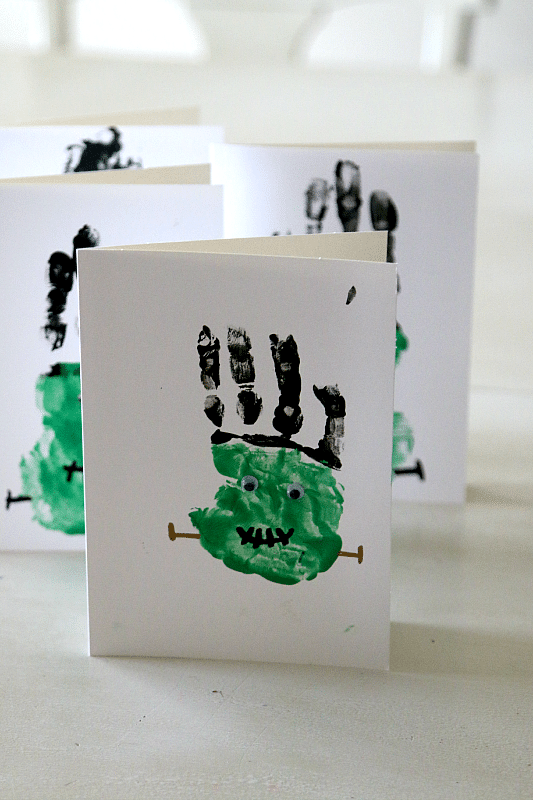 I hope you enjoy doing this cute little craft in your home and stay tuned for more Halloween crafting this month and all October long! Plus, if you missed it, do not forget to check out my newest craft, How to make Colored Rainbow Foam.
~Trisha

Love this craft? Find more Halloween Crafts here or visit me on Pinterest and scroll through my ideas!