Chase Baby Blueprint Nursery Challenge
First of all, if you missed my first three posts, make sure you catch up! This adventure has been a blast taking care of getting the old purple playroom into something that is more suitable for a newborn baby boy. I would first like to thank Chase for creating a campaign that allowed us three bloggers to take $2000 and budget it into the baby room.
Now on with the show!
Here is the room PRIOR to the makeover. It was Charlotte's play room and was done in purple and hand painted murals (that I did) and of course, an abundance of toys…
BEFORE PICTURES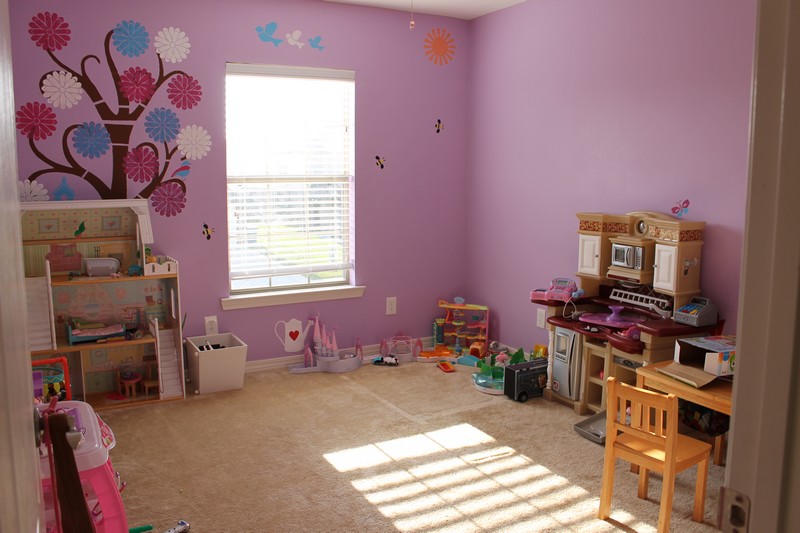 I have left you with many, many questions. From chair rail to murals, which route did I go? I think showing is better than telling.
So TADA!!!!!!!!!!
My Baby Boy Beach Nursery
 AFTER PICTURES
Is that a makeover or WHAT!~
Now let me break it down for you.
I changed the nursery first by finding the crib. Once I had a crib to center the room around, I found custom made beach bedding which set the colors and tone of where I wanted to go, which prompted a painting match. Next, I found the surfboard fan, which I was afraid would change the entire feel of the room, but has actually been a very welcome piece that keeps the room cool and brings in a wooden element.
From there it was about incorporating some elements that would bring the room more personalization. I had this vision in my head of huge pictures the baby would see when he woke up (of family) and took some pictures and had them framed in large black and whites in the wainscoting-eseque frames. Then I added open shadow box shelves and started shopping and collecting seashells and other trinkets from the local area. It was very important to me to have some artisan work from our own coastline artists, so I used the "Pensacola Pelican", which is an icon around here, some glass pieces from the beach shops, and even a beach car that I got right at a gas station.
Now the palm tree picture on the dresser is actually from Mexico. That was all finger painting if you can believe it!
I also picked up items that you cant see very well like a seashell nightlight and pewter covers for the light switches that are engraved with beach life.
Originally I had picked up that rug randomly trying to break up some of the beige in the room and once I got it in I was unsure….I decided to keep it and feel the room out and once the mural was on the wall, I just really loved the way it all came together. Last but not least, I added a baby hamper and a small storage and sitting bench where I could put toys, stuffed animals, or right now before he can reach it, baby supplies and shoes.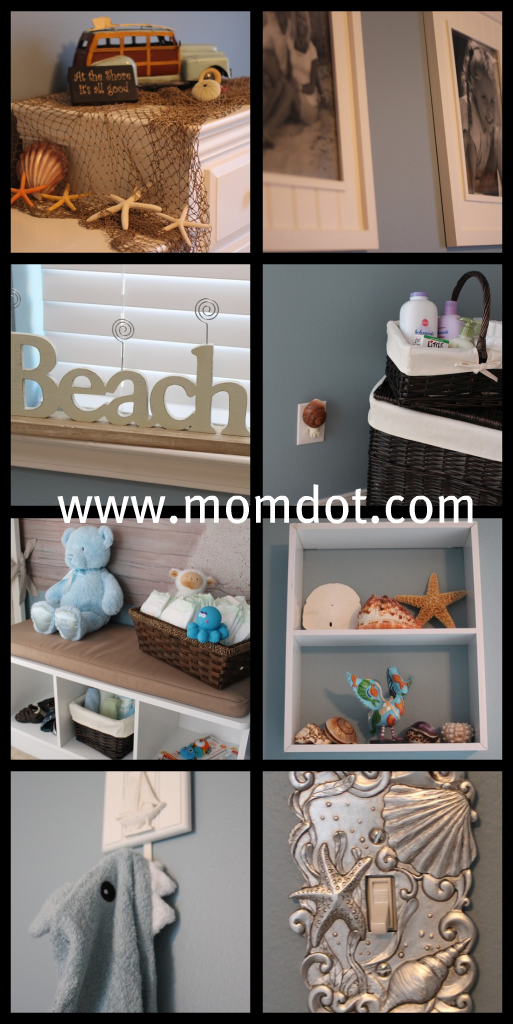 Chase
Let me re-remind you:
Project Nursery:
Objective: Create Nursery using my Slate card with Blueprint staying on Budget
Budget: $2000 from Chase to accomplish the task
Goal: To balance it all out, get my needs (and a few wants) and use my Chase Slate card with Blueprint to keep this shopping experience painless and stress free
Prize: $500 and up!
Where did you get all your nursery items?
I have been posed this question a lot during the duration of the nursery makeover. I wanted to make a quick list because I keep getting comments and emails asking about everything from the crib to the hampers.
If you want to see lots of other design ideas for either your nursery or decorating ideas for kids, visit BlueiStyleBlog.com.
Here is where you can buy the nursery items that I have in my nursery:
Dresser – Babies R Us
More Info: This dresser was part of Charlotte's nursery set 6 years ago. I moved it into the nursery and got her a new shelving unit for her clothing. I am not sure if this set is around anymore, but nonetheless, you can get the version of what they have now there. It had a wardrobe, crib, and dresser and we bought all three pieces.
Cost: I don't remember since it was a recycled piece.
Crib – Goores
Cost: Approximately $500
Glider/Ottoman: Hayneedle
Cost: Approximately $750
Hamper – Babies R Us
More info: The hamper was on clearance and came in a 6 piece wicker set.
Cost: Approximately $45
Frames – Micheal's Craft Store
More Info: The frames were 40% off at Micheal's, I went to a lot of places before I found this paneling type frame.
Cost Per frame: Approximately $35 with coupon
Pictures – Kodak Online
More Info: I used my personal photos into 11/14 black and white matte photos and overnight shipping. I did professional quality.
Cost: Approximately $50 for all three
Bench – Target
More Info: The bench was really inexpensive and came with the topper. Assembly was easy.
Cost: Approximately $59.99
Wall shelves – Target
More Info: These were in the framing aisle. I looked a lot of places and this was the only place I found that carried this open frame/shelf idea.
Cost: Approximately $19.99
Beach Items – Variety of places…
More info: I bought mine at Alvins Island and Geronimo's Outpost on Pensacola Beach. The BEACH sign on the window I got at TJ Maxx. I also purchased at a gas station in Alabama. I know..very random, but I live in a coastal area so beach pieces are everywhere.
Cost: I spend hundreds on decor, like seashells, nightlights, light switch, etc.
Bedding – Etsy LinenBaby
More info: I bought this from a seller on Etsy and it was all handmade and one of a kind. She even made me a matching pillow for the glider. She has opened a new etsy store here.
Cost: Approximately $245
Rug – Kohls
More info: I had been looking at rugs in a lot of places and settled on this patch work one at Kohls.
Cost: Approximately $35
Paint- Lowes
More Info: The paint was called Stormy Cove and came prepped with primer to save coating time. Brand was Valspar in Satin.
Cost: Approximately $150 including 2 gallons of paint, all paint supplies
Valence – Bed, Bath, and Beyond
More Info: This was a linen set and they did have a full curtain as well, but I opted just for the Valence because I had blinds.
Cost: Approximately $30
Fan- Lowes
More Info: This surfboard fan changes sides so you can have a neutral colored stripe on one side and carries a pink stripe on the other. It has to be special ordered but is delivered to your home in just a few days, free of charge.
Cost: Approximately $265
Now of course Chase Slate with Blueprint has been there through it all, from the first purchase to the last, I have been able to keep control on where the majority of my money has been spent and how quickly I am paying it down.
Don't forget that this was a nursery challenge, so its a competition (Vote for me!) and making sure I stay on task was of the utmost importance. The last thing I needed to distract me from the end goal of this room was worrying about money. Slate allowed me an easy way to pay for my purchases while Blueprint allowed me an easily accessible and easy ability to set up payment plans that fit right into that budget.
Controlling interest charges are always a big deal for anyone utilizing credit cards and knowing that I have the ability to pay exactly within my own budget based on the payment plan I choose, from Full Pay, Split Pay, or Finish It will keep any parent (or anybody) with a fantastic hold on their own personal budgets.
Again, thanks to Chase and thanks to everyone that has followed this challenge and enjoyed watching my purple playroom go to Baby boy Nursery.
Now all I need is a baby.
~Trisha
*disclosure: This post is a part of the Chase Blueprint Baby Challenge where I am in competition against 3 other bloggers showcased on Parents.com for a nursery makeover.  This is a compensated and sponsored post. To learn more about Chase, please go here. To read more about the other bloggers, go here.