The other day Phoenyx came home from church with this adorable Handprint Lion Mane.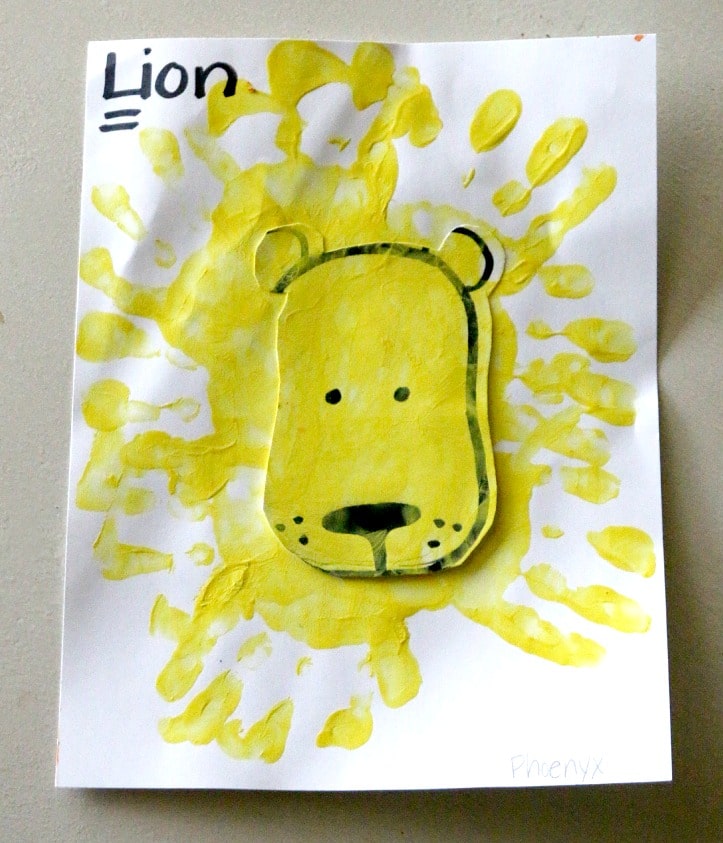 Its been on my counter for a week now because it was so cute I could not file it in the trash (oh, come on, you know we have to throw the art away at some point). I wanted to recreate a little printable so you could do this exact craft at home with your little one.
Now admittedly I am not artsy. Craftsy- yes, artsy, no. So please forgive my chicken scratch using some Sharpies and a piece of cardstock. Btw, I totally prefer this huge massive Sharpie I got from Staples, but the kids have pushed it so hard the tip is almost gone, so Ill be back to buy a new one. If you don't have a fat Sharpie, you are missing out.
Carry on. 
First things first- print your lion face. I like to print things on Cardstock because kids like to bleed paint and markers through just about anything, so if you value your table/floor/couch just print on cardstock.
If you click on his cute face, it will go to a PDF download for ya. Its bigger than this 🙂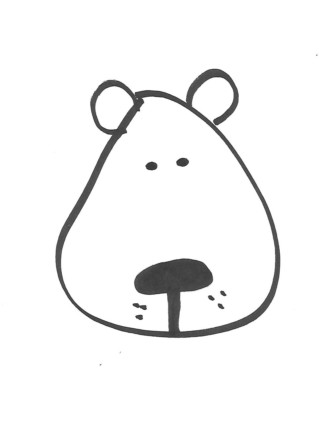 Now you have a choice. Simply do adorable little hand prints for your Lions mane OR move on below to recreate this craft into something totally new!
Once I was inspired to create the lions mane, I knew that I had to Valentines it up with hearts! Why hearts? Why not hearts? Hearts are my favorite thing to cut, to print, to color, to doodle- hcck right now I probably have drawings of hearts in the door of the shower. If you are not a heart lover like I am, no worries. I created this simple heart printable where all you have to do is print it and then cut.  (again, the print is bigger than this image)
Once you have a spattering of hearts, we used yellow and orange for our lions mane, you can assemble in two ways. Simply add the hearts around the lion face (*younger kids) OR cut the face out and add on the back for a free flowing mane (older kids).
Valentines Lion Younger Kid Version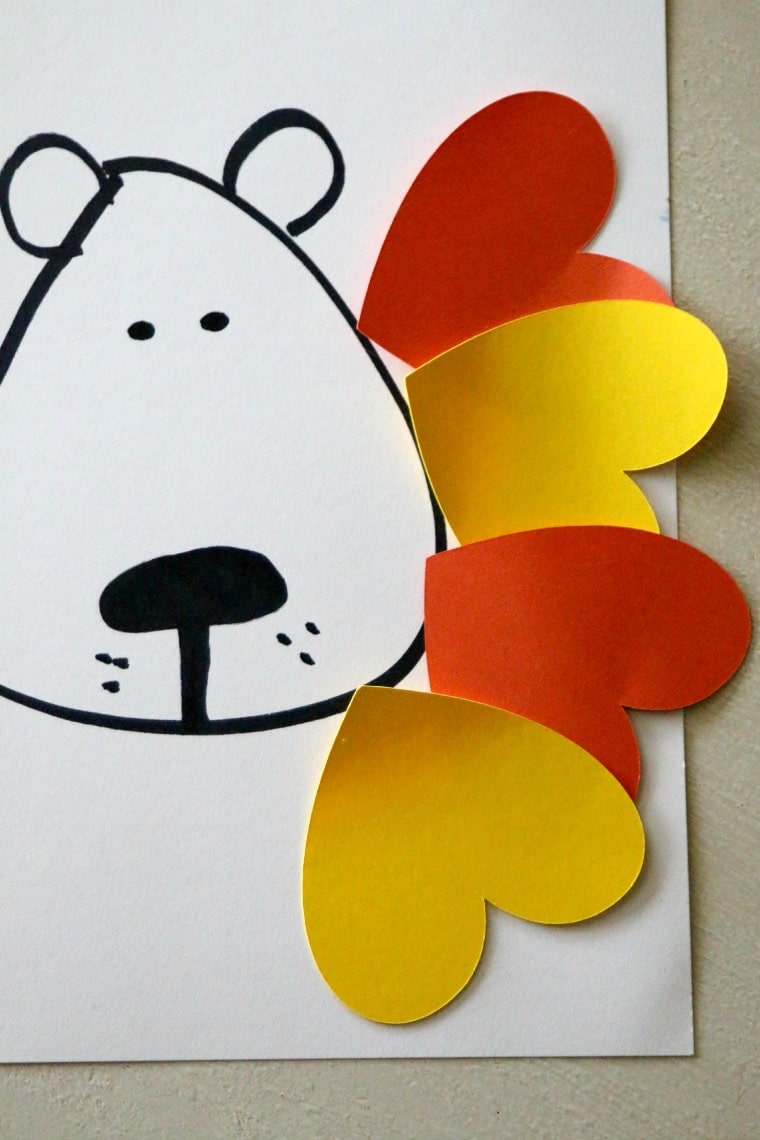 Valentines Lion Older Kid Version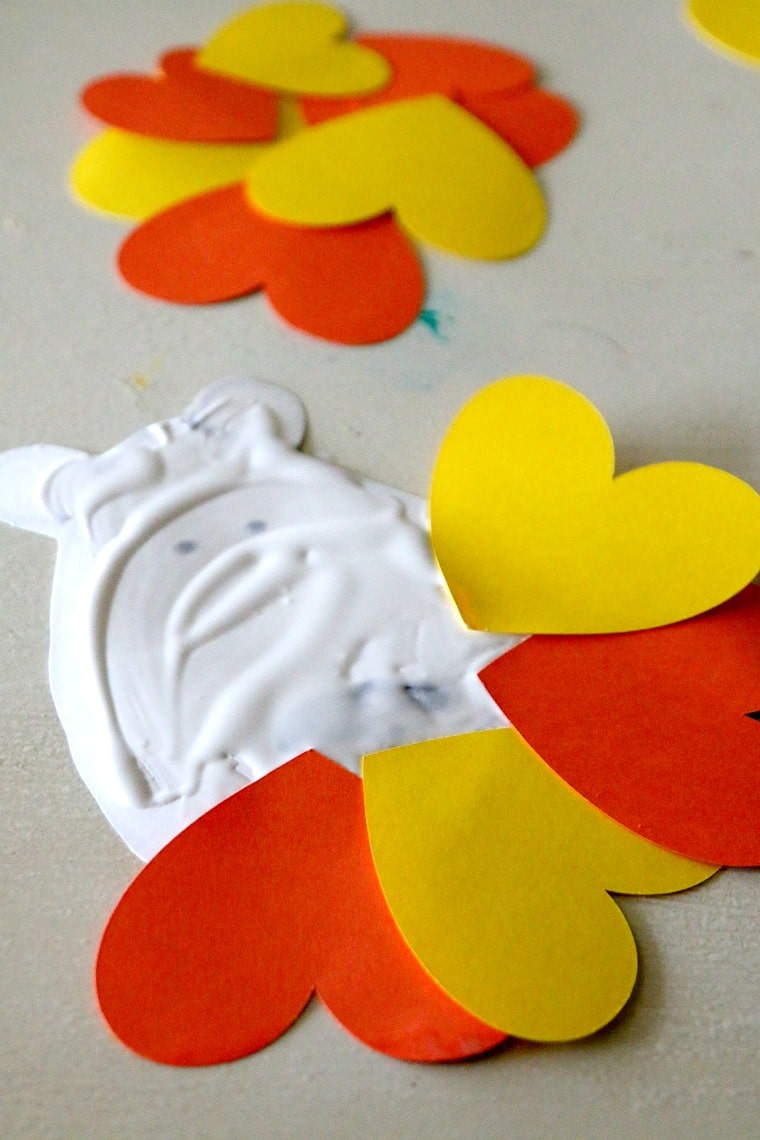 I am sure you may be wondering why so much glue…I had a glue explosion. Hey, atleast it wasn't glitter, right? 
Want to pin the whole craft? I have it in an easy to share, easy to understand collage right here on pinterest.
Or, if you want to see more Valentines crafts before you go, hit the image below!
PS If you are a teacher and want to use my printable in your classroom to make this craft, by all means go ahead!
Trisha