We purchased the Highlander Deluxe Cedar Playset with Slide.
We asked my FIL to help us out putting it together and he agreed (of course..thank you!) but I think we all underestimated the serious engineering that went behind this swingset.
Tips: Make sure you read through the instructions and note all the tools you need. Do not think you can "make due" with what you have. Get the tools or borrow them or you will hit a point where you cant go further.
My DH recommends an electric screwdriver (Two of them for two people), if they have it, electric Ratchet attachments, drill, 9″ ladder, and LOTS of water.
Day #1: Separation. We got started at about 3pm on Saturday. The first thing you have to do is empty the boxes and sort the wood into the respective areas. H goes with H, M goes with M, etc.
It took about an hour to unload and separate all the wood properly.
Step #2: Building the frame. This took about 2 more hours. Its funny because the instructions say to have two "moderately" skilled people. Yeah, I'm not sure it matters. Understanding the instructions, finding the right hardware, wood, it just simply takes time. Unfortunately we had to build a section of the frame 3 times because we thought we had it on backwards once we had it up.
Not all of the wood is predrilled, so you do have to do some of it yourself. This is a cause for confusion.
We didn't actually do it wrong the first time, but it took taking it apart to realize it.
Step 3: We realized about 6pm that we had to go get levelizers for the swing set before we could go further, so the day stopped at 6pm for a trip to Home Depot.
Total time so far: 3 Hours and counting
Day #2: Day started at 9pm.
We had to levelize the swingset with paving stones and then add reinforcements and anchors. The instructions would have you add the anchors in the ground and push the swingset to it, but its impossible because it would mess up the work you just did on the level.
We used some improvisation here.
Day #2: 1pm : By now everyone has been working in the 90 degree heat for 4 hours. A few tips...buy your swingset it the spring months, like Feb-April.
Putting it together outside right now is much more taxing then it has to be because of the heat.
A few problems we have had: The instructions tell you when and where to put a board up but often don't tell you which direction to have the holes facing. There have been a few times where boards have been put on backwards and have had to be pulled out. Maybe look ahead a few sheets to see if there is something that is being screwed on during another step before you commit a bolt to it.
Its time consuming, but saves you the undo and redo.
The decks went on pretty fast compared to yesterdays building and we have some renewed strength as it now looks like progress is being made.
The roof is now going up, its 1pm:
7 hours and counting…
——————————–
Roofing is up…You are going to need a tall ladder for this step. You can only add so many planks from standing on the top before it all has to be done from the outside.
My FIL had to go home at 230, so that left Chris ready to take a break and get out of the sun. He picked it up at 4pm and a neighbor came over for an hour and they worked a little more with the framing around the swingset. The day ended at 6pm for dinner. The thing is that the heat is much lower at the end of the day, but by then you are so exhausted that you cant lift another screw.
10.5 hours and counting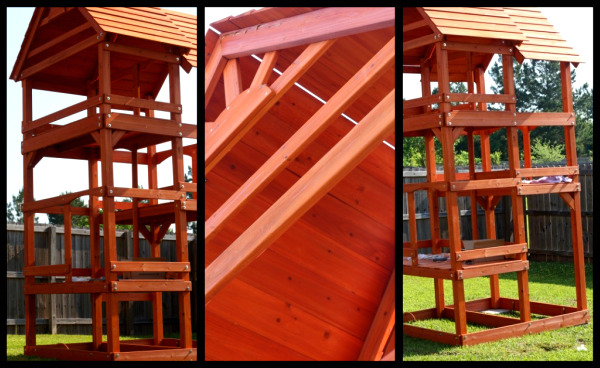 You can continue this post by following to the next one at Highlander Swingset Assembly Post, Day #4.
~Trisha