With this Homemade Kahlua recipe, you can learn how to make your own coffee liqueur with vodka, sugar, vanilla beans, and freshly brewed coffee! Once you see how easy is to learn how to make Kahlua, you'll never buy it again!
Homemade Kahlua you say? Yep! Seriously! While this one has to sit on your shelf for 30 days, the wait is so worth it! Make a few bottles ahead of time for your liquor shelf as well as holiday and birthday gifts.
The holidays are coming, so I've stocked up for use at our parties and for gifting to friends and family. Nothing says "love" like homemade liquor, right? Right.
Homemade Kahlua Recipe
1 1/2 C of instant coffee
3 C of boiling water
6 C of sugar
1 vanilla bean
1/5th of vodka
How to Make Kahlua With Vodka
Before I started I polled Facebook to find out the best instant coffee and was told either the Starbucks
or this Nestle stuff
I used. I went with the one I could get at the store.
First, boil your water and add the instant coffee. Be careful though! The second I added my coffee it boiled over, so I suggest removing it from the heat for a minute before adding the coffee.
Add the sugar and vanilla bean.
This will make your blend super sticky and thick!
Note about Vanilla Bean: You can get these vanilla beans in the spice aisle at places like Target. They look like dried twigs. You can also buy them here on Amazon
.
Once you have all your ingredients in your pot, have them stirred and dissolved, remove from heat and let cool down completely.
Add your 1/5th of Vodka, which is 750mL.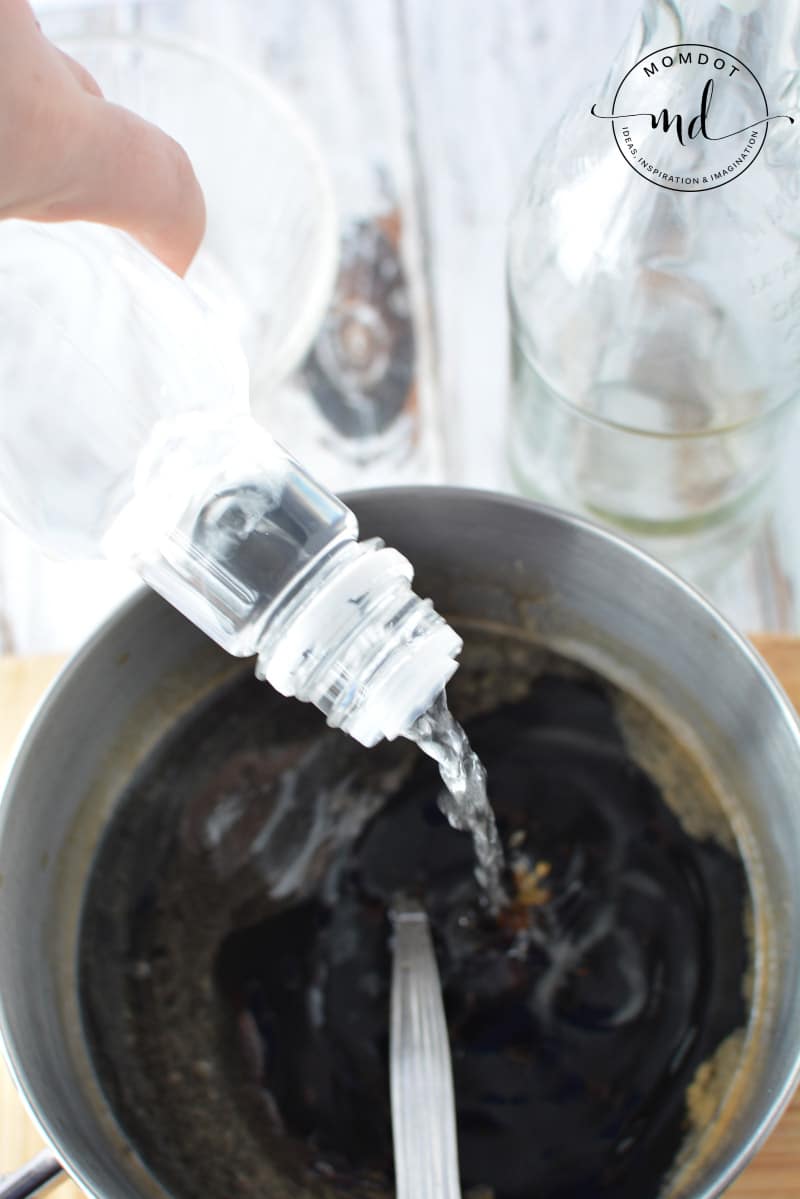 Note about the Vodka: I am sure you have noticed that I didn't list the content of alcohol in your Vodka. That's because the recipe didn't really say.
I personally used 100 proof. I'm probably making the most expensive and high alcoholic content of Kahlua known to man… c'est la vie.
Pour your Kahlua into a fancy vase that you can seal by using a funnel. Drop your vanilla beans into the bottle for maximum flavor, and let it set for 30 days.
Once your 30 days are up, open up the bottle and use it as a liquor or dessert sauce.
A Kahlua and cream = equal parts Kahlua & vodka topped off with half & half.
Have you ever made your own Kahlua? If not, this is a must-try. Yes, it takes awhile to see if it was a success, but take it from me… it will be.
Printable Homemade Kahlua Recipe
Homemade Kahlua Recipe
Here's how to make Kahlua at home with instant coffee, vodka, sugar, and vanilla beans!
What You Need
1 1/2

C

of instant coffee

3

C

of boiling water

6

C

of sugar

1

vanilla bean

1/5

th of vodka
Instructions
Boil your water and add the instant coffee.

Add the sugar and vanilla bean.

Remove from heat and let cool down completely. Add the 1/5th of vodka

Pour the fresh Kahlua into a glass jar or jug, seal, and let sit for 30 days.
Notes
*tips on MomDot and a special way we serve Kahlua!
Check out these hilarious coffee mugs to hide your Kahlua in! Yeah, I'm all in.