Hopefully by now you have learned how to make slime. If not, here are just a few of the favorite slime recipes here on MomDot. You can start with this awesome rainbow slime (including how we got the colors so bright!), grab some no borax mardi gras slime in purple and green, or look through our entire slime recipe list for inspiration. Blowing bubbles with slime is something easy you can do with nearly every slime recipe except the fine glitter slime recipe. Its very fun, completely reusable, and there are tons of ways to create huge slime bubbles!  Charlotte and Phoenyx love to have contests on who can make the biggest slime bubble. If you are doing a relay or contest against one another, I suggest you skip this tutorial and instead try the blowing slime bubbles with a straw DIY here!  Its a great blowing bubble tutorial that is good for kids of all ages.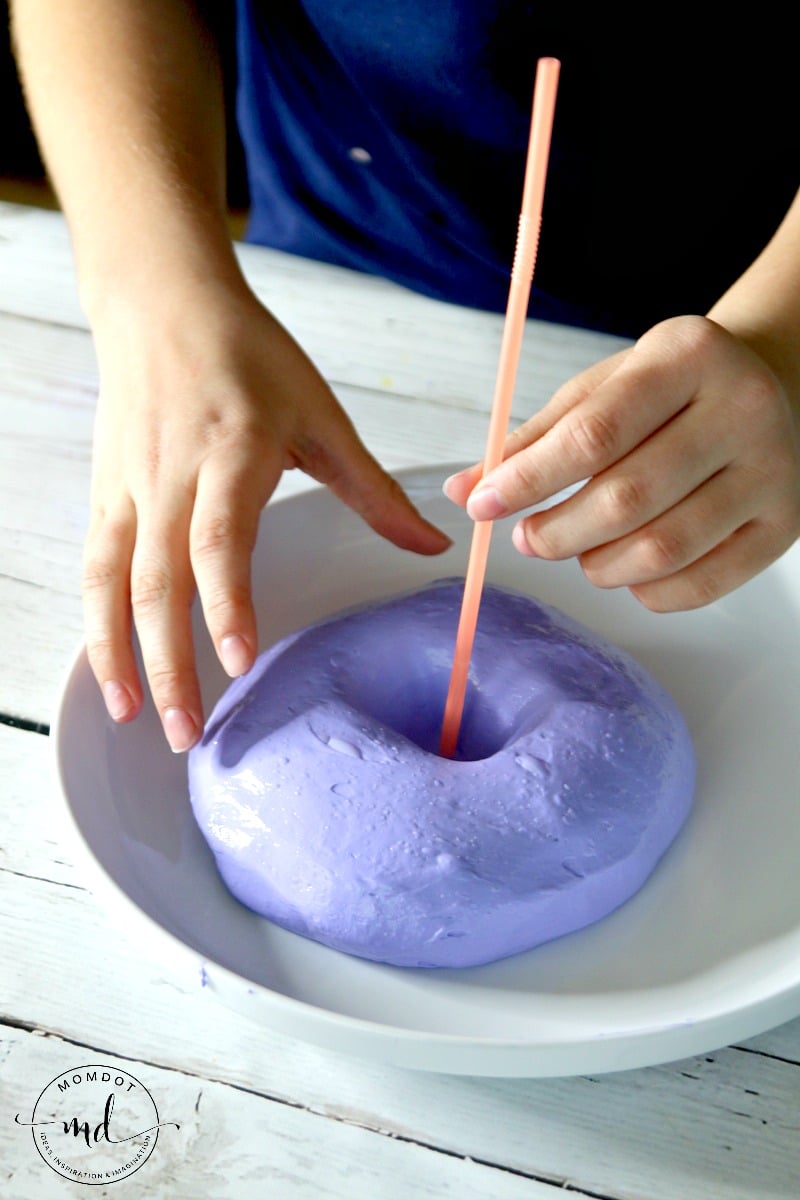 NOTE: The tutorial below is great for older kids that understand you cant eat slime, that its made of glue and liquid starch and that its not meant to be eaten, licked or otherwise swallowed. 
---
SLIME BOOK AVAILABLE!!
Love the Slime Recipes on MomDot? Our first book has been published and you can pick up a copy right on Amazon for yourself or to gift to a slime fan in your house! It features not only some fun basic slime recipes and how to get started on creating your own, but also some ways to use slime for holidays and gifts! Check out the book here! 
---
How to Blow Bubbles With Slime
Blowing bubbles with slime is super easy if you get the right slime recipe and learn how to set it up! Charlotte is showing you below exactly how to flatten and set up your slime in order to make this work!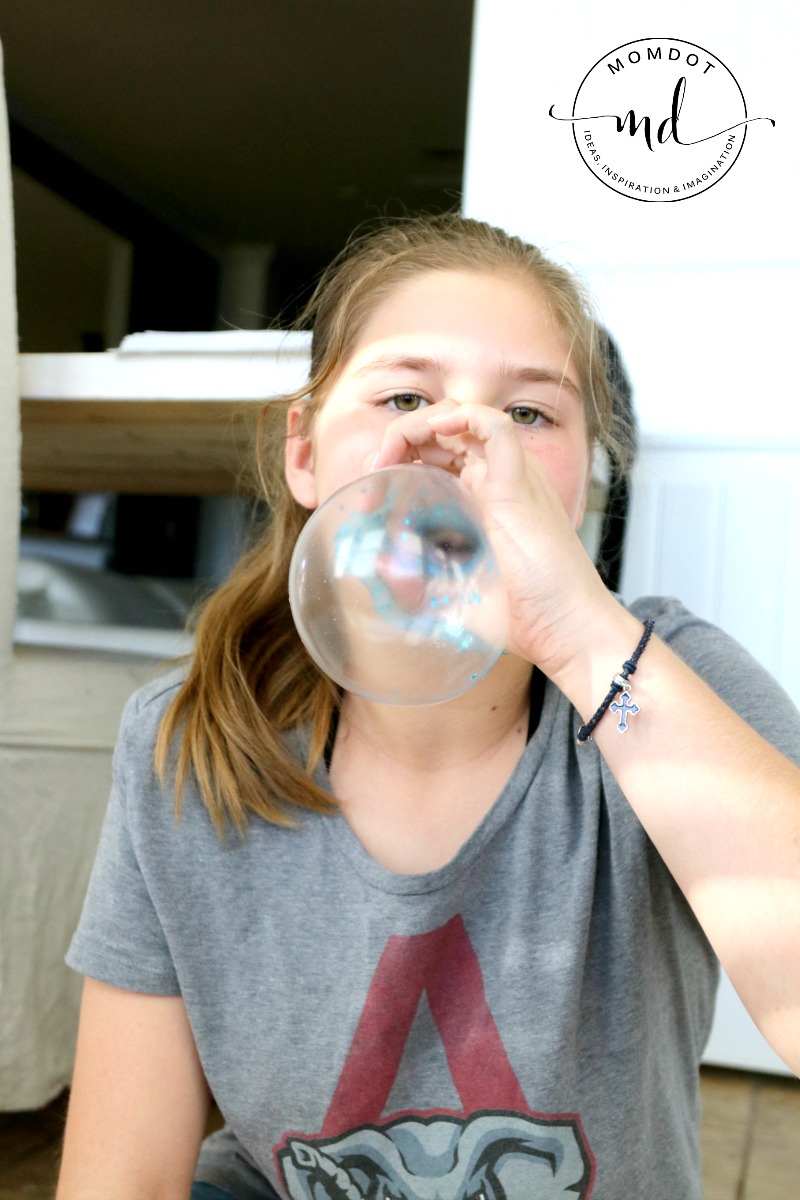 Making Your Slime
Of course to make bubbles, you have to have slime on hand! Its so easy to make and you can get exact measurements on our Rainbow Slime Recipe here.
Rainbow Slime without Borax
Purex Sta-Flo Liquid Starch, 64 Ounce
PRO TIP: Many people do not like to deal with borax and water when making slime- I know I don't. You can also make slime by using LIQUID STARCH
and glue
. It's a ton easier.
That being said, it can be pretty hard to find liquid starch, so pick this one up here (it's the one I use) as well as a huge thing of glue so you can make tons of slime for all occasions. Buying this way is a lot more cost effective and once you start making slime, you will def want to have glue on hand!
When it comes to the gallon size glue, if this one is out, go to the "Available by these sellers". Due to the popularity of many of MomDots recipes, stock seems to come and go on this item. If you see one, grab it! Its IMPOSSIBLE to find gallon glue in the stores.
&
Purex Sta-Flo Liquid Starch, 64 Ounce
Elmer's School Glue, Washable, 1 Gallon
---
Want another super cool way to make bubbles? This is a MUST WATCH VIDEO! SOOOOOO COOL!
Want more slime ideas? Follow my Pinterest board on Slime!
Stages of Slime
So many people message me and ask me how I get slime so perfect…..well, it goes through stages and some people quit before they get to the slimy stage! I did a video showing you what you can expect when you create your slime. It's a lot easier than you think. Yes, there are two ads in this video near the beginning, which help pay for all this slime recipes and ideas that are provided here and we appreciate your support in keeping those costs down. I think you will like this video and it will help get you less frustrated in creating slime and figuring out the direction you are going. Please note this video is specifically about using WHITE glue. Clear glues and glitter glues are a different consistency.
---
Learn how to make slime here! I made this super short video to show you how to make slime and see some of the stages! Check it out~
---