This is a sponsored post written by me on behalf of Glad for IZEA. All opinions are 100% mine.
I cant believe it was just a few years ago that we took a leap and moved from our house to a brand new home, in a city about 45 minutes up the road, making the commute for my husband and the future unknown. When we started on the home buying process, it was important to me to have an open concept, something I could have friends over and interact with the family no matter what room I was in. What I didn't know during our home purchase was that we would go from no friends to an abundance of friends that are like family and be hosting parties and card nights and daily activities with not only our kids, but the neighbors as well. It's been a whirlwind the past 3 years and there is nothing more enjoyable than getting together with friends and laughing until the kids are long put to bed. There are a few things I have learned while being a host the past 990 days so I have curated a list of things to remember when setting up a get together in your home. No matter whether its a yearly birthday party, a holiday celebration with 50 guests, or just another couple to share a glass of wine and a board game with, these 5 Simple Tips to Party Hosting typically run true.
5 Simple Tips to Party Hosting
(This is all of us at an 80's Mystery Dinner Party in our Neighborhood last month)
 You don't need a reason to celebrate (but its OK if you have one)
I think its a misnomer that you need a holiday or an event to celebrate. I try to get together with my friends multiple times a week for coffee and play dates. In addition to that, we also get together typically once a week for dinner (changing up whose house we go to), for the kids to play, to watch a movie, or simply to chat and play cards. Life is better TOGETHER and having a solid group of friends to enjoy it with has made it more fun. 
Keep Food On Hand
Because people stop here so often, I like to have a variety of snacks
and drinks ready. Keeping a few bags of unopened chips and some additional boxes of juice drinks in the fridge has made for an easy snack time when people stop in. Everyone likes food and drink and I don't like to be caught unaware scrounging for the last wilted banana or few kernels of popcorn in the bag. I also make sure we have plenty of ideas for dips. One of my favorites is this Mexican pizza dip, which tastes just like a melty delicious pizza!  Even melting chocolate and waffles make for a fun, tasty, and impromptu treat!  As far as it goes with dinner, serving large portion meals that cover a ton of people (our spaghetti bolognese sauce is good for that) is how we handle it. Chili, tacos, and chicken fingers make great group meals too.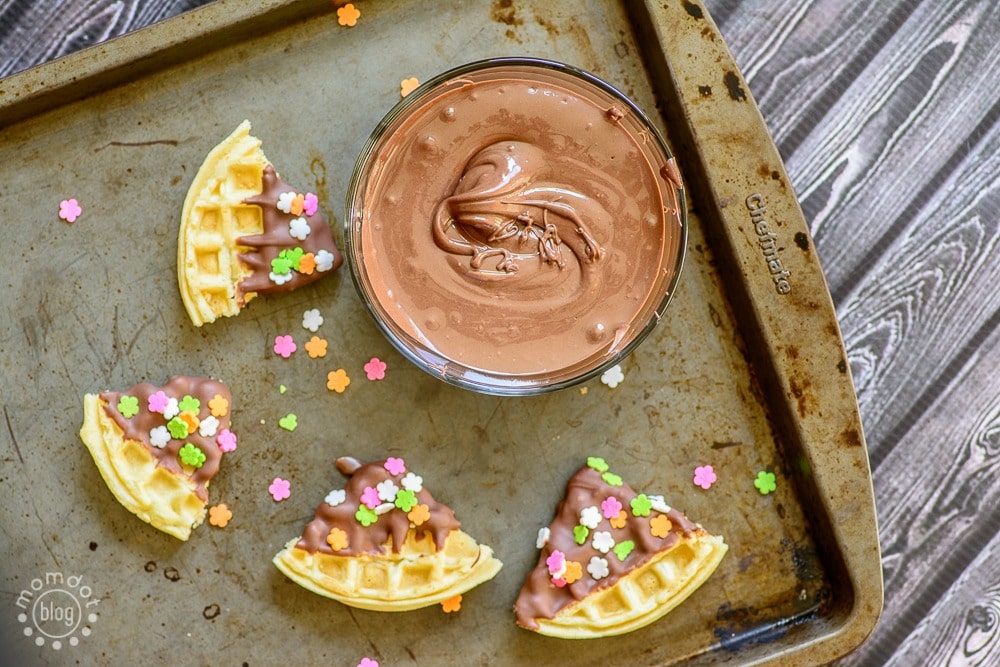 Supplies make all the difference
You would not believe how quickly a trashbag can get filled and overfilled in this house! And if the bag is overflowing, the kids will sometimes just balance their cups and plate precariously on the top until an adult rescues it from the mountain of leaning trash. Personally, we keep our trashcan easily accessible when we have guests over (pull it out from the laundry to the kitchen) and filled with the strongest trash bag we can find-  Glad Kitchen Pro Trashbag. These bags have added leak protection so when the kids toss a half drank solo cup of lemonade, it doesn't trail across my kitchen floor in little sticky droplets on the way out. Plus they have odor control (for 5 days!) so that party you had on Friday wont be stinking you out by Saturday if you know what I mean. These must have bags are available at Target. On that note, also spring for the heavy duty paper plates, red solo cups with a permanent marker so everyone can write their name, and plastic forks keep the clean up low.
Your house doesn't need to be perfect
I think everyone one of us do it. We clean insanely before we have a group of people over to destroy our home with shoes, dirt, and kids running around. I have found if I just pick up and get rid of the obvious, its good enough. Stressing BEFORE a party seems like just plain work. The whole idea of a get together is to enjoy the company of the people you are with and likely if you are inviting them over, they have no interesting in judging your inability to mop once a day. You also don't need to have the biggest TV, the best furniture, or really any sense of decorating. Being together with friends is simply that- being with friends.  (below: One of our friends has a projector
instead of a TV and its awesome! We watch the sporting events there.~)
Have something to do
I love chatting with my friends but we chat on the daily. Over the past year, I have taken that one step further and added card games and board games
to our household, and its been such a fun way to not only dive deeper into friendships, but put a focus on the night. Some nights the guys play video games on the TV, some nights we bust out the silly card games, and recently we played RISK for the first time. Over the summer we even hosted family nights and played relay races with the kids in the yard or carved pumpkins as a family. Last year we hosted a 1000 Easter Egg hunt in our backyard. There is so much to do when you have other families to do it with. 
Now you may telling yourself you don't have anyone that you are that close with to invite over. Trust me, we didn't either. I am also probably more of a hermit than anyone you will ever meet. Without some serious forcing, I would stay in my office for 17 hours a day. But putting myself out there, taking a risk to say YES, having coffee, talking at the neighborhood pool, even asking someone if they wanted to go shopping, slowly built solid friendships that have become my family.