When the temp drops, gather your family for movie night!
Fall is finally here!  With another steamy summer in the books, we can finally pull out those oversized sweaters, crunch some leaves, and cuddle up without sticking together in the summer heat.
When I'm not visiting the apple orchard, thriving in the crisp fall air or shuttling kids around in the growing autumn darkness, one of my favorite things to do is get caught up on all the TV and movies I've had on my list but never got to over the summer. In the bustle of each week, I love planning a weekly movie night with the family – a chance for all of us to be together and enjoy each other's company with no bickering!
What I've found is that having a great movie night experience, something more than just plopping down in a messy family room and clicking on something, requires a little bit of planning to put together.  However, once you get a system down, you're set for all those blustery fall and winter evenings that lie ahead.
Of course any great movie night starts with an invitation!
Download this FREE PRINTABLE to invite your kids and family to a movie night!
Just fill in the name of the movie below and pass out!
Set the scene with great ambiance
Every day we are busy. I mean super busy! We get up at 5:50 am and from that time till bedtime at 8 pm, we are go, go go! So when it comes to the weekend the last thing this mom wants to do is go some more. The problem is that my kids and my spouse both LOVE doing stuff. They want to go to the park, they want to go to lunch, they want to go to the beach. Getting them to sit is just about impossible – except when it comes to a movie night. My family is fantastic when we plan a "family" night and are more than ready to sit down and play games or watch a movie together.
And recently we made a little change in our house that made this even easier. We have an extra front room that has always been my office, but as the kids are getting older and taller, I wanted to restructure my home and make the former office a TV room and the former TV room, my office. The change has been fantastic. My office is so much quieter in the back of the house and my kids can fit a gaggle of their friends in the larger TV space. Because of the change, our TV has been sitting on the book shelf but we decided to mount it to make more room for the gaming consoles and make a dedicated TV room.
I love how a mounted TV looks, the problem is we have always been scared to take that step. TVs are large, heavy and expensive. Finding just the right way to get it in the center of the room and of course my mom fear of it falling has always prevented me.
However mounting your TV to the wall is nothing you need to be afraid of if you get the right system, which is something I have learned recently! SANUS sent me a OLT15 tilt mount which is perfect for movie nights and gaming days, as it tilts back and forward, allowing perfect viewing and less glare for everyone. There are so many types of kinds of mounts, you can find the right fit for your TV and movie room style here.
The benefits of the OLT15 tilt mount are:
Open wall plate and quick release lock to accommodate for cable management
All SANUS product is Safety Tested and UL certified
Tilts back 5 degrees and forward 11 degrees so you can watch from different heights (couch, floor, etc) and also to omit any glare from windows or lights
Mountfinder tool is easy to use and can list all mounts compatible with your TV
While it did take a bit to install, the complication wasn't in the product but in us finding the electrical in our wall. The stud finder kept going off for electrical. Eventually we were able to deduce the way they put the studs in our wall and our electrical from our garage and pick the perfect spot on our wall. If you are mounting over the fireplace or need other advice, check out the SANUS blog for tips.   It also helps to know that they have a U.S.-based customer care team available 7 days a week!
The SANUS tilting mount is well packaged and you can pre-match up what mount and TV you have so all the parts fit. They send extra parts for different TV sizes and types so what you see below is not all we had to use.
Our one tip is to pull the instructions from the SANUS website prior to starting. This helped us understand the process more than the box did. Heightfinder also takes the guesswork out of figuring out the best height for mounting your TV and you can install a safety strap if you want some extra security.
Once the parts are put onto your TV and your stand removed (if you had one), it's simply a drop and done!
Check out how easy it was to mount to the wall:
Now your viewing is good to go!
Pre-Game your Movie Night
My house is often a bit of a disaster by the end of the night, but I'm very firm about tidying the room before movie night.  The kids know it (and know what's on the line) so we spend at least a few minutes making sure there are clean and tidy spaces for everyone to be for a couple of hours.
Sofa space can fill up pretty quickly, so I have some huge throw pillows and blankets that work great for lounging or sitting.  Sometimes the kids bring their bean bags down from their room for a cozy personal space.  For one of my favorite projects, although a little involved, the kids used old boxes to create "cars."  They then drive their cars into the living room for a drive-in movie. This can be a bit challenging for mom and dad but the benefit is that the kids are in the cars and we can snuggle on the couch together!
I also make sure everyone has bathed, so they're ready for some quick teeth brushing and off to bed when the movie's finished.  While we always do movie night on a non-school night, our family works so much better with very rigid bedtimes. Beyond that, I always turn down the lights or use side lighting, to set the mood without causing us all to fumble around in the dark.  I also take this opportunity to exercise those surround sound speakers by turning things up a notch or two.  There is nothing like totally immersing yourself in the story, sound, and world you're entering through your film.
Pick your film
We usually start talking about our movie night choice mid-week before our movie night.  There are often several fruitless discussions before something is chosen, usually after I've spent some time researching options.  There are times I haven't been the best judge of what is necessarily appropriate for our youngest, so I frequently visit Common Sense Media for their detailed reviews of the content of each movie and read the reviews and ratings by other parents.  The organization is a non-profit out of California that is my favorite parent-media cheat sheet.
It's fun to choose something that fits the season, like Coraline, one of the Harry Potter's or The Black Cauldron for autumn and Halloween.  Great winter or holiday choices include Home Alone, Charlie Brown's Christmas, The Grinch Who Stole Christmas, The Polar Express or whatever your personal favorites are.
Or choose something unexpected!
While it's obvious the kids will demand to see the most recent Dreamworks or Disney Pixar thing out there, some of my favorite things to show are older animated movies like The Fox and the Hound or Fantasia, or those old Disney classics like Parent Trap, Bedknobs and Broomsticks, or The Love Bug. My son has taken to 80's movies and adores Ghostbusters.  No matter what you choose, you cannot go wrong when you are all together.
Enjoy the time together
Because we treat movie night as such a special time and a reward to be earned, my kids take it pretty seriously.  If you want to make it extra special, download my free FAMILY MOVIE NIGHT tickets! The kids love to present their tickets at the door, or even be a ticket taker.
DOWNLOAD FREE TICKETS HERE
Of course there's no talking over the movie or playing while we watch.  We choose something carefully, and we all commit to investing our time in it together.  It's fantastic. Not only will you and the kids talk about this movie for days afterward, so it's important to have all the same information they have, but they'll remember.  They'll see whether you're watching with them and enjoying the experience.
Be present in the moment – none of you will regret it.
Perfect Family Movie Night Food
One of my favorite parts of our film evenings is planning the menu.  Personally, I find serving dinner in front of a movie to be way more trouble than it's worth, so we eat our meal ahead of time and dig in on snacks when the lights go down.
Both the kids and I love taking turns choosing our movie snacks.
We've made homemade donuts, flavored popcorn, cupcakes, brownies, cookies and those trail mixes that are really dessert – M&Ms, chocolate and butterscotch chips, peanuts, and raisins.  Kids will also love helping make Rice Krispy bars and Puppy Chow.  To be perfectly honest I just don't have the time or patience to let the kids help me cook as often as they would like during the week, so our weekly movie treat is our favorite time in the kitchen together.
If you want something really fun, I have a tutorial to make your own movie theater snack box!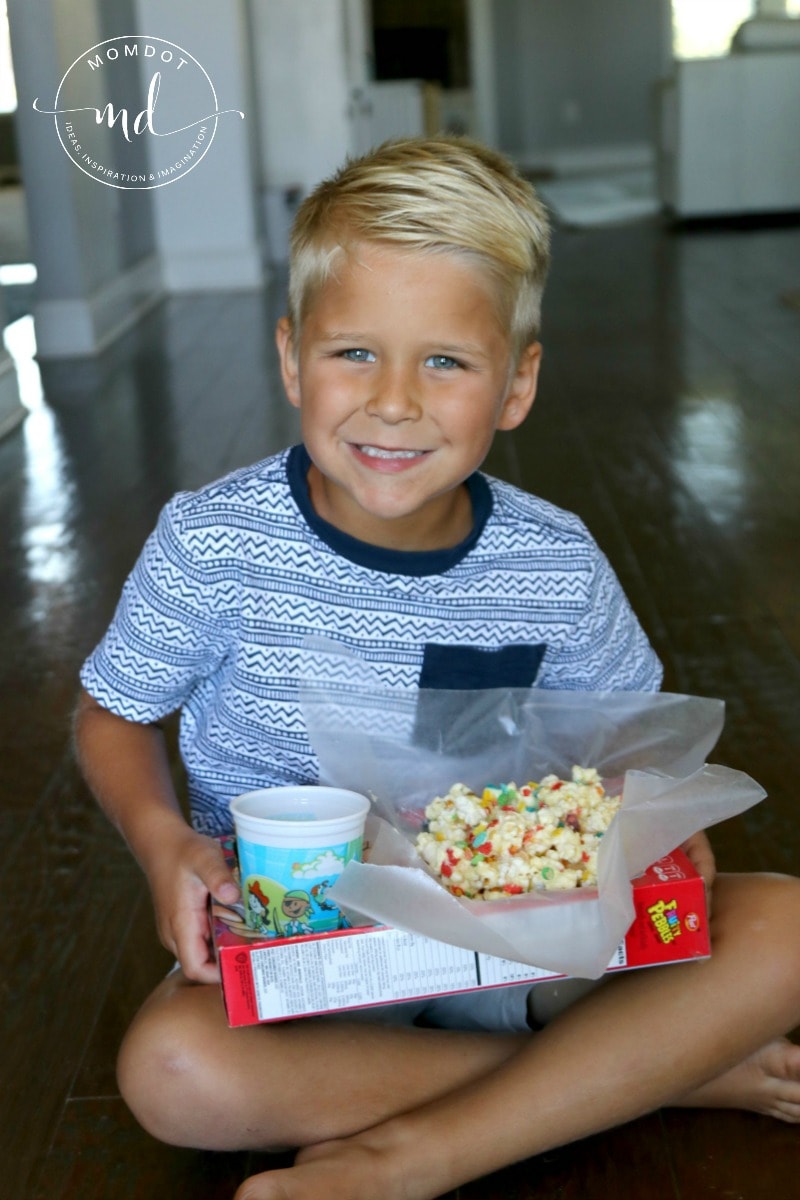 Pinterest fans will want to create snacks that coincide with the film you've chosen, and kids will absolutely love getting into the theme.
For a Lion King viewing, you could do raisins and peanut butter on apples (remember when Simba ate those bugs?) and homemade taffy is great for The Incredibles (I love Elasta-Girl).  You can even grab my monster slime popcorn recipe (goes great for Halloween snacks!)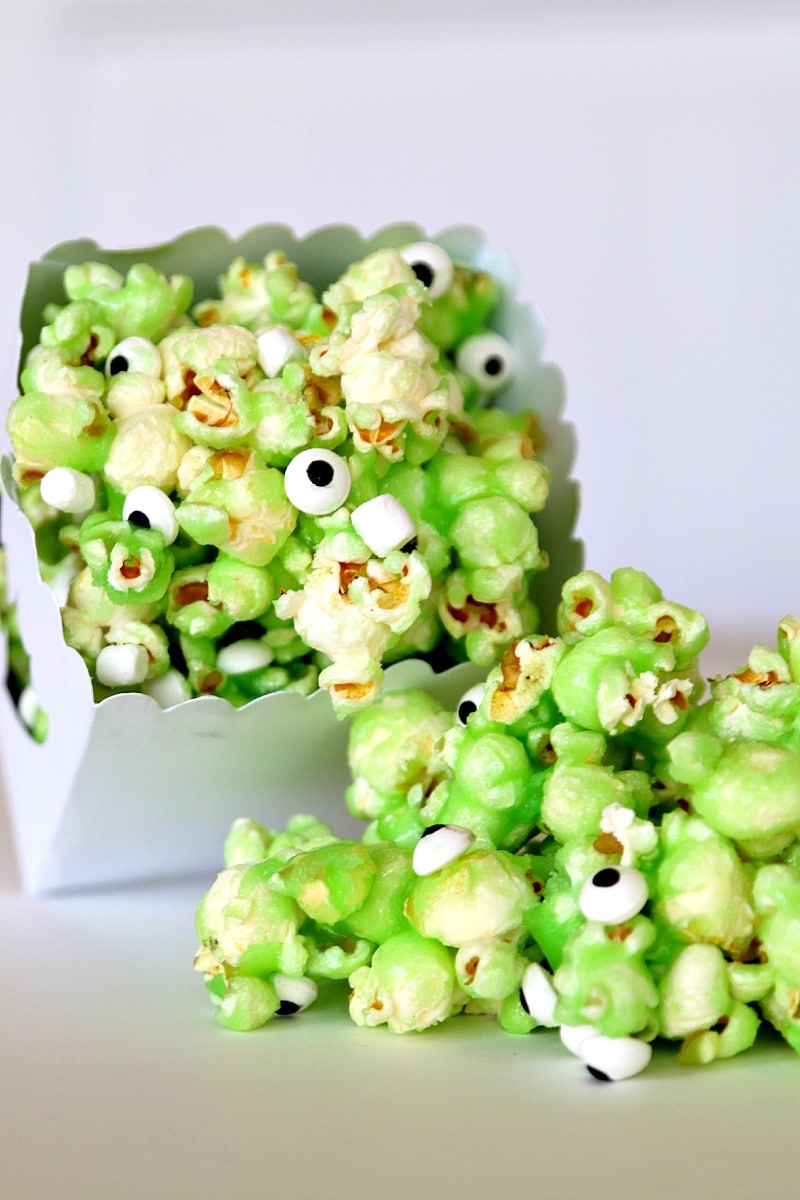 Really the possibilities are endless, and you can go as crazy or as straight-forward as you like!
No matter how you set up your movie night, make sure you do it. The time with family goes quickly and having a movie night in your own house can be special and far less expensive than driving everyone out to the movies. Once you do it one time, you will want to make it a weekly or month event. Once your TV room is set up, it will become a major gathering place for your family.
To learn more about mounting your TV, please visit
This is a sponsored conversation written by me on behalf of SANUS. The opinions and text are all mine.