This how to make a ribbon tutu tutorial is perfect for Halloween or costuming crafts. This no sew ribbon tutu DIY is perfect to use up any extra crafting ribbons you may have laying around or to quickly customize a skirt. Its also fun for play dress up for little girls!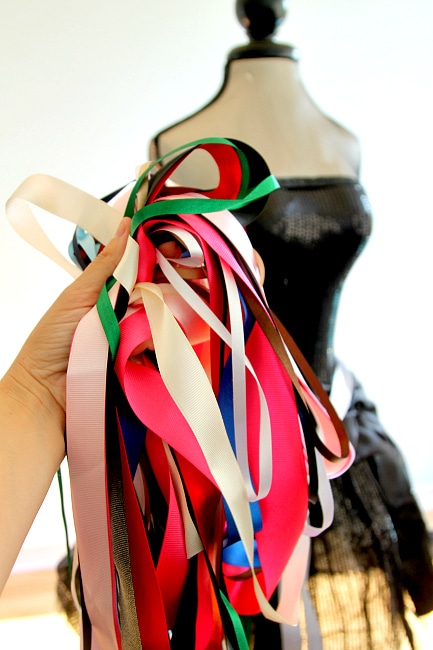 I have created a lot of different tulle, how to make a tutu, and hair bow holder projects on Momdot. And today I wanted to show you a really easy one that takes almost no time at all, costs under $6 (or less if you have big craft buckets like I do) and every one will love! This is a must for a dress up play area and an easy craft to create for a girls tea party or  glam birthday party.
While I made a ribbon tutu with assorted ribbons as shown below, you can customize it with different colors to represent a sports team or glam it up with sparkly ribbons and glitter!
How to make a Ribbon Tutu
All you need is
assorted ribbons – approx 50 ribbons in 3 foot length (depends on how you want to personally customize the length)
1 ribbon for the waist, needs to be able to go around waist and then tie in a bow
If you are wondering where to get that many ribbons inexpensively, you can generally buy a grab bag of assorted ribbons for $3 at Hobby Lobby. Its in the ribbon section and generally on the bottom shelf in sealed bags. Grab two of those. These are all the ribbons in mine! They are also double the length you need so you can cut them in half to create double ribbons.
First take your waist ribbon around your subject and tie in a bow. This is the length of ribbon you need. This length will depend on if this is for an adult or for a child so I cannot tell you how long to make this.
Next you need to take your ribbons and create slip knots to secure the hanging ribbons to the waist ribbon. A slip knot is very easy. Just fold your ribbon in half and put the looped middle section behind your waist ribbon. Then bring up the bottom hanging pieces and slip it through the hole. Pull tight to secure.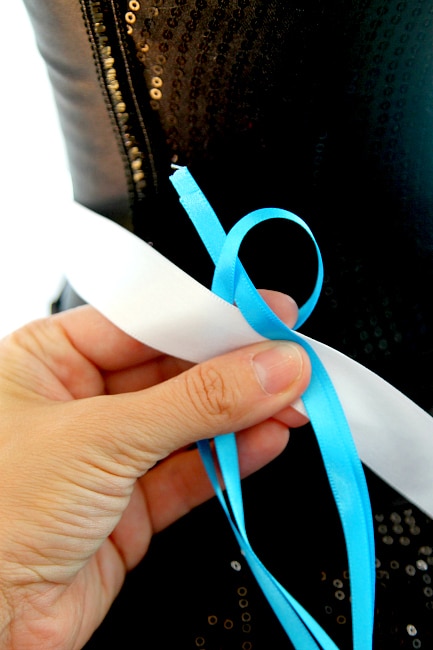 Now repeat this all the way around!
You can choose to fill in all the gaps or leave it with space. The choice is yours! You can also use this ribbon tutu to go over the top of a skirt or regular tutu to bring the glam up.
Here is what the slip knots look like all the way around.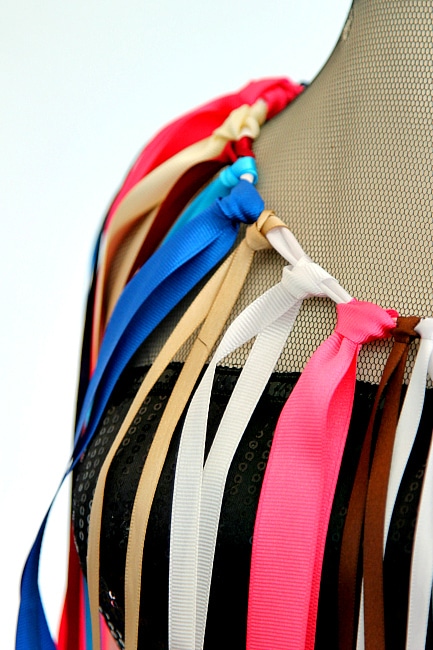 It's also good to have an adorable helper.
Tada!! To use the skirt, just untie the waist ribbon and retie around your subject. If you have any uneven lengths, you can choose to cut them all evenly or leave longer like a fairy. Also to make sure the ribbons do not fray over time, you can use fray check on the bottoms after trimming.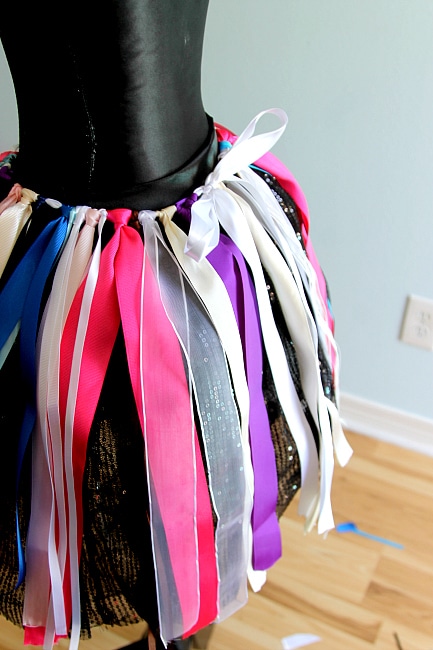 Do not forget to PIN THIS FOR LATER here!