This weekend I found this super cute mini hat hair piece, a la Alice in Wonderland.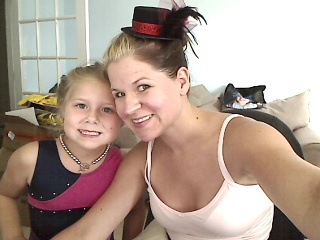 It was $15.
Ouch.
I like random quirky items. But I knew for sure I could make a replica for much MUCH cheaper. So today I went over to Hobby Lobby and grabbed some crafting supplies to create my own little hat hair pieces.
Normally I would invite Charlotte into my crafting projects, but I wanted to do the first one on my own so I could see if this was a "child friendly" craft. I do believe you could do this with your child, but there is a glue gun safety issue. If you get felt hats, you can probably use Elmers Glue and large child friendly rhinestones, felt pieces, and ribbons to make it safer.
It's a cheap enough project that it shouldn't matter if it stays together long term.
1) Gather supplies. Honestly this just depends on what you want to put on it. I already had tulle, fabric, and a variety of ribbons in my house. I purchased the mini hats for $1.99 (a fraction smaller than the one I am wearing) a piece. I also bought a few marabou poofs, some feathers, and some very specific ribbon.
I spent just over $15 and got all the items for 3 hat designs. You can get 40% off coupons right on Hobby Lobby for your area. You will need a glue gun and alligator clips too.
(sidenote: there were all sorts of types of mini hats available- top hats, beach hats, and cowboy hats at Hobby Lobby. I got them out of the doll section)
2) I chose to gather some material around my brim. Once I had the material placed, I added some feathers and decided that I needed another pink ribbon to offset. I took it  apart and started again. I don't believe there are really any rules when it comes to crafting. Just do what you enjoy.
Don't be afraid to make a mistake, you can always start over.
3. I added alligator clips with hot glue and then used a small felt circle to secure them on. They have alligator clips with 'teeth' on them, but Charlotte complains those tear at her hair. She is the boss.
4.  I personally felt it needed some tulle (everything needs tulle) so I folded some in half, secured with hot glue at the base and put on the hat. I then trimmed the tulle up to be "poofy". I also added a little finishing ribbon to the back to cover all the spots where I glued to give it a more "polished" look.
Other ideas are to put a rhinestone, hanging korker ribbons, or a ruffle there.
6. All it needs now is a head to clip on. I cant wait for Charlotte to get up in the morning!
I am off to make another one.
If you love crafting,y ou can also check out my Mardi Gras Mask inspiration or my how to make a tutu tutorial!
~Trisha