This weekend I got a wild hair and decided to well…get some wild hair.
I am probably way too old to pull this off, but since it fades uber quick and Halloween is the perfect excuse, I decided to get some dip dying done. Unlike a lot of brave, brave people that do this at home, I went to a salon. I already have a variety of hair colors from past dye jobs and highlights, so I knew all the color would pull differently and better to put at the hands of a pro.
Dip Dying Experience
First, I tested out some chalks on my hair.
While this can give you an indication if you like the "look", its not going to be a great indication of the actual colors that will come out. For example, the majority of the bottom of my hair is actually brown. Hot pink in the "chalk" shows up fine, but with dye to get it to show this loud, I'd have to first bleach than dye back pink. At any rate, here is the chalk tester.
It is VERY VERY messy on your fingers so if you want something long term, skip the chalk and go for a dye or a spray.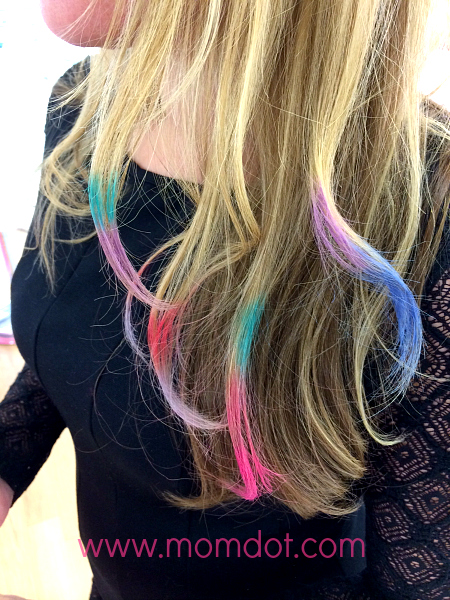 Second, I bravely booked the appointment!
Once there they have you look through a color booklet. I chose 5 colors – teal, dark blue, hot pink, dark purple, and light purple.
It's hard to see in the dark blue bowls the color differences.
Third, here goes the color!
It went on the end like a typical foil. In most cases she did tips, in some she mixed up the colors like a rainbow which require a second sheet of foil to cover the already dyed hair. For me, the pink only really showed up on my blonde hair. Most of my hair took the purple, blue, and teal.
I had not planned to get more than 2 inches up, but the stylist got creative.
Off to the dryer for 30 minutes of heat and 15 minutes of cooling down.
Then rinse with COLD water.
COLD COLD.
Then I sorta panicked at all the dark hair!
But it was wet, so I took a deep breath and sat under the dryer for 30 minutes.
Starting to dry. Still panicking.
Here is a final picture that was taken at the salon.
It was very dark in there so this shot is the best I could do on the ipad.
Once I got home, Chris took a picture in natural lighting:
And I took some myself today after a hair wash and some bright morning light..so these are probably the closest to what it looks like in real life.
BTW it causes a LOT of people to stare… P and I went to Babies R Us. I am not sure I look very motherly now.
I do like this temporary fun look! In a few short weeks it will fade down a lot and then if I ever get sick of it, I can foil it back out.
Would you Dip Dye your hair?
Trisha