Normally I do really in-depth crafts around here, but the one thing about the beginning of the year is that with Valentines, St. Patricks Day and Easter, there are a ton of ways to get involved with your child that require very little money and very little time. This afternoon we had some pretty bad weather and I got shut down early around here. Plus, with the sunlight being gone (we are talking tornado weather here), I wasn't overly concerned with a huge craft that required a lot of imagery.
Instead, we decided to break out the paper plates and do some painting and crafting to create a Little Bunny Foo Foo Paper Plate Craft. Paper plates are such an easy way to craft with your child that requires you be creative within that circle. There are 100s of ideas out there. We originally thought we would make a bunny out of the plate but…then…sticks. And cotton balls and OMG LITTLE BUNNIES. Before we knew it, our little bunny sticks had turned into Little Bunny Foo Foo and I was trying to give him a way to hop across the plate. Admittedly I just used scissors and cut a straight line to test the concept, but you could draw a zig zag around the plate, connect other plates and basically create an entire scene he could move across.
Phoenyx called Bunny Foo Foo a puppet and indeed he was.

Little Bunny Foo Foo Paper Plate Craft
paper plates
cotton balls
construction paper
glue
wooden sticks
paint
Instructions
Create little bunny ears with construction paper. My son told me that these were "cat" ears….everyone's a critic. Glue your cotton balls onto the wooden stick, add a secondary cotton ball that hangs off (like a body). Add on some googly eyes, whiskers (I tried to use pipe cleaners but they were too big).
Cut a line in the paper plate before you paint it.
Paint your paper plate. If we had more time, I would have added stand up flowers or a forest for him to hop through, but our weather got nasty and we moved out of the play room.
Insert bunny and hop, hop, hop!
Simple but kept our mind off the rain and thunder for a few minutes!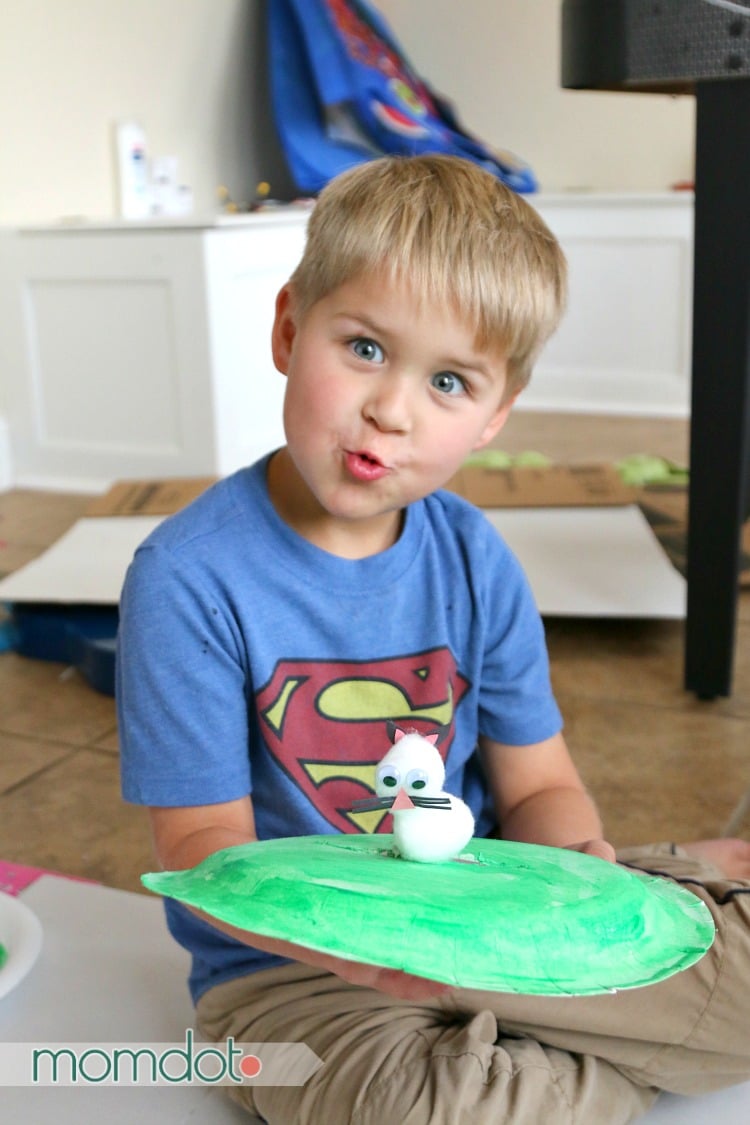 Check out all my paper plate crafts here and pin for later!