This is the best grape salad recipe you will find! Its not only perfect for a picnic, but you can feel nearly guiltless since its full of fruit; atleast that's what I tell myself! Be ready for all of your gatherings with this grape salad recipe.
Best Grape Salad Recipe
 Get this Luscious Grape Salad, which is a perfect blend of tangy and sweet!  Combining two types of grapes and cream cheese, and some brown sugar, your mild grapes become a wild dessert that reminds me of cheesecake….with fruit. Personally I make my cheesecake with Kraft Philadelphia Cream Cheese (who doesn't!) so when I added the sugar it was like a spoonful of the good stuff with only half the guilt.
Best Grape Salad Recipe Ingredients:
1 tub PHILADELPHIA Cream Cheese Spread + 2 TBSP Milk Combined
1/4 cup ……..packed brown sugar
4 cups ……….

each

seedless green and red grapes, halved
2 cups ……….fresh pineapple chunks
1/2 cup ……..walnut chunks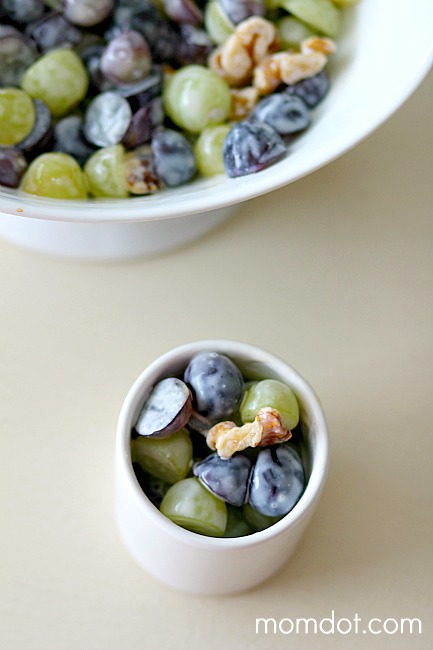 Best Grape Salad Recipe Instructions
1) This is so easy to make! Just mix up your cream cheese spread mixture and sugar
2) lightly mix with everything else
3) eat!
Best Grape Salad Recipe
What You Need
1

tub PHILADELPHIA Cream Cheese Spread + 2 TBSP Milk Combined

1/4

cup 

........packed brown sugar

4

cups 

..........each seedless green and red grapes

halved

2

cups 

..........fresh pineapple chunks

1/2

cup 

........walnut chunks
Instructions
This is so easy to make! Just mix up your cream cheese spread mixture and sugar

Lightly mix with everything else