My son's Boy Scout troop is doing a service project for their activity tonight.  There is a Fire Station across the street from where they meet each week, so they decided to take them dinner tonight.  With 15 kids in the troop, they had signups for just about everything you'd need to host a backyard BBQ.
Every time I think about going to the Fire Station, I remember the conversation Caden had with Randy when he was just 3-years old.  Randy asked where we'd gone that day for the field trip, and Caden said, "To see the Men with the Big Red Truck."  Like the time he told us he had "shiver dots" (goosebumps), his cute expression has stuck ever since.
The Men with the Big Red Truck are going to eat well tonight!  Soup, Breadsticks, Salad, Pie (because today is Pie Day!), and the salad Brennon signed up to bring: Pistachio Salad.
INGREDIENTS
Pistachio Instant Pudding
Crushed Pineapple, undrained
Chopped Walnuts
Whipped Topping
Mini Marshmallows
This is one of those recipes that is so quick and easy, it will quickly become one of your favorite go-to potluck favorites.
First, pour dry pudding into large mixing bowl.
Next, dump undrained crushed pineapple.
I love that the juices from the pineapple start to bring out the color of the pudding!
Next, add in your chopped walnuts.
Honestly, I could go so far as to say these are optional.  While I do think the walnuts gives it an added texture and elevates the taste, I've made it without a few times, since my mom is allergic to them.  I've also used chopped almonds once and loved those as well.  However, my Grandma Fuller's recipe calls for walnuts, so that's what I mostly use.
Next, add in the whipped topping and mini mallows.
Stirring gently, incorporate all ingredients until completely mixed.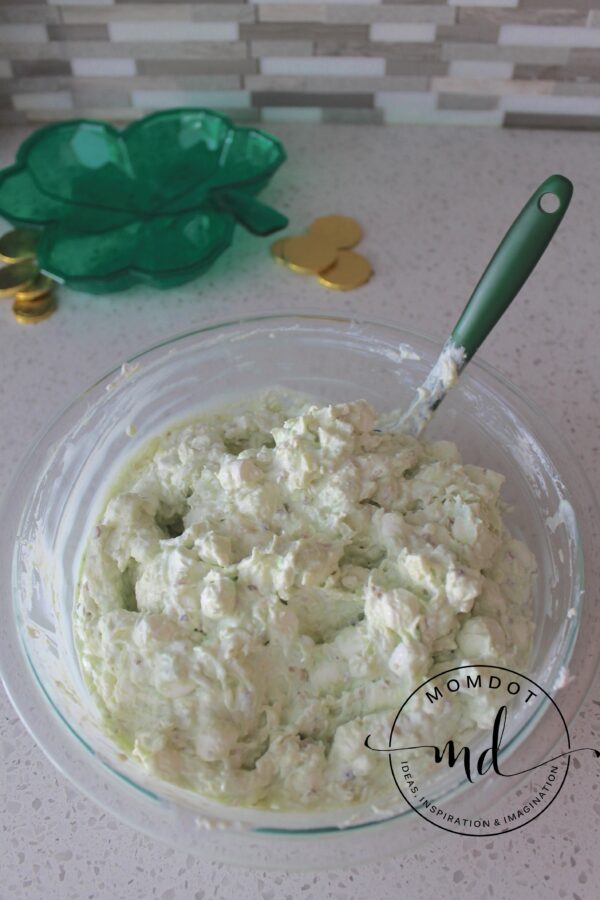 Serve immediately, or refrigerate in a covered dish.
Because I wanted to add a little flair to this simple salad, I let Brennon take the Pistachio salad to the station with a little St. Patrick's Day fun.
Pistachio Salad became Shamrock Salad for our Men with the Big Red Truck.
It's fun to think of other ways to make this salad fun.  Imagine heaping it in a bowl, adding some fun candy eyes, and calling it: Monster Mash, or Poltergeist Pistachio Salad.  So simple, so delicious, and so fun!
Shamrock Salad: A Pistachio Salad Recipe
What You Need
3.4

oz

Instant Pistachio Pudding

20

oz

Crushed Pineapple

Undrained

1/2

cup

Chopped Almonds

Optional

9

oz

Whipped Topping

3

cups

Mini Marshmallows
Instructions
Dump all ingredients into a large mixing bowl.

Stirring gently, incorporate all ingredients together until mixed completely.

Serve immediately, or store in refrigerator.

Enjoy!
Other Salad Recipes to try:
Have you ever had this salad?  Do you like it with or without nuts?  Do you have any other fun ideas to make this salad a fun craft or holiday idea?  Comment below!
~Steph