Painting a Wall Mural
My Wonderful Walls
A year later, we are still living in a house with nearly white walls, and sporadic decor throughout. We have started a mission this year..its time to admit we are settled in and decorate this place. Coming up on MomDot, I am going to be sharing things we are doing in our home to make it more "homey" and offering you ideas and some giveaways to follow along. The first idea I wanted to share with you are the amazing Kids Murals from My Wonderful Walls and how they transformed our playroom from drab to a show piece in less than a day.
(this article contains affiliates)

A bit about them from their site: Offering imaginative do-it-yourself kids wall murals and personalized ready-to-hang wall art for baby nurseries and kids rooms!  If you are looking for beautiful and captivating wall decor for you r baby nursery, boy's room or girl's room, you've come to the right place. We invite you to come in and explore our products. Our stunning wall murals and delightful personalized canvas wall art decor give the "WOW factor" to any child's room. Come in and explore the possibilities!
That's right! My Wonderful Walls is a  Kids' wall mural company and provides an easy way to mural your wall for a boy or a girl, in ready made templates that show up at your door just waiting for you to add creativity and splash color on your white walls. They also do pre-painted Canvases, so if you cant mural your wall, you can still decorate! We started with sending Charlotte to her grandparents house. It was pure bliss already. HA!
My Wonderful Walls Jungle Wall Stencils for Jungle Theme Wall Mural for Baby Room
My Wonderful Walls Peel and Stick Train Car Truck Wall Sticker Kit, Multicolored
My Wonderful Walls Under The Sea Wall Mural Stencil Kit
My Wonderful Walls Dinosaur Days Self-Adhesive Wall Stencil Kit
My Wonderful Walls Tutorial
This is the room we started with, its the playroom (minus the toys)
Now with plain walls, we had to get a color up first before we started in on the work. We decided on a lilac purple. The walls kept soaking up the paint so it took about a gallon and a quart to get on two coats of paint. It took about 3 hours total.
Now the wall murals come in pieces with easy to peel backing and go right on the wall. They can re-peel and stick again, so you can use them over and over again. They also come with non stick paper so you can pack them up when your done and keep in case you move or want to add on! The only one we had trouble with was the tree. It was very large (although broken down in three pieces) and was a tad difficult to get smooth, which was understandable. Everything else popped right on with almost zero incident.
TIP: My Wonderful Walls also does Canvases, which are also great  baby wall art, nursery wall art, or kids wall art, so if you don't have time to do the whole wall mural yourself, you can bring in the feel of a new room with painted personalized canvases instead! They arrive to you already painted ready to hang!

My Wonderful Walls Stencil  Kits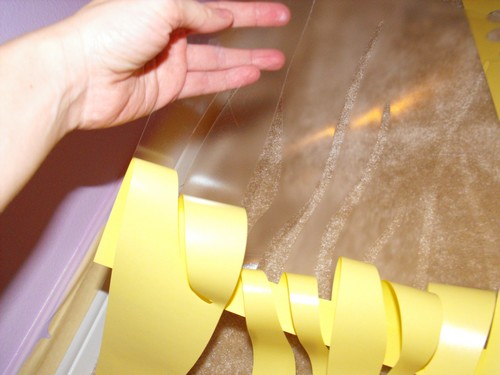 This is where we hit a hurdle. We didn't let the paint on the wall dry long enough and when we peeled off the template, we took off some of our wet paint too. It wasn't a big deal because we just touched it up, but a tip from us is to paint the walls one day, then do your mural the next. We were limited on time with Charlotte being gone, so we crammed it all in. As soon as the tree was over, the rest was a snap.
Pretty soon our room started to really transform:
The finale:
Tips:
We brought in some glitter paint and made our flowers glittery on the tree at the end.
Save some of your solid wall paint color to do touch ups the next day
Time:
It took us including 2 coats on the wall in the main color about 6 hours, not working straight through (walking in and out of room, refilling paint, etc)
You only need the little bottles of the acrylic wall paint for most of the mural except the tree. We used an 8 oz bottle for two coats and still had some left over. We used the bottles from the crafting section at Walmart and they were approximately 99 cents-$1.81
Level:
They made it so easy, that anyone can do it. After you do a template or two, its very simple and goes quickly. Keep a wet rag handy because if you really mess it up, you just wipe off the paint and start over.
Check out all the adorable stencil kits, including the one we bought here!
My Wonderful Walls Perfectly Princess Self-Adhesive Wall Stencil Kit
My Wonderful Walls Princess Theme Wall Stencils
My Wonderful Walls Bugs and Blossoms Girl's Room Wall Decor
My Wonderful Walls Flower Garden Theme Wall Mural