A few weeks ago my dad (yes, my dad, not my child) and I went to Medieval Times on our trip into Orlando. What can I say; we are kids at heart. I have been there many times before, but it never fails to be a blast.
If you have never been to Medieval Times, they are not just located in Orlando. You can catch this throw back to the dark ages in 8 locations in the US– California, Florida, Georgia, Illinois, Maryland, New Jersey, South Carolina, and Texas. They even have one in Canada!
We arrived pretty early. The show told us to be there around 6pm to be on the "safe side". I am thinking crowds and kids and lines. Nope. We walked right up to the counter and in the doors.
What they don't tell you is that if you arrive that early you will be bored out of your mind and ultimately spend the next hour and a half milling around the bar. I am assuming that that is the whole plan. And at $12 a drink, that hour and a half can rack up some hefty drink and souvenir costs.
As I was with my dad, this was just a chance for us to hang out and talk. If Charlotte had been with me, this would have basically been full on torture for her and I think we would have had to leave and come back closer to the allotted time.
ARRIVING TIP: My advice to families is arriving 30 minutes early is plenty time. The show didn't actually start at 7:30, seating began at 7:30. You wont eat till around 745 or later. Bring some crackers if you have kids.
But arriving early did allow for it to get interesting. While we were standing in the 'galley', we noticed a guy, around 60 something, full on decked out in knight gear. And had a wench with him. He clearly looked like he was in the show and we thought he was -till we noticed he went to the bar and got a drink.
An alcoholic one.
Then I started to be super interested. He was talking to people, sauntering around, sword hitting him in the leg.
Carrying a goblet.
Holy. Crap.
He didn't work there.
We spent some time trying to get over to him and strike up a conversation. My dad could be an undercover agent I swear. He weaseled us over to this character and struck up a nonchalant conversation.
Welcome the world of crazy.
The guys name was John Black. Not sure if that was his real name or his pretend name. He was The Guild in person. He told us while he wasn't knighted in his new realm, he had 6 or 7 other places he was a "Sir" and if he died, they would knight him in death out of courtesy.
Wow. Umm. Cool?
He went on to explain to us about all the war games, scratch that, knight games, they play in the local areas. One has its own castle.  Ooooooooh.
And he didn't live in Orlando, he lived in Pensacola. Near me. It was at this time I was wishing I had my Flip on me.
John Black was a Youtube star in the making.
Now here is where the problem talking with someone who is in a whole other world. While fascinating, getting rid of "Makeup Believe John" proved a lot hard then going up to him. Once you open up the world and act interested, its hard to shut it down. And his wench (wench is an acceptable and PC term at Medieval Times, btw) was contradicting some of his statements, which made him embarrassed, backtracking, and re-explaining. Cause it totally matters if the goblet he is drinking from (and brought from home!) came from the flea market or that last convention they went to.
And even better, this was his first time to Medieval Times.
He really put a lot of thought into his costume before he came. I wonder what the employees thought when he bought tickets. I still get a giggle out of the whole thing.
On with the show:
Now when they call you to go into the seating area, they call you by  knight color. The section you sit in is the color of knight you cheer on throughout the show.
SEATING TIP: Get in the FRONT of the CROWD when they call your color in.
While you are assigned a table (which is set up like long picnic tables), you are not assigned a seat. If you are on any of the last sections of the colors, you could end up against the wall on either side. While its super small and that isn't the biggest deal, its a lot nicer view smack in the middle of the seats.
Here is where I should mention that there is no silverware. I mean…its medieval. You eat with your hands. They serve chicken,  ribs, bread, soup (this is in a bowl with a handle to drink) and dessert. The food was surprisingly good AND it kept coming. I was stuffed. The service was immaculate and our waiter, even with 50 people to serve, was all over it. Plan for at least a $20 tip per couple.
FOOD TIP: If you have a baby, bring your own spoons!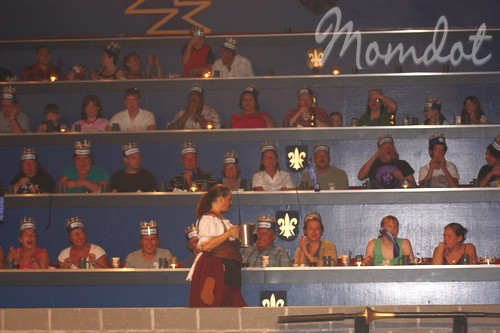 Ill be the first to admit the show is slightly on the cheesy side. What do you want from a bunch of grown men running around fighting each other? But its a fabulous family adventure and your kids will  be fascinated. The nitty gritty of the horse tricks and the jousts are a blast. You get to cheer on your knight and really get into it.
The actual story they tell with the "bad knight" and the prince being kidnapped is stupid.
OK, there I said it. And its true.
But this isn't Broadway, so the guy being held hostage was more Halloween than Braveheart. Trust me when I say that the kids don't care. They were whooping and hollering and ooohing to their hearts desires.
And I am also sure John Black was too.
We sat in the yellow section on the far right, nearly up against the wall. They had screens that came down and protected your face from splinters if something broke off during the show. The view was excellent on the 1st row, so I recommend the bottom rows if you can get them. The knights also hand flowers to the girls on those rows, so its a nice treat for your daughter if you get lucky.
Souvenir Tip: They sell ribbons for you to wave and cheer for your knight. At the end of the show most people leave them behind on the tables as they are exiting. If your kids want one, wait till the end and walk around and pick up as many as you like. We collected a hand full for Charlotte.
They will also take your picture and morph it into a knight or lady. K
Kinda Funny although we didn't buy ours.
Camera Tip: ITS SMOKEY! They use dry ice so make sure you bring a filter to combat this. Many of my photos were too smoked out to use.  Few more things to remember: Everything is moving fast and you will need a wide angle for majority of shots.
You can find more information on tickets and upcoming shows at Medieval Times.
~Trisha
2 tickets were provided as a courtesy for media coverage. And John Black was nice…even if it was Twilight Zone.