I'm a sponsored Align Influencer, but all opinions are my own. Please see below for additional disclosure.
Whether in like a lion or rather in like a lamb with all of the this warm weather, March is often a great time to rededicate yourself to your healthy living and get the entire family involved as well. As you change your habits, you model healthy behaviors for your kids and loved ones, which can inspire them to make changes as well. This month, in honor of National Nutrition Month, try something new every day to improve your health – whether it be a focus on food, exercise or mental health. Either way, you're guaranteed to feel better and re-energized to make lasting changes to your diet and exercise routine. As a parent, I want to instill healthy mind, body, and spirit habits in my kids. We don't always do things perfectly, but little changes can mean big results. To help you (and me!) find a way to incorporate positive changes that give us daily encouragement for a better lifestyle, I have curated a list of a healthy habit changes you can try everyday this month.
Making new habits is as easy as doing one great thing a day. If you are getting started on this list later in the month, just start on any day and move forward.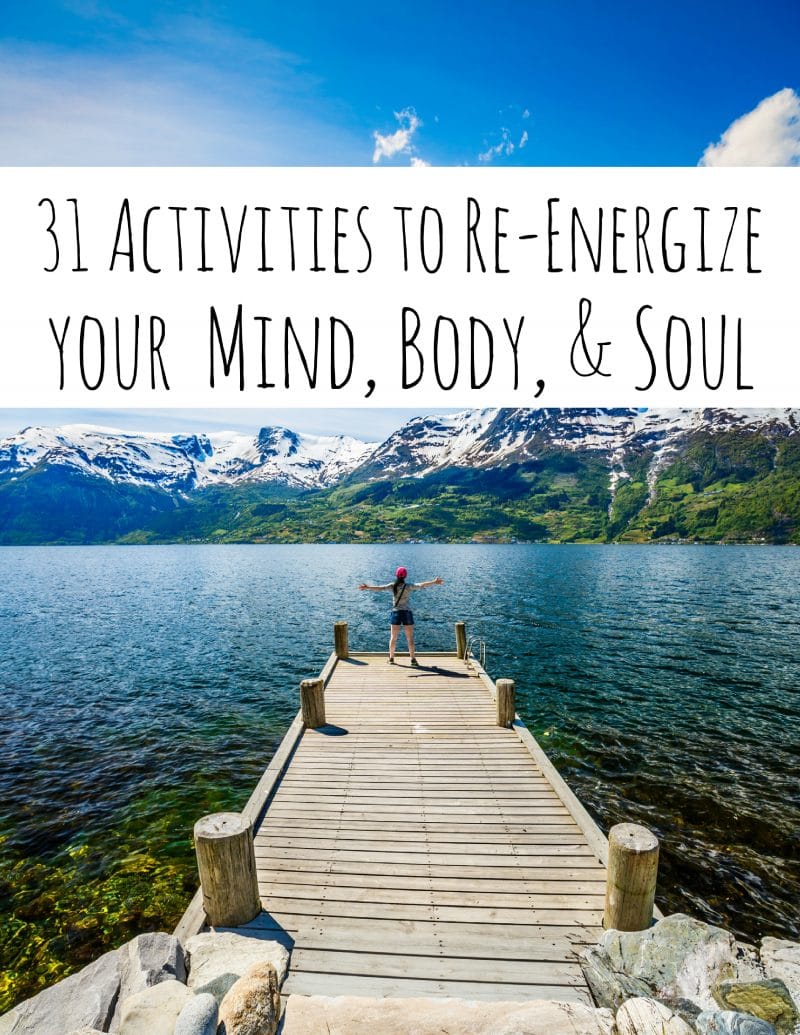 31 Activities to Re-Energize your Mind, Body, & Soul
Day 1: Take a nature walk with your kids.  Notice the blooming flowers or the way melting snow trickles down hill.  Challenge your kids to join you and find something unique as well.
Day 2: Play catch!  Work on your eye/hand coordination and enjoy the fresh air of spring.
Day 3: Call a friend you haven't spoken to in a while.  Catching up will boost your spirits and energize you all day.
Day 4: Daylight savings is back!  Schedule changes and spring sports are around us, which means longer and busier days, wreaking havoc. Incorporate Align Jr. in your kids routine, which contains Bifidobacterium 35624, a probiotic strain that naturally helps fortify your child's digestive system 24/7§, to your kids' daily routine.*  And changes don't just affect kids! Start preparing your digestive system for spring and summer travel by taking a probiotic like Align, the #1 Doctor and Gastroenterologist recommended probiotic brand‡ , daily to fortify your digestive system.*Get our 28 Day Challenge Printable here to stay on track.
Day 5: Have a dance party!  Kids love getting into the groove with you.  Turn on your favorite tunes, or maybe something brand new and dance like no one's watching.
Day 6: Drink plenty of water.  To be sure you get your 64 ounces in today, drink out of a measured water bottle or jug and keep at it – glowing skin awaits you.
Day 7: Eat four servings of fresh fruit today.  One serving is equivalent in size to a medium apple – serve for an after-school snack with nuts or cheese.
Day 8: Try a new recipe.  Break out of your traditional fare with a new recipe that uses new flavors and textures.  Have your kids' help you choose or let them pick it for you!
Day 9: Chew slowly.  We spend up to an hour making dinner each night and less than 10 minutes enjoying it.  Encourage your entire family to slow down and savor each bite.
Day 10:  See those weird fruits and veggies in your grocery store?  Take one home and try it as a family.  Maybe you'll discover everyone's new favorite.
Day 11: It's hard to keep on track when you're eating fast food for lunch.  Take time the night before to pack a healthy lunch you love.
Day 12:  If you crave sweets after a meal, try a quality piece of whole wheat bread eaten slowly.  It will give you the sugars you're craving but in a healthier package.
Day 13:  Use smaller plates for dinner.  People eat less when their plate is smaller – such an easy swap!
Day 14: Focus on protein packed snacks today to give you a boost in the afternoon.  Kids need a high-protein after-school snack to get them through till dinner as well.
Day 15:  Whenever possible, take the stairs.  Cardio doesn't always mean sweating in the gym.
Day 16: If the weather's nice, pull out your bike and take a ride with your kids.  They'll love riding with you, especially if you don't join them often.
Day 17: Set the table with your finest table cloth and ask kids to help with the fancy dishes.  Taking time to set the scene for a luxurious dinner will remind everyone to slow down and enjoy eating together.
Day 18: Try a green smoothie for breakfast or snack.  Green smoothies are loaded with antioxidants and critical vitamins and minerals.  See what all the fuss is about today.
Day 19: If you struggle to find things to talk about at the dinner table, take a few minutes to write down some interesting questions to ask your dinner-mates.  Or try my favorite, "If you could redo one thing that you did today, what would it be?"
Day 20: Don't eat at your desk.  Face it; this can make you feel like work is taking over your life.  Reserve a conference room, find a bench in a sunny spot or grab a colleague and get away for a few minutes.
Day 21: Cut out sugar.  New research has shown that sugar is the major culprit that damages our health.  Try just one day without any processed sugars.
Day 22: Donate pantry items to the food shelf.  Not only will this free up space in your cupboard, but it supports a less-fortunate family in your community.  Get kids involved in choosing items to share and dropping off donated goods.
Day 23:  Visit the roller-skating rink with your kids!  This novel outing will give everyone something to laugh about and remember for years to come.
Day 24: Eat your veggies!  Get all four vegetable servings in today – try a new side dish or ask your kids for their favorites.
Day 25: Park at the furthest end of the parking lot.  Whether you're at work or running errands, get those steps in!
Day 26: Do squats while brushing your teeth.  Teach your kids proper form – don't let your knees extend over your ankles – and you can all practice together at bedtime.
Day 27: Try sushi for lunch.  Most grocery stores now offer fresh sushi with countless different options.  Try a vegetarian option and don't forget to share!  Kids may be surprised they actually like it.
Day 28: Pull out your sofa and vacuum like you mean it – get your heart rate up!  While most of us try to avoid the things lurking under the furniture, today tackle the hidden mess and work your body head to toe.
Day 29: Record everything you eat today.  Those who diligently record what they eat are more likely to lose weight and keep it off.  Kids will love making their own diary or helping you keep yours accurate.
Day 30: Bake something today, but swap out half of the white flour for whole wheat.  You won't notice the difference in taste, but you'll give everyone a huge health boost.
Day 31: If it's warm enough where you live, dig in the garden!  The potential of the earth in your hands can renew your spirit and your yard.  If it's still chilly – attend to those indoor plants you've been neglecting.
Today is a Great Day to Be Amazing
Every moment we are allotted with our family, should be a precious one. Make sure you are recognizing it and doing what you can to be happy! Download my free "Today is a Great Day to be Amazing" printable and add to an 8×10 frame. It makes the perfect inspirational quote for your desk, hall, or child's room!
Mind
This month it's also a great time to look at everything you are doing for yourself. When it comes to "down time", I try to do something every day that gives me the time I need to be a good mother, wife, and friend. I read new books every week (YES, EVERY WEEK!) and take a bath once a day to have some down time that is all mine. I also make sure I take time to have a coffee in the morning and enjoy the weather outside.
Body
National Nutrition Month is all about our bodies! I just bought a used treadmill this week and got it put in my room. This morning I went on my first run/walk and while those 23 minutes were hard, I powered through and look forward to the next one. As I get older, making sure I get in shape is more and more important. I have friends that are facing medical and physical hardships and even facing aging parents and grandparents remind me to make sure I am doing something every day to do better.  Part of having a better body, is making sure I am respecting what I put in it and how I regulate it. Eating cleaner, drinking more water, and probiotics, like Align, have also helped.
Soul
Every week a friend and I get together and walk a few times a week, chatting about our day, the kids, our life – it really helps me focus on the good around me. I also enjoy expanding my hobbies like photography, and work on being a better, stronger version of myself. Being a good friend and having good friends, helps me feed my soul and makes me an all-around happier person.
(my best friends Sarah, Tina, and I at Mardi Gras this year)

Align partnered with bloggers, such as me, to get the word out about its great product benefits. As part of this program, I received compensation for my time. Align believes that consumers and bloggers are free to form their own opinions and share them in their own words. Align's policies align with WOMMA Ethics Code, Federal Trade Commission (FTC) guidelines and social media engagement recommendations.
§ Fortifies your digestive system with healthy bacteria 24/7 with continued daily use.*
ǂ Among gastroenterologists and doctors who recommended a brand of probiotic in an AlphaImpactRx 2016 Survey.