A few years ago when I was first introduced to Origami Owl I was at an event. There were two gals there that sold OO and were having quite a bit of success with the company.
Out of curiosity, I looked it up when I got home and was surprised to see gorgeous jewelry that was termed "living lockets." Easily customizable, the jewelry allowed you to pick piece by piece and design the exact result. With chains, lockets, charms and dangles, the line was simple yet elegant, meeting needs for all types of  jewelry wearers.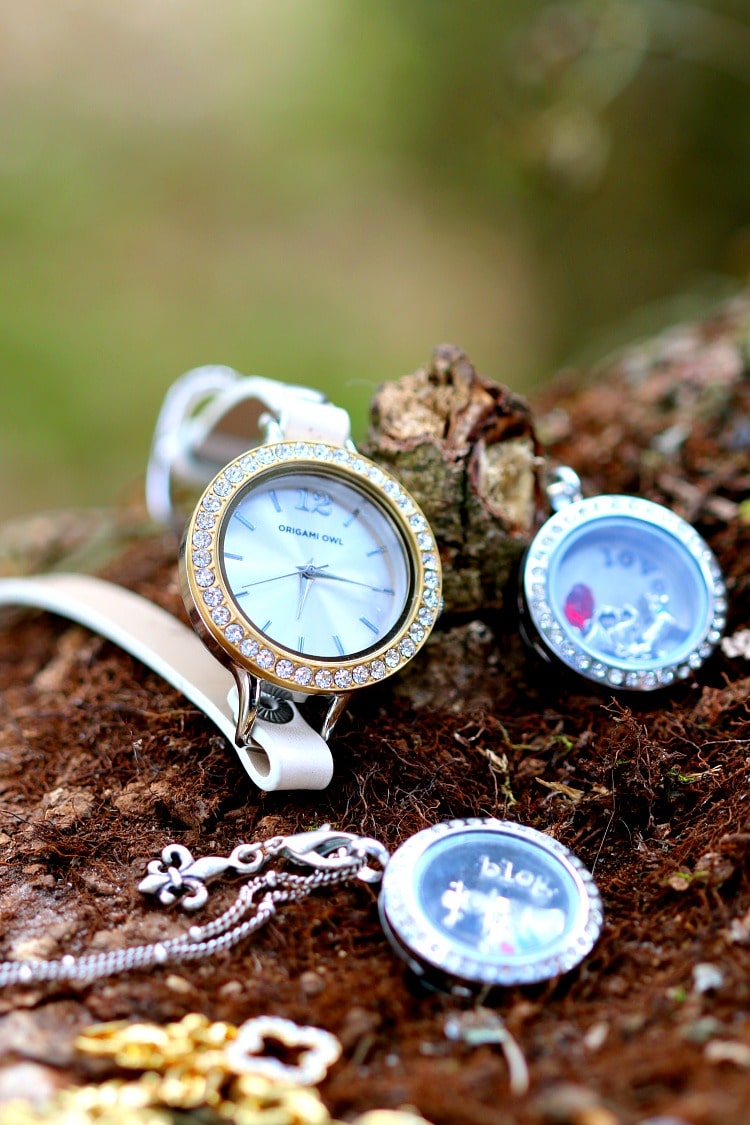 Prior to this article, I was on my 3rd Origami Owl purchase.
I hadn't ventured much further than the traditional locket and picking out the exact charms I wanted to showcase. I personally owed a "blog" necklace, had gotten a horse related one for my daughter and had purchased one for a friend that had lost her baby in remembrance. Then recently Origami Owl reached out here and asked if I wanted to take a look at some of their newest line and I could not resist. As a consumer already, I was sure that I would like the pieces, but getting a close up view of the earrings, and wrap bracelet watch was a must.
Before I go into showing you the pieces I also wanted to tell a quick story. As a blogger, I take limited products in my home to show you items that I love and hopefully encourage you to try them out as well. Origami Owl had sent me some earrings, a wrap watch, a bracelet and a long chain necklace with vintage charms. I had only managed to wear the necklace ONE TIME before my 4 year old son ran off with it. Apparently he thought it was pretty too because its 100% gone. He is absolutely a gremlin.  Two of my neighbors came over to help me look through every drawer and under every bed in the house and poof. It's gone.
Unfortunately, I won't be showing you that necklace until I find it, but I am showing the two pieces I own as well as the other additional pieces in the line.
I also want to say thank you to my neighbor Gigi, whom came over and posed for these photos for me to showcase the beautiful pieces!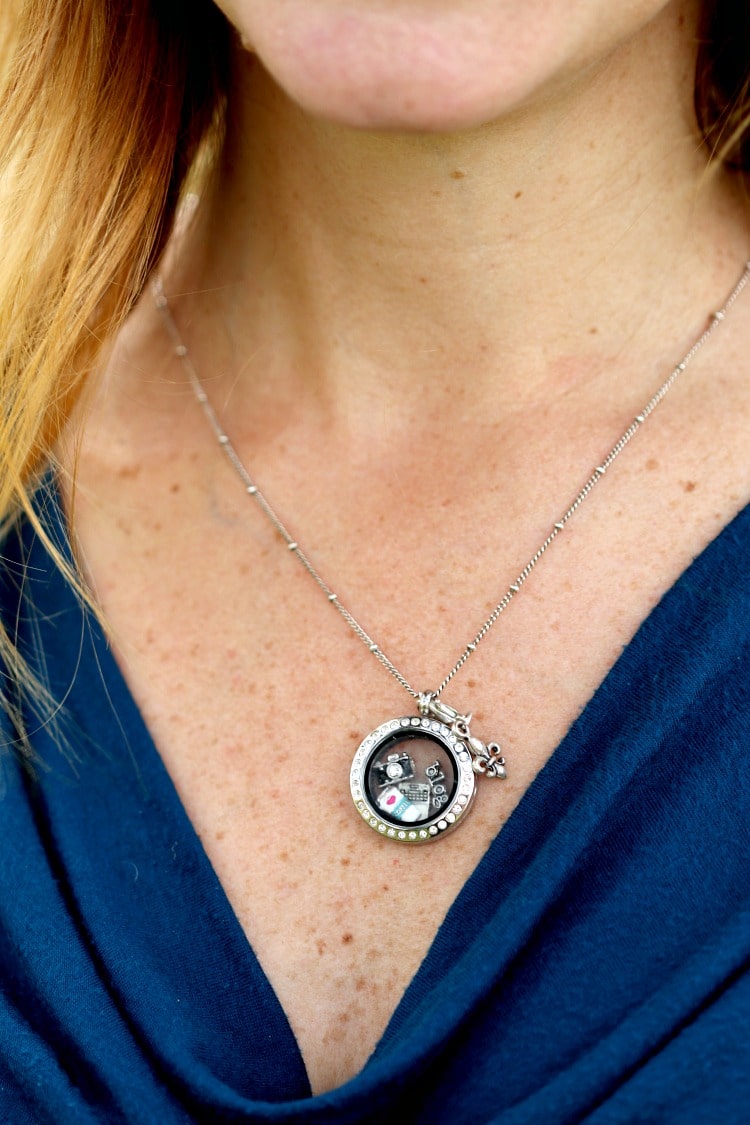 About Origami Owl
Started by a 14 year old, the Origami Owl website says " I had big dreams of having my own car by my 16th birthday. At 14, my parents told me the only way I could get one was by working for it. So, with $350 and my family's support, I started selling lockets to friends and family after school.
From the very beginning, I knew we were doing something very special. Women immediately loved the Living Locket® and the connection they created through wearing one. It wasn't long before I was getting asked questions on how they too could share Origami Owl. Fast forward a couple of years, with the hard work from my friends and family, Origami Owl now has more than 60,000 Independent Designers across the country. The best part is they too get to pursue their very own dreams by selling our jewelry at home parties we call Jewelry Bars."
What you can expect from the Origami Owl Line: 
Current collections include watches, bracelet, Living Lockets, Crystals by Swarovski, Bridal, Men's, Core and Collegiate. Categories include watches, charms, lanyards, chains, plates, dangles, earrings,  and in(script)ions.
Watches:  When I first got the watch, I could not figure out why the strap was so long. Like really long. I thought maybe it was a sizing issue. Turns out…it's a wrap bracelet as well as a watch. GORGEOUS. Once I figured that part out, the whole look just came together. I love how many colors and designs the watch comes in, picking the perfect face and perfect leather wrap to tell your story.
Get the Look MomDot is showing off:
ARM PARTY OVER HERE! GET WRAP HAPPY WITH THIS AQUA GENUINE LEATHER WRAP BRACELET THAT'S PERFECT FOR ANY OCCASION. ADD THE "BLESSED" SILVER EXPRESSION FRAME FOR A SHINY REMINDER THAT YOU HAVE SO MUCH TO BE THANKFUL FOR IN LIFE.
 Bracelets – This one included some adorable dangles that paired perfectly with the watch, bringing the look 100% together.
ADD A LITTLE ARM CANDY WITH THIS 7″ ROSE GOLD DANGLE BRACELET CHAIN. COMBINE IT WITH YOUR FAVORITE DANGLES FOR A STATEMENT THAT NEVER GOES OUT OF STYLE, OR HANG THE MINI ROSE GOLD LIVING LOCKET WITH CRYSTALS TO TELL YOUR STORY.
Get the Look MomDot is showing off:
Earrings
A MUST-HAVE FOR YOUR JEWELRY COLLECTION, "THE SOPHIA" GOLD STUD EARRINGS WITH PAVÉ SWAROVSKI CRYSTALS PROVIDE A TOUCH OF SOPHISTICATION. PAIR THEM WITH YOUR LIVING LOCKET® AND GOLD RENEWAL TEARDROP BANGLE.
Get the Look MomDot is showing off:
How you can order
You can order right on the Origami Owl website or purchase through an Origami Owl designer.
How you can sell
As a designer, you can
Get paid what you're worth
Control your own success
Work the hours that work for you
Change your life + impact others
Origami Owl© offers one of the highest personal commissions in the industry. As an independent business owner, you can design the life you want, make lifelong friendships, and reach your dreams.
Youth can join too!
Our youth can also play a role in empowering others! Young people, ages 12 to 17, can participate in our youth development and leadership program by becoming an Owlette with a parent or mentor. As young Designers, they'll build relationships, business and social skills, and self-confidence.