This is a sponsored post written by me on behalf of DeMet's FLIPZ®. All opinions are 100% mine.
I cannot believe Halloween is just 2 weeks away! My kids have been planning for this day for at least the past 3 months, changing their costume ideas by the minute. It's been so random with them that I refuse to buy a costume till the last week before Halloween. The last thing I want to do is let my son grab a Pikachu to have him decide he is a Ninja Turtle.
There are, however, a few things I don't wait for last minute during the holiday season. One is prepping for all the parties and food I serve all month long (Cookie Dough Dip and Peanut Butter Pumpkin Dip recipe below) and the second is the Trick-or-Treat bucket.
We have literally 100s of kids come to our door during the season and I start buying treats really early so I can be ready for all those happy faces!
Flipz, White Fudge Minis, 2.0 oz. Bags
Flipz, Milk Chocolate Covered Pretzels, 5oz Bag
Flipz White Fudge Pretzels, 5oz (Pack of
First, I want to share with you a super easy idea for your upcoming Halloween parties.
We have people coming in and out all month long as well as being invited places and bringing a dish. I don't like to spend a ton of time in the kitchen if I can help it and these two delicious dip ideas will make sure you won't either.
Both of these dips pair well with FLIPZ® Milk Chocolate covered Pretzels, which gives you that chocolate element that everyone needs when they are talking about sweet dips!
Cookie Dough Dip (without egg)
Don't worry! This cookie dough dip is totally safe to eat and super sugary, which is appropriate for the season. This dough is more dense and I prefer not to overmix so it has a cookie dough consistency.
Instructions
Mix butter, brown sugar, white sugar and vanilla together till compacted like dough.
Add in chocolate chips. I only use about 1/2 cup and then additional ones for serving.
Pair with FLIPZ® for serving.
 If you prefer this to be a lighter and fluffier dip, you can add in cream cheese and whip till more fluffy.
Peanut Butter Pumpkin Dip
This dip is light and fluffy and paired with seasonal pumpkin, is a fan favorite
1/2 cup of butter (1 stick)
1/3 white sugar
2/3 brown sugar
1/3 canned pumpkin
2/3 peanut butter
dash of cinnamon, dash of nutmeg
Instructions
Mix all ingredients in a mixer till light and fluffy.
Note that it takes a little bit to get the butter and pumpkin mixed in.
Once you see it all starting to dissolve together, I put my mixer on  medium and let it whip up for about 3 minutes till it has a whipped cream consistency.
Serving Your Dips
When it comes to dips, no one likes a double dipper! Serve your dips in individual cupcake cups doubled up for strength along side FLIPZ® for dipping.
Make sure you add plenty of FLIPZ® only cups so everyone can grab more!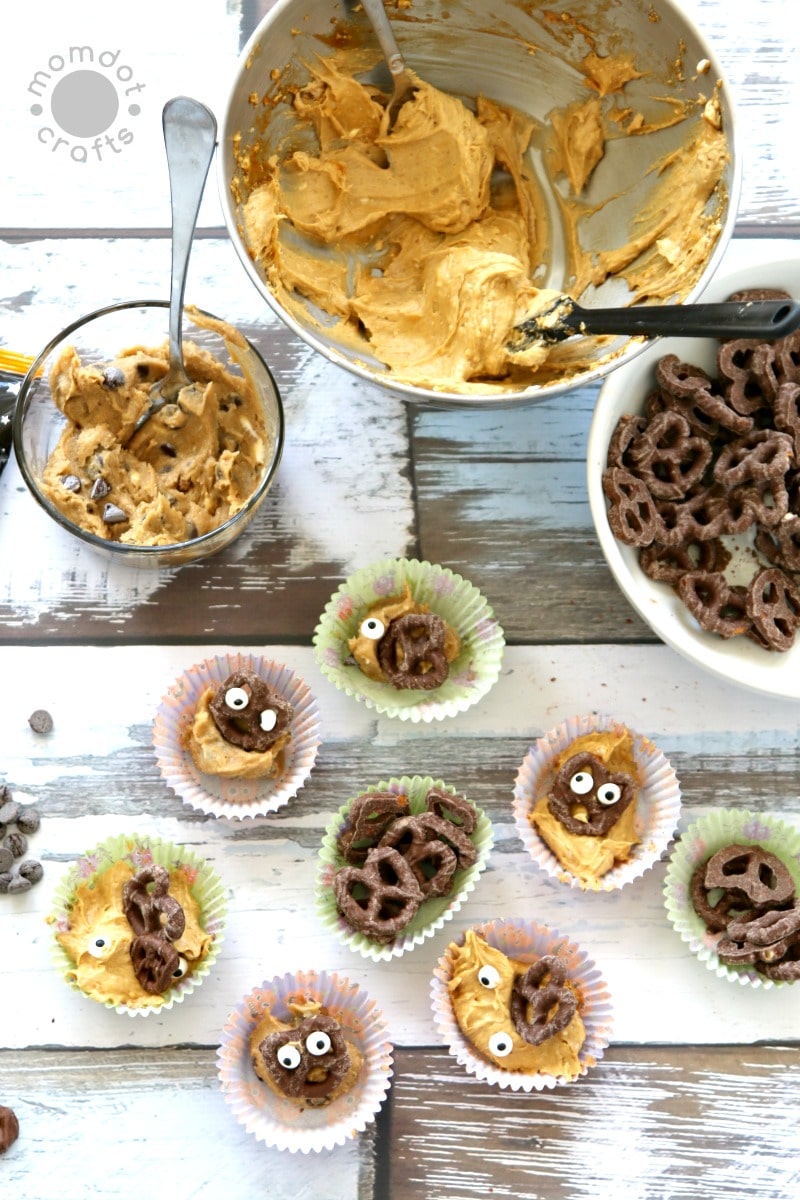 FLIPZ® Mini trick or treat bags
Now you can't pass out these delicious dips to everyone that stops by your front door on Halloween night, but you can pass on FLIPZ® Mini trick or treat bags!
Fill up your cauldron and give the gift of delicious poppable treats to all your neighbors.
Everyone loves FLIPZ® mini chocolate pretzels! 
Happy Halloween!
Flipz, White Fudge Minis, 2.0 oz. Bags
Flipz, Milk Chocolate Covered Pretzels, 5oz Bag
Flipz White Fudge Pretzels, 5oz (Pack of