While summer may be coming to an end with school on the horizon (WOOT WOOT!), there is still plenty of time to enjoy some outdoor fun. And whether or not you can get in your pool during the fall or winter is irrelevant to it's maintenance. Its absolutely year round maintenance…even if summer isn't on the mind.
Now we all know someone with a pool.  In my family it is my dads house. Owning a pool is one of the small joys of home ownership but comes with plenty of responsibility as well. I cannot tell you how many times we beg my husband to let us install even an above ground one and he just hates them.  Pools have high electricity and high water bills, but what he really hates is keeping it clean.  The one year we did do an above ground, no matter what we did, it turned green or had debris in it all the time, we just couldn't keep up.
(At the time I didn't realize there was this Turbo Turtle to help! I am going to start working on him for next year!)
While I cannot help you with the bills and how to keep them down, one thing you shouldn't have to worry about is how to keep your pool clean- especially when it's a larger in ground pool. And as summer does fade and the warmth goes away, the last thing you want to have to do is stand out in 50 degree weather to try and make sure the water is balanced.  Luckily there are products out there that can really make your life easier and the pool in constant sparkling ready position!
Chances are you have heard of the Polaris. The Polaris is a household name amongst pool cleaners and for a reason. But if for some reason you are not up to date on the newest cleaners, here is some very valuable information on one of the best currently on the market:
New & Improved! Now includes TailSweep Pro®

The new and improved Polaris 3900 Sport delivers unmatched vacuum power, incomparable convenience, and legendary performance. It integrates the time-proven Polaris Classic series features you love with innovative new enhancements for added durability, reliability, and performance.

The Polaris 3900 Sport combines the dynamic appeal of a completely re-engineered body design with the most sophisticated features, producing maximum vacuum power and drive torque for quicker cleaning and fewer hang-ups. All Polaris Pressure Cleaners feature innovative auto-reverse technology, which enables the cleaner to free itself if it gets stuck.
Pretty snazzy, right?
As a long time Polaris owner,  I was pleased that my dad was willing to help me test out a new Polaris! As a family we all enjoy his house during the spring and summer months and know how hard he works to keep his pool safe and clean for all of us. Polaris was kind enough to send him the newest sport model to test out in his pool and get an opinion of a long time pool owner. To make it easy, I sent him some questions after he had installed and had it running a few weeks.
Interview with Dad:
1) What model/how long have you owned a Polaris?
We have owned our old one for 6 years. I believe it is a Polaris 180.
Here is a picture of our older one: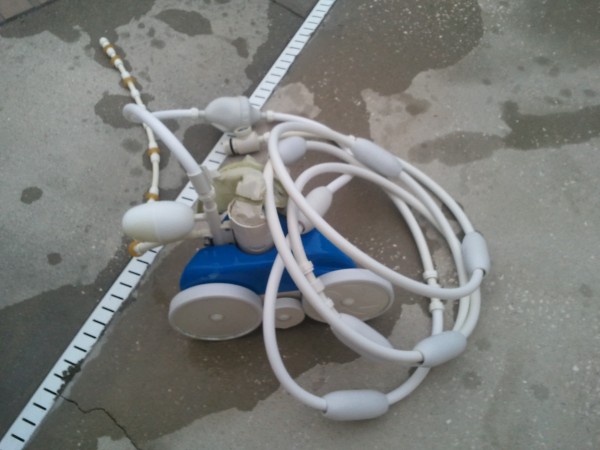 2) How big is your current pool? 
Our pool is 35,000 gallons!
3) Was the new Polaris 3900 easy to put together?
Yes! It took less than 10 minutes from start to finish.

4) Can you tell me if you have experienced any storms that have required it to work extra hard? Did it live up to your expectations?
We had a small storm during its testing and I noticed that the new Polaris was able to clean pool quicker and pick up larger debris than our past model.
5) What are the differences between your last cleaner and this one?
The Polaris 3900 one seems to be able to climb side walls better, move smoother , has larger debris collecting hole and larger debris container which means it doesn't have to cleaned out as often. This is a really helpful feature for pool owners.
6) Have you experienced any issues w/ the Polaris 3900?
Yes. Once once it was out of balance and move only in the seem circular location. Once the water propulsion tube was adjusted it corrected. Regarding my older Polaris, I have also changed wheels, lines and most of the other parts over the past 6 years to upkeep its life.
7) What is one thing you like and one thing that you would improve?
I like the larger debris collection hole, large debris collection bag, the fact it climbs the walls. I also like it's cool new modern look.
8) Would you recommend this cleaner to your neighbors?
Yes, we love it!
————————————————————
My dad also provided video of the Polaris 3900.
To learn more about this and other models, head over to Their Website and find the right pool cleaner for you.
~Trisha
Thank you so much to my dad for working with me on this review to help other pool owners. Polaris was provided by Polaris.