How to Make a Fairy Wand (DIY) Tutorial
I have always wanted to Make a Fairy Wand (and you can now check out my how to make a tulle wand tutorial), but not the usual kind of puff ball fairy wand, something different, more creative. Today I decided to get my craft on and started to conjure up what kind of fairy tutu type wand I could make to match one of Charlotte's new play ballerina dress up dresses.
My initial thought was to make more of a "crystal ball" fairy wand. I had visions of sparkles in water and some really unrealistic things for the time I had scheduled, so I spent some time walking around Micheal's to find some inspiration. That place sure is fun in the holidays.
This is what I came up…the project took about 30 minutes.
---
*SALE* 9 GLITTER Tulle Rolls each one 6
BUT WAIT!! GET YOUR TULLE!!
These size tulle rolls are easiest to make fairy wands, pom pom balls, pretty much any tulle craft. They wrap so easy! If you buy tulle off the bolts at the craft stores, they have to be cut every which way for a tulle ball and that makes the craft frustrating.
I found this awesome set that gives you a variety of colors for all holidays and occasions.
WHAT A DEAL!!!
<—————–
---
STUFF YOU NEED
What you will need to create this Fairy Wand (or one of your own style) is the following:
Dowels (i opted for a larger dowel and cut it in half w/ a hand saw…that didn't go so well) $.99
Ribbon to wrap the dowel $2.99
Tulle (I had this at home)
Clear plastic Christmas ornament $1.29 (get 2 in case you hot glue mess it up like I did)
stuff to put inside the ornament..I used a stream of marabou fluff, other ideas are flowers, glitter, ribbons, bows or rhinestones. My marabou cost $1.99
hot glue  (took just 1 stick)
I also bought some charms to add on from the bead aisle $5.99
INSTRUCTIONS
After you have your dowel cut to the right length, the first thing you do is wrap your ribbons around your wand. What I did was opt for one large ribbon to do the initial wrap and then a smaller ribbon to go around and cover the remainder of the dowel you could see. Its fairly easy to keep wrapping this around and then starting the 2nd one above and it should fall into perfect place.
I usually dab hot glue on the bottom, middle, and top, so if I move my fingers and it slips, I don't unravel the entire thing.
Leave some excess ribbon once you reach the top to hang down or, if you prefer, make up some korker curly ribbon and use those to hang down. At this point on my wand, I left both strands of ribbon hang and then cut additional pieces and hot glued on the top so I had several pieces flowing.
Don't be afraid to get girly here. I am not sure you can overkill on the fru-fru when you are talking about a fairy wand.
Next I set up the "crystal ball".
Take your Christmas ornament and pull out the piece that hangs from the tree. Its easier to hot glue when its flat. Take the top off and stuff inside with your filler. You can also leave it empty and add flowers or rhinestones on the outside. The trick here is that once you hot glue something on it, it doesn't peal off very nicely. I discovered that when I put on my fancy Bird of Paradise, decided I didn't like it, and tried to take off.
What was left was a huge gaping mess, so I had to put it back.
Oh well, it was my first try, right?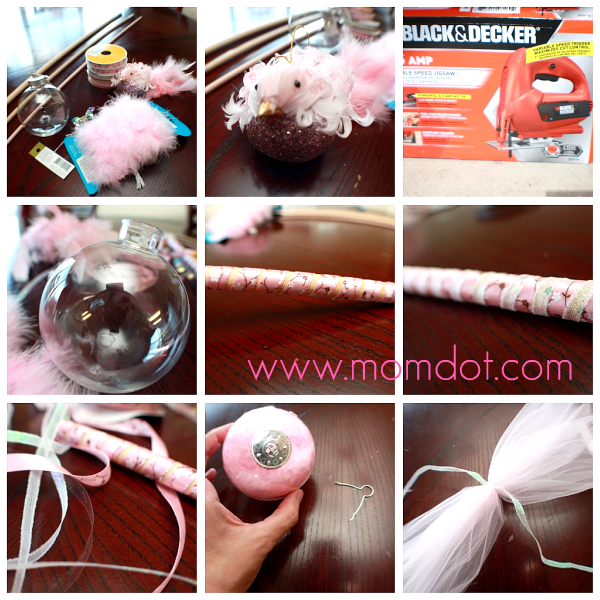 Hot glue the top onto the ball so the wand is secure.
After I had the wand and ball done, I gathered some tulle with a ribbon and again let the ribbon have some excess tails. I made two of them, hot glued them together in a cross, and trimmed up the tulle. I also took a piece of the ribbon and wound it through the heart charm, and attached that to the tulle and made a knot.
Then I added the tulle "cross" directly to the top of the wand.
I took some of the larger ribbon and covered the ornament part of the plastic ball and then turned upside down and hot glued the ball onto the tulle.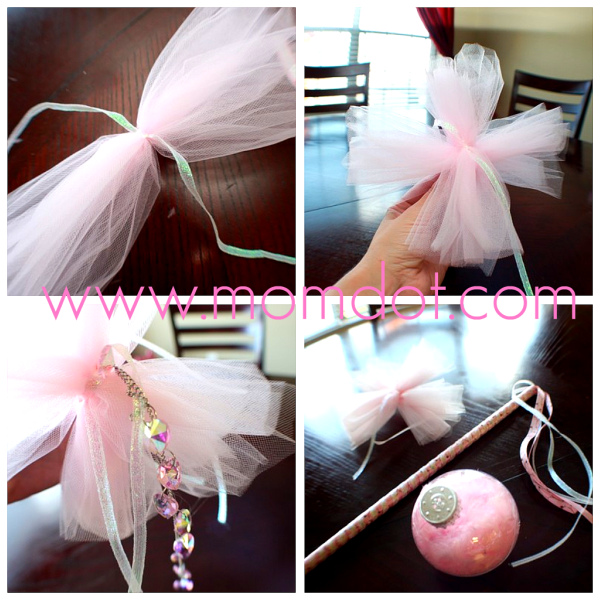 I'm not going to lie here…while it was really stuck and not going anywhere, the ball attached to the tulle made it slightly wobbly. More so than I liked. In the future, it might be smarter to attach the ball directly to the top of the wand and then add tulle with a small piece of elastic or some other clever way I haven't discovered yet.
At this point, you are pretty much done!
It's all decor from this point out.  I added a bird of paradise ornament I found in the Christmas aisle at Micheal's, but I am regretting it. Unfortunately, hot glue made it where I couldn't take it off, so make sure you are sure before you stick.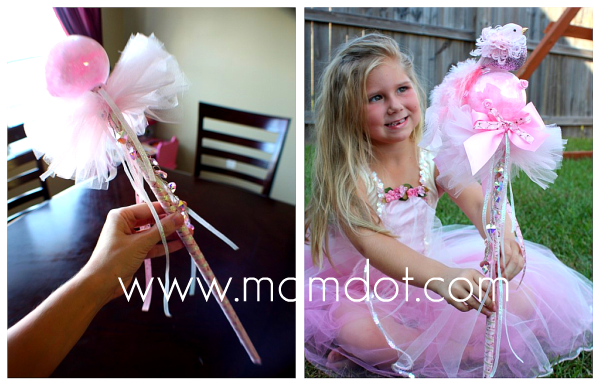 (left: assembly pre-dressed up  , right: all gussied with flowers and birds)
Although a bit gaudy, Charlotte was a fan of the sparkly, so it wasn't a total loss.
Consider adding satin bows
to the front like I did or maybe even bells to the bottom of your ribbons so it makes a "charm" sound when you walk.  I have another wand I am trying out later on tonight or tomorrow, so I will post the results of how that one worked out.
If you liked this article, feel free to share the link, stumble, or twitter.
Maybe someone you know has a fairy in their life that needs some magic.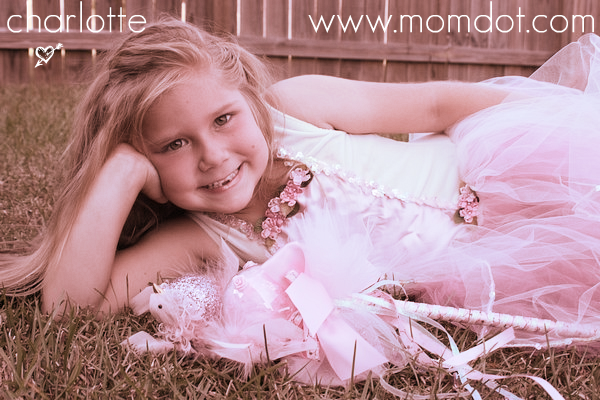 ~Trisha
Other sites that may inspire you make a wand