I know you probably made your way over here because you saw a picture of my kids covered in shaving cream and thought…is she insane?
No, I am not (mostly) but with 5 weeks still left in summer, we are breaking out the totally inexpensive, but still totally awesome, fun.
And if you think no way in heck would you ever let your kids do this…why not? This is probably the easiest clean up we have done all year and cost me under $5!
Create a Shaving Cream Slip N Slide
You can call this a slip n slide, you can call it a big painting canvas, perhaps some shaving cream snow angels, but whatever you choose its tons of fun.
All you need is
super cheap white shaving cream, 98 cents Walmart
plastic paint sheet ($2- you can get thicker ones that may last longer if you like for a few dollars more)
optional: Food coloring
 Spread your sheet out. We got a cheap one but keep in mind the cheaper the plastic, the more easily it blows becuase there is no weight to it. We held ours down with backyard toys.
To start off I put shaving cream  on the plastic sheet in piles, put a little food coloring on top, and handed Phoenyx a paint brush.
Then Charlotte showed up and was like…paint brushes are for wimps, lets DO this….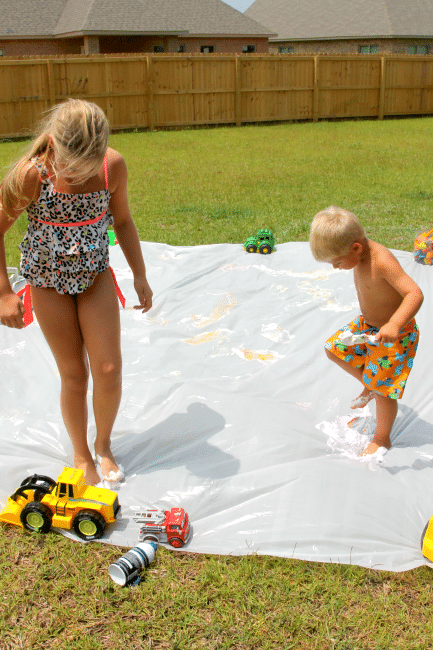 2 seconds later the entire backyard smelled like a mans face and the kids were having a great time.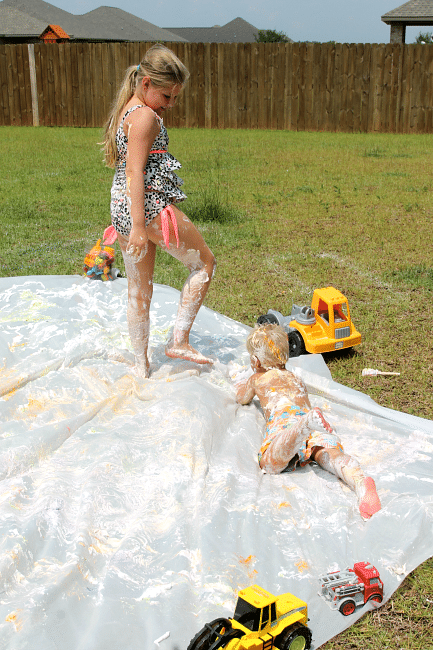 They even made shaving cream angels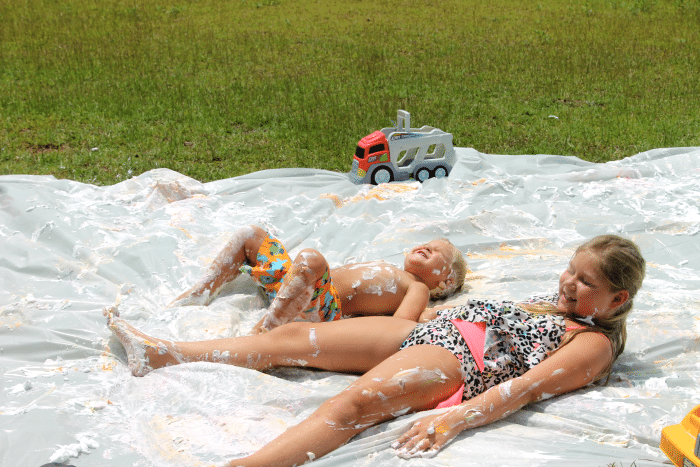 And look…SUPER EASY cleanup. Drug out the hose and voila. Comes right off.