Tummy tuck in your future?  Know what to expect from your surgery and how to prepare yourself
Well you've been through the consultations, met the docs, thought about coolsculping instead, talked it over.  Pondered it.  You've decided to do take action to get rid of your extra tummy skin. Congrats!  This is an amazing milestone in your life. The decision to make the personal and financial investment in such a powerful change to your body is incredibly exciting.   But, now that you've decided to take the plunge, there are some things you should know about the actual surgical procedure, so you not only know what to expect post-surgery but you know what types of questions to ask.
(one of the "Mom" swimsuits I was hoping to ditch!)
Read my entire Tummy Tuck Journey——–>
1) How much is a Tummy Tuck?
2) Tummy Tuck Surgery Day: What to Expect
3) Tummy Tuck Before and After pictures
Types of tummy tuck Incisions
Depending on the condition of your skin and body, there are several different options for how your surgeon will approach your surgery.
There are three main procedures doctors use – all of which are considered "tummy tuck" surgery.  These differ mostly in the types of incisions that are necessary for giving you the look you want.
The first is the "mini" tummy tuck.  This procedure is great for those with a smaller amount of skin to be removed.  The incision is made in the lower abdominal area and doesn't involve relocating the belly button.  This less invasive procedure means you'll recover faster, but may not be appropriate for everyone.
The "standard" tummy tuck involves a more thorough shaping of the midsection and removing a larger amount of skin.  During this type of procedure, your surgeon can also repair any separation of your abdominal muscles and abdominal or umbilical hernias.

The incision runs horizontally across the belly from hip bone to hip bone.  As more skin is removed, often liposuction is done with the tummy tuck to smooth the transition between the waist and hips, giving a better shape post-surgery.  Also, at the end of the procedure, the surgeon will relocate your belly button to a more natural position.

The final type of surgery, called the extensive tummy tuck, is the most invasive and difficult to recover from.  This surgery addresses extra skin on the belly but also along the hip and flanks, requiring a significant incision and always liposuction.  This type of surgery has the longest recovery.
Many people wonder if they can get away with liposuction and not a tummy tuck. While liposuction can remove fat, it does not address skin issues which so many women are left with after child bearing years. For the best results, get the lipo!
If you are looking for the cost of my surgery, you can go here:  How much does a Tummy Tuck Cost?
Tummy Tuck Surgery
Before surgery recommendations
Regardless of what type of procedure you'll undergo, there are some things you'll want to be sure to do before surgery day.  Many of these recommendations will be provided from your doctor's office, but it's important to know what they might entail long before your scheduled your surgery.
Stop smoking: Most surgeons will require you to stop smoking at least three weeks before your procedure.  Smoking makes it harder for your cells to regenerate and the nicotine narrows your blood vessels, making it more difficult for your white and red blood cells to function properly.
Tell your doctor about anything you take: This can be over the counter medications, including pain relievers, multi-vitamins, herbs, and supplements as well as prescription medications.  Your doctor will have specific recommendations as to which medications you should stop taking leading up to your surgery.  Any medications that interfere with your blood clotting ability should be discontinued, in general.  For prescription medications, you'll want to check with the prescribing doctor to be sure it's ok to discontinue use before your surgery.  
Maintain a healthy diet: Eating a balanced and healthy diet will not only make it easier for your body to withstand the surgery but it will make your recovery easier as well.  In general, the better your physical condition before surgery, the better the post-op period will go.
Begin or maintain regular exercise: It's no secret that exercise offers countless health benefits, but this is especially true for facilitating a speedy recovery.  Post-surgery you won't be able to do any sort of strenuous exercise for 6 weeks or more which can lead to weight gain.  Regular exercise before surgery can help prevent some of this slide.  It will also set the foundation for healthy habits that will keep your tummy smooth and flat years from now.
Tummy Tuck Recovery
You will want to make sure you are prepared in your house (as there are risks to having a tummy tuck surgery) as you wont be driving for a bit! I didn't start driving till week 3 of recovery, mainly because it was hard to get in and out of the car and second, because I was still on a few drugs for pain at night. You can see my 10 must have tummy tuck supplies for the best recovery here.
Surgery day
When the big day finally comes, be sure to follow all of your doctor's recommendations for when to stop eating and drinking.  Some surgeons will go so far as to cancel your procedure if you've had anything to eat or drink "off the plan."  No one wants that!  Be sure you arrive on time and have your support person ready to take you home after the surgery – you won't be able to drive yourself home.Most procedures are in-patient, so you'll go home later that day.  Typical surgeries take between 3 – 5 hours with a few additional hours for supervised recovery.
Your incision will be bandaged and usually covered with a support garment you'll bring to the surgery.  This giant shape wear garment will be your constant companion for the weeks and months to come – compressing the incision to help the tissues recover faster.  You'll also likely have 1 – 2 drains implanted to help the wound drain.  Your nursing staff will give you specific instructions about how to care for your drains and when they can be removed (more on drains here).
(my BEFORE surgery!)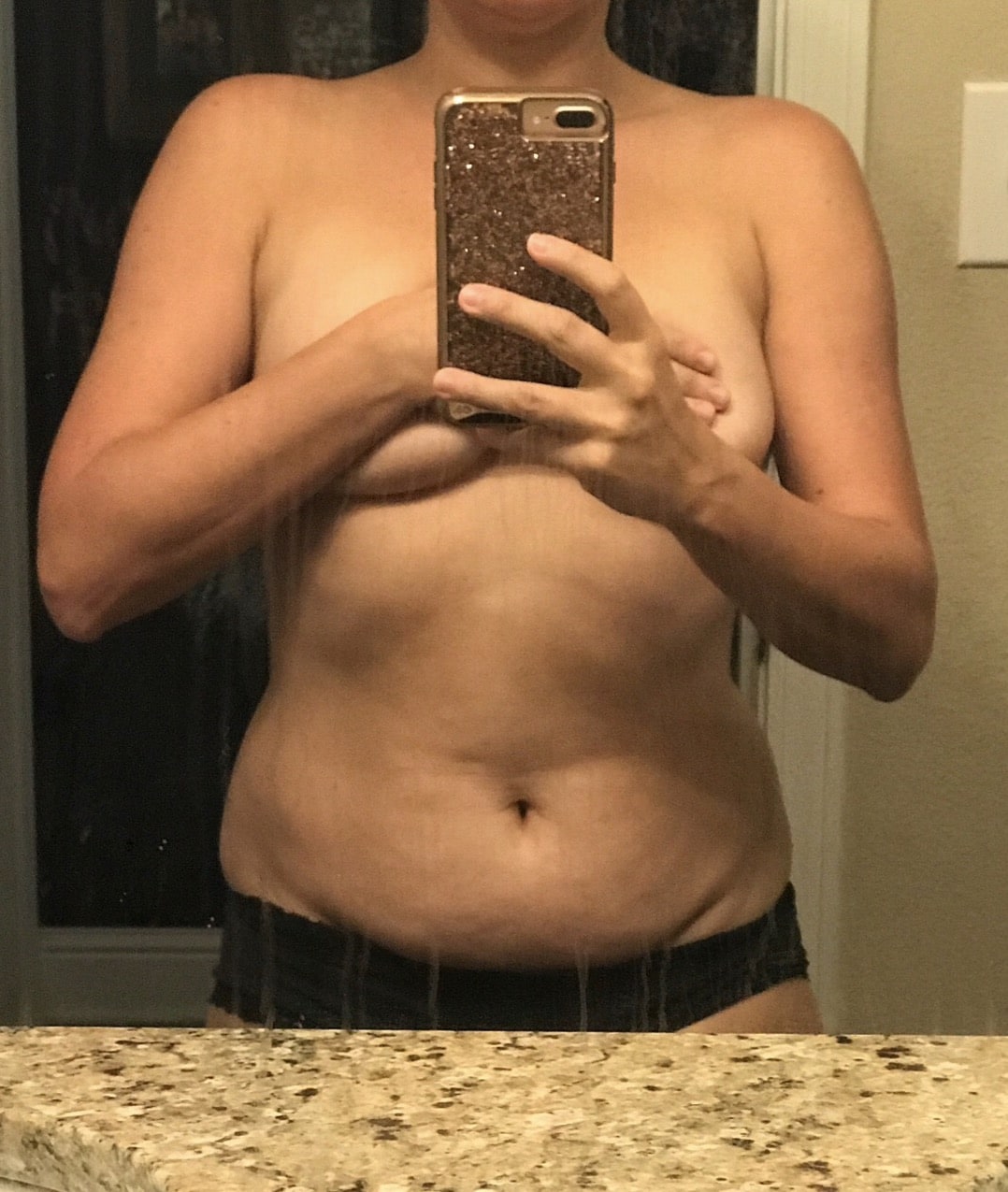 When I arrived, I got changed into a gown and then was escorted to a nice small, calm room. I met the anesthesiologist and she hooked up my IV. I have to say it was the most painless IV I have ever had. She also chatted with me a few minutes and was really great. I was pretty nervous! I was then taking into the OR room and laid down on a table. I was assured that they would take very good care of me. I think I cracked a few Grey's Anatomy jokes. I was probably in the OR for minutes before I was out. The next thing I knew I was home in my own house.
It's only recovery left between a flat, tiny belly. The worst is now over!
Kinda… Keep reading to find out more on the day after surgery and beyond. 
Ready to read more? Learn all about my surgery recovery and see my before and after tummy tuck pictures here.