This Leftover Turkey Pasta is a delicious and easy way to use your leftover turkey from Thanksgiving! Of course we all like a great left over sandwich but those can get boring year after year, so let this tasty tried and true recipe tickle your taste buds and make you ready to put one more turkey in the oven when the last bits are gone.
Full Leftover turkey pasta recipe below and printable version on the bottom so make it easy for you to cook in the kitchen.
Ready for more meal ideas? Make sure you try Fan favorite Lemon Butter Chicken too!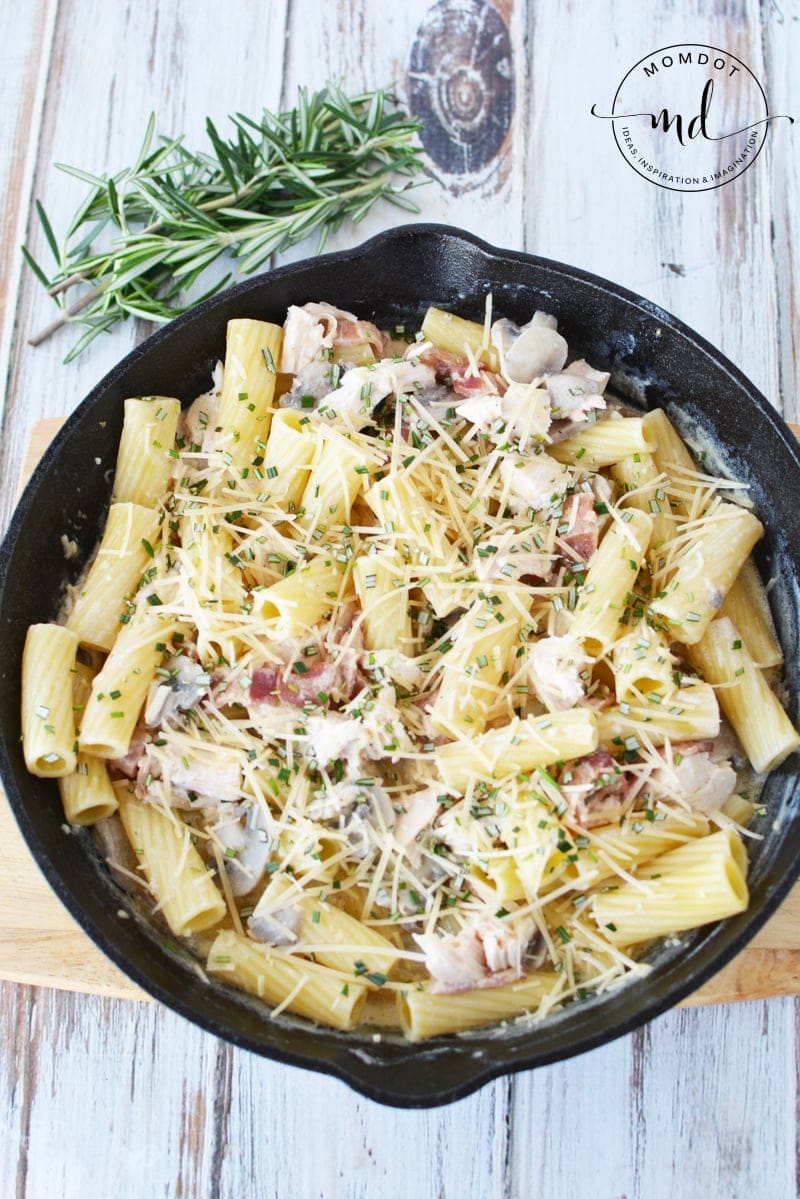 Leftover Turkey Pasta
RECIPE TIP: While this is a pasta dish, you can easily leave OUT the pasta and instead add your turkey mixture on top of left over mashed potatoes for another delicious meal!
Ingredients:
1 tablespoon butter
3 teaspoons minced garlic

1 package (8oz) fresh mushrooms, sliced

5-6 strips bacon, cooked and cut into small pieces
1 cup chicken broth

1/2 cup

heavy whipping cream

3/4 cup shredded Parmesan cheese, divided
2 cups turkey, cut into small pieces
1 lb (16oz) pasta, cooked and drained
fresh rosemary, diced

How to make Leftover Turkey Pasta
In a large skillet, add butter, garlic and mushrooms.
Cook on medium heat for 3-5 minutes or until mushrooms are tender.
Stir in bacon, broth, cream and 1/2 cup of cheese.
Add turkey and stir well.
Return to heat.
Bring to a boil and reduce heat and simmer for 5-6 minutes.
Remove from heat and stir in pasta.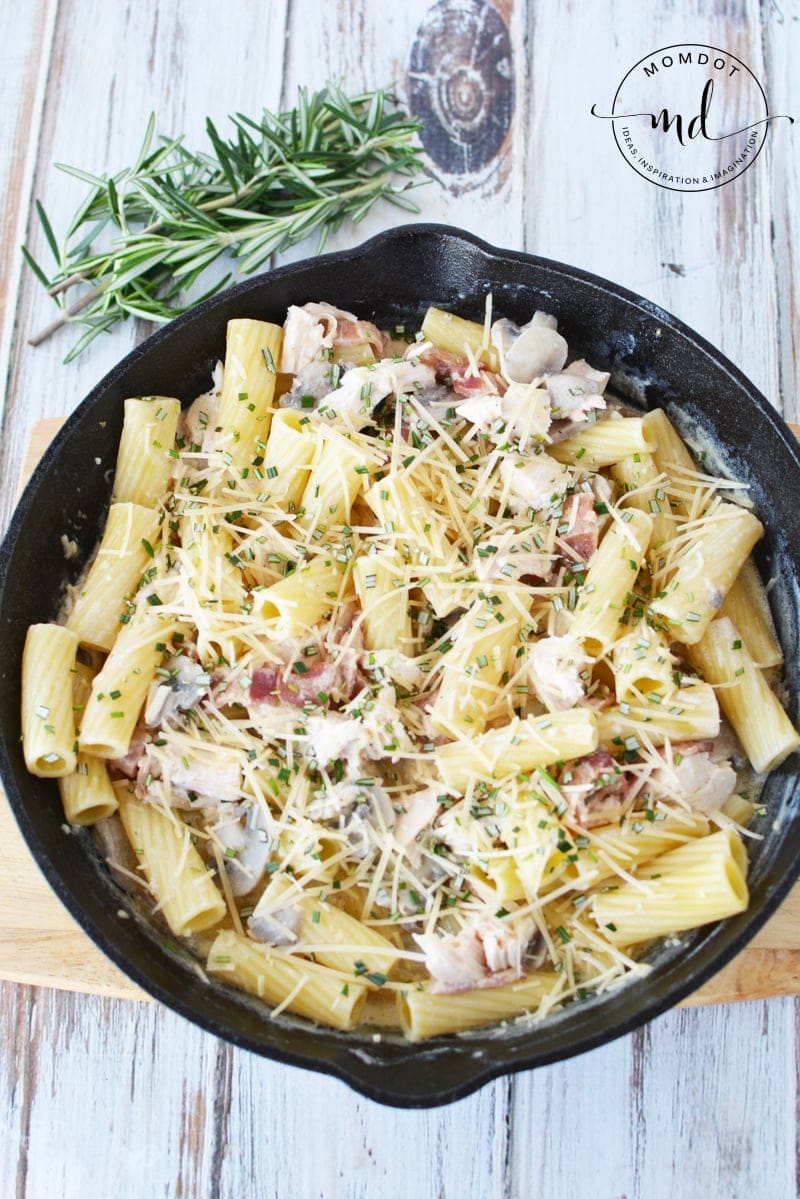 Garnish with remaining cheese and rosemary before serving.
Serves 4-6
Another recipe that makes great left overs is this low carb cauliflower casserole. You can eat it as dinner OR a side dish for days and without tons of guilt!
Leftover Turkey Pasta
Use your Thanksgiving Left overs for this Leftover turkey pasta dish. Easy to make and so rich, you will love creating this custom meal from all your turkey scraps!
What You Need
1

tablespoon

butter

3

teaspoons

minced garlic

1

package

8oz fresh mushrooms, sliced

5-6

strips bacon

cooked and cut into small pieces

1

cup

chicken broth

1/2

cup

heavy whipping cream

3/4

cup

shredded Parmesan cheese

divided

2

cups

turkey

cut into small pieces

1

lb

16oz pasta, cooked and drained

fresh rosemary

diced
Instructions
In a large skillet, add butter, garlic and mushrooms. Cook on medium heat for 3-5 minutes or until mushrooms are tender.

Stir in bacon, broth, cream and 1/2 cup of cheese. Add turkey and stir well. Return to heat. Bring to a boil and reduce heat and simmer for 5-6 minutes. Remove from heat and stir in pasta.

Garnish with remaining cheese and rosemary before serving.

Serves 4-6