The art of quilting has been around for thousands of years and passed through centuries of families and tradition. Today, quilting remains one of the most popular and well-loved hobbies of people around the world. Whether you're a beginner looking for easy patterns or an experienced quilter wanting to try out something challenging, here are 11 of the best types of quilts you don't want to miss!
1. Patchwork Quilt
Let's start this list off with a classic. Patchwork quilts are perhaps one of the most common types of quilt work there is. It's also one of the easiest, making it a favorite among beginners and intermediate quilters alike.
Patchwork quilting is exactly as the name suggests; stitching different pieces of fabric, or "patches," of every size together. I can honestly say that this is among my favorite types of quilt work because it's easy, versatile, and gives you basically no limitations whatsoever.
You can create a patchwork quilt from whatever padding or cloth you have on hand, whether it be triangles, squares, circles, hexagons, or a combination of all three. Have some leftover fabric from your recent big sewing project? Great, you can use that, too! Letterings, curves, motifs? Sure, why not? The only rule there is to keep the end design relatively uniform.
2. Amish Quilt
Amish quilts, popularized by the Amish community in the late 1800s, is a quilt-making type that utilizes old or recycled clothes, shirts, and dresses made by Amish women using hemp, wool, and flax.
Similar to patchwork quilts, Amish quilts are relatively easy to make. You can use whatever fabric you have as long as it isn't new, store-bought, or synthetic.
To make it more authentic, use a dark background (black, purple, blue, dark red, etc.), as most Amish people wear plain, dark clothing. The design you want to make is entirely up to you. Some of the more popular patterns the Amish use include diamonds, flowers, feathers, swirls, grids, and vines.
3. Pieced Quilts
Pieced quilts are an all-American favorite. Unlike patchwork quilts, pieced quilts are made using a single pattern. Blocks of cloth or padding are sewn together into large rows and columns to form the entire quilt. Although there's no design limit, pieced quilts mostly adopt a "simple" and straightforward geometric design.
4. Appliqued Quilts
Appliqued, or Appliqué quilts, are the exact opposite of pieced quilts.
The term "appliqueing" is defined as folding and shaping fabric pieces together directly onto another fabric to form elaborate pictures or patterns. This means you're not limited to a single shape. You don't have to use "regular" shapes, either! As long as it fits your design, you'll be able to cut the fabric and use it however you like.
Two of the most common appliqueing techniques professionals use are raw-edged and interfaced.
The raw-edged technique is the easiest of the two. First, trace the outline of your appliqué, AKA fabric cutout, on a fusible web. Then, iron it onto the melting side of the web after peeling the paper off. From here, you'll be able to easily sew the design directly on your quilt using your favorite stitching method, and you're done.
---
The interface technique is quite similar. Instead of a fusible web, you'll have to iron your design on a fusible interface and stitch all your cutouts together. Then, place your design on top of your fabric and sew it indirectly without removing the interface.
---
5. Crazy Patch Quilt
I love crazy patch quilting because of how "crazy" it looks! It just goes to show that beauty can be found even in the most irregular of designs. In a way, these types of quilts greatly remind me of Pablo Picasso's work.
This type of quilt is made by combining a number of irregular fabric scraps together, sometimes even on top or overlapping each other. There's no design you need to follow, either.
If I had to put a single rule, I'd say the smaller the fabric, the better! For best results, use different colored cloths or different shapes and sizes. If you only own square-shaped scraps, cut them into triangular or star-shaped designs. Mix it up! There's no right or wrong. This type of quilting is ideal for those who want to start a fun, creative project with their kids or younger siblings.
6. Friendship Quilt
Friendship quilts are what I would consider being the "best gift ever." I received one from a family member last Christmas, and I'm not ashamed to admit that I may have teared up a little.
These types of quilts are made out of multiple blocks made by multiple people — often those who are close to you. Then, the quilt is signed by those who contributed to the piece and dated.
To make it even more special, some people add heartfelt quilted messages. The design can be wacky, neat, beautiful, or everything in between. They're the perfect piece to share your love and appreciation with someone dear to you!
7. Memory Quilt
Planning to make a quilt that holds meaning? Look no further; memory quilts are your answer!
These types of quilts are made with old, personal items such as dresses, skirts, t-shirts, pillowcases, and even socks that belong to those you love. If you have kids, you can use their outgrown clothes or their favorite too-old-to-see-the-light blankets.
You can also print pictures of your loved ones directly onto a piece of fabric and stitch them together. There's virtually an endless set of designs you can choose from, be it patchwork or pieced.
8. English Paper Piecing Quilt
English paper piecing, or EPP for short, is a quilting technique that most professional quilters use. These types of quilts are similar to appliqued quilts, as EPP involves stabilizing multiple fabric pieces together before sewing them on a base. However, instead of using a fusible web or interface, you only use regular paper.
Most EPP uses tiny hexagons, pentagons, or similar shapes that don't have long, straight sides (like rectangles and triangles). Once you've decided on a shape, you'll need to create an outline on a thick piece of paper, then shape your fabric over it.
For best results, curl the edges of the fabric over the paper before stitching it. Then, gently remove the paper, and voilà! You have a tiny hexagon. Repeat this step until you have a bunch of other similarly shaped fabrics before stitching them all together to form one big shape.
9. Baltimore Album Quilts
These types of quilts are another favorite by many professional quilters, although they aren't as popular as EPPs and other quilts of the same shade.
They're mostly made as a tribute to history, consisting of patriotic colors, national symbols, floral patterns, appliques, and the like. It isn't uncommon to find these quilts with wreaths, cornucopias, eagles, and flags —everything that's closely related to US history.
Baltimore album quilts are mostly made up of several dozen "blocks" or squares. Each square has its own unique design, which makes this quilt a pleasure to look at. Some of the designs are made by manually embroidering a separate piece of cloth before stitching them onto the base fabric.
10.  Art Quilts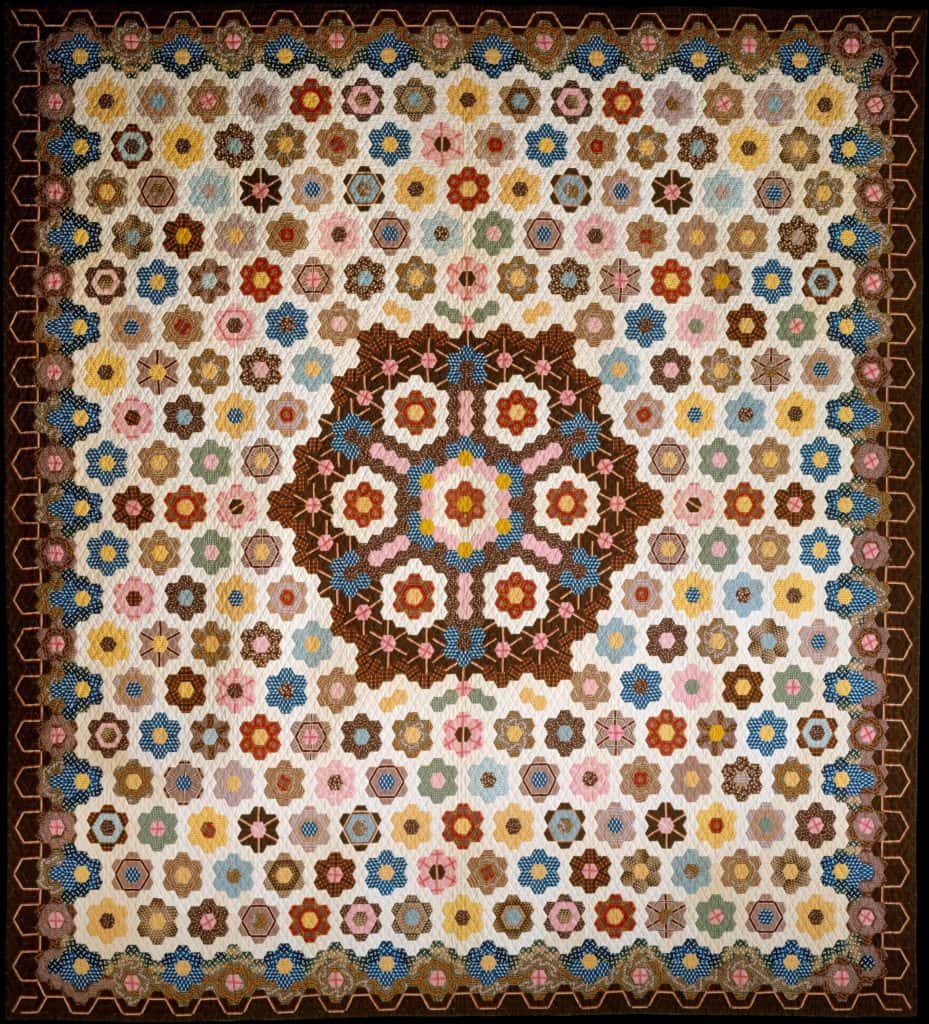 Art quilts are the very definition of "art."
While one can argue that all types of quilts are art — and by no means do I disagree — art quilts are designed to tell a story, express emotion, record an important event, or create a piece that's similar to that of a painting.
Every art quilt varies from person to person. There's no single technique or design to follow. It can be abstract, realistic, or even three-dimensional. It also utilizes materials that are often deemed as "unusual" and hard to work with in the world of quilting, such as paint, metal, luminescent fiber, and polyethylene fiber.
These quilts, unlike traditional quilts, aren't used for beddings, table runners, tablecloths, etc. Instead, they're primarily used as wall hangings and original artistic statements.
11.  Modern Quilts
Modern quilts were popularized by the Modern Quilt Guild in 2009. Unlike the rest of the quilts on this list, modern quilts are considered to be relatively new.
Similar to art quilts, these types of quilts don't follow a specific technique. However, the aesthetic of modern quilts is largely inspired by the internet's definition of "modern"— bold colors, minimalistic and/or graphic designs, alternate grid work, and the artistic use of negative space.
The modern quilt guild has an entire gallery of over 600+ modern designs. It's quite the sight to behold!
Bottom Line
Quilting is a hobby anyone and everyone can partake in. With hundreds, if not thousands, of types of quilts and quilting designs and techniques, you're sure to come across one or two that you'll want to try. It's a great way to use up old fabric, clothing, and scraps of cloth you have available in your home!