Last week, as I mentioned in my Monster Slime Popcorn Recipe, a friend and I popped up some brand new popcorn recipes for MomDot. I have always been interested in popcorn ideas because my youngest son, Phoenyx, goes on popcorn kicks quite a bit as his snack of choice. And while he can eat it plain, this mama likes a little kick every now and again.
We have an air popper so it only has about 31 Calories per cup (if you don't put all this other stuff I am about to show you on it) or 55 calories per cup if you are making with oil. I don't mention that cause I personally care, but to let others know that its not a terrible snack to…well…snack on!
This Frozen Inspired Popcorn was invented Lynsey when she magically threw together these few ingredients and solicited the "mmmmmmmmmms".
'Frozen' Inspired Mint White Chocolate Popcorn
No kid (or movie) needed to enjoy this tasty mint white chocolate treat but we thought it reminded us of what an arctic treat would taste like~
Ingredients
4 cups popcorn
1/2 bag of white mint chocolate melts (we got ours at Hobby Lobby)
1 tablespoon of vegi oil
Snowflake sprinkles
Popcorn Recipe instructions
Melt chocolate in microwave- do not OVERMELT or it burns. The best way to not burn it is to follow the bagged instructions. Trust me on this one. Then we added 1 tablespoon of vegi oil to thin the chocolate out a bit. Pour over 4 cups of popcorn and mix. We initially mixed with a spatula but it gets pretty sticky pretty fast, so to make sure we coated it all, once it cooled a bit, we used hands! Yum…chocolate hands!
Lay parchment paper on a cookie sheet and spread out in one layer. Sprinkle your sprinkles on top- you can be as generous as you like! Then put your popcorn in freezer for approx 5 minutes to quickly cool down popcorn and harden chocolate. Serve!
Having a FROZEN THEMED PARTY and looking for other great FROZEN themed ideas? Tons of great bloggers have some fabulous ideas out there, but here are a few of my personal favorites.
Snowflake Cupcakes: We used this same technique for our Mickey Mouse chocolates here and I love how the cupcakes look with this unique snowflake decoration idea. Plus FREE snowflake template!
Plus check out these!
Also, if you missed it, do not forget to check out our Monster Slime Popcorn recipe from last week here: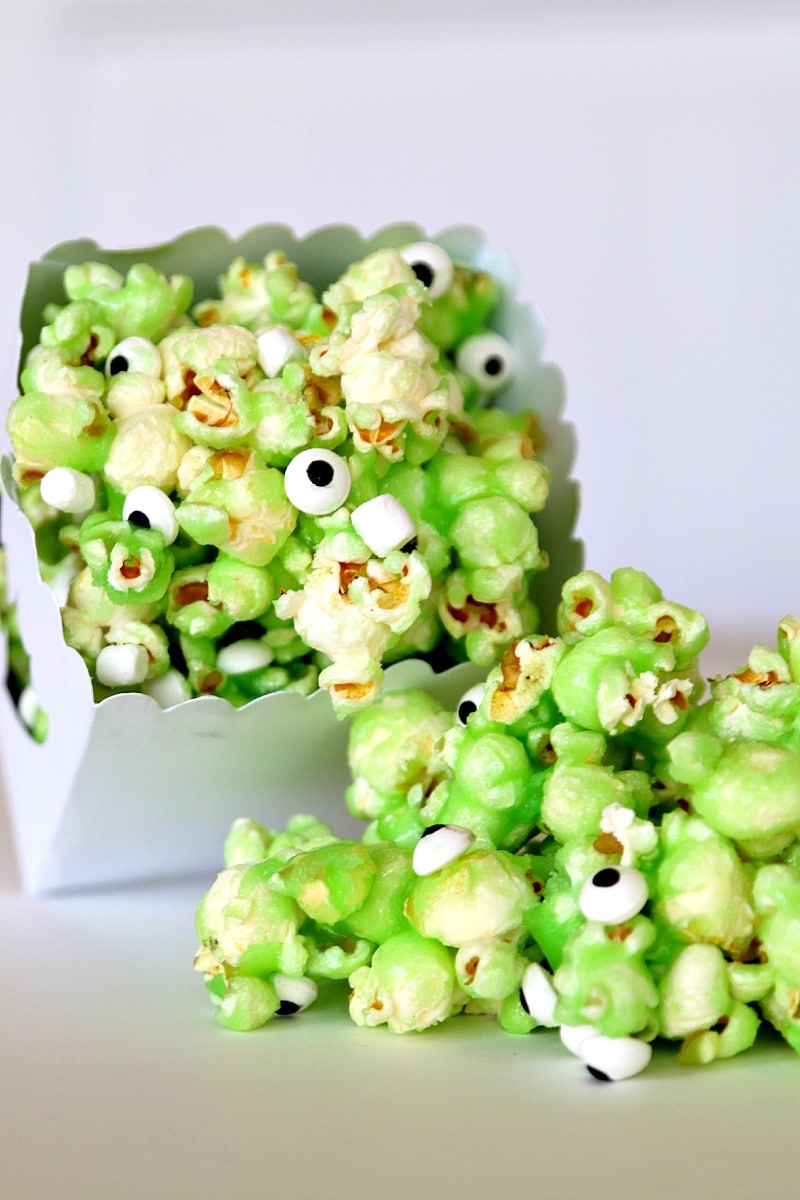 Popcorn is one of our favorite things to make, so stay tuned where we reveal 4 more popcorn recipes before the end of the month!
Plus, do not forget to pin by clicking below!