Create a candy bouquet as a centerpiece for an upcoming wedding, birthday party or gift. This DIY lollipop bouquet made with dum dum suckers, can be altered in any size and put in a vase, mason jar, or varying topiary shape. Learn how to make a candy bouquet step by step below! Let's get started.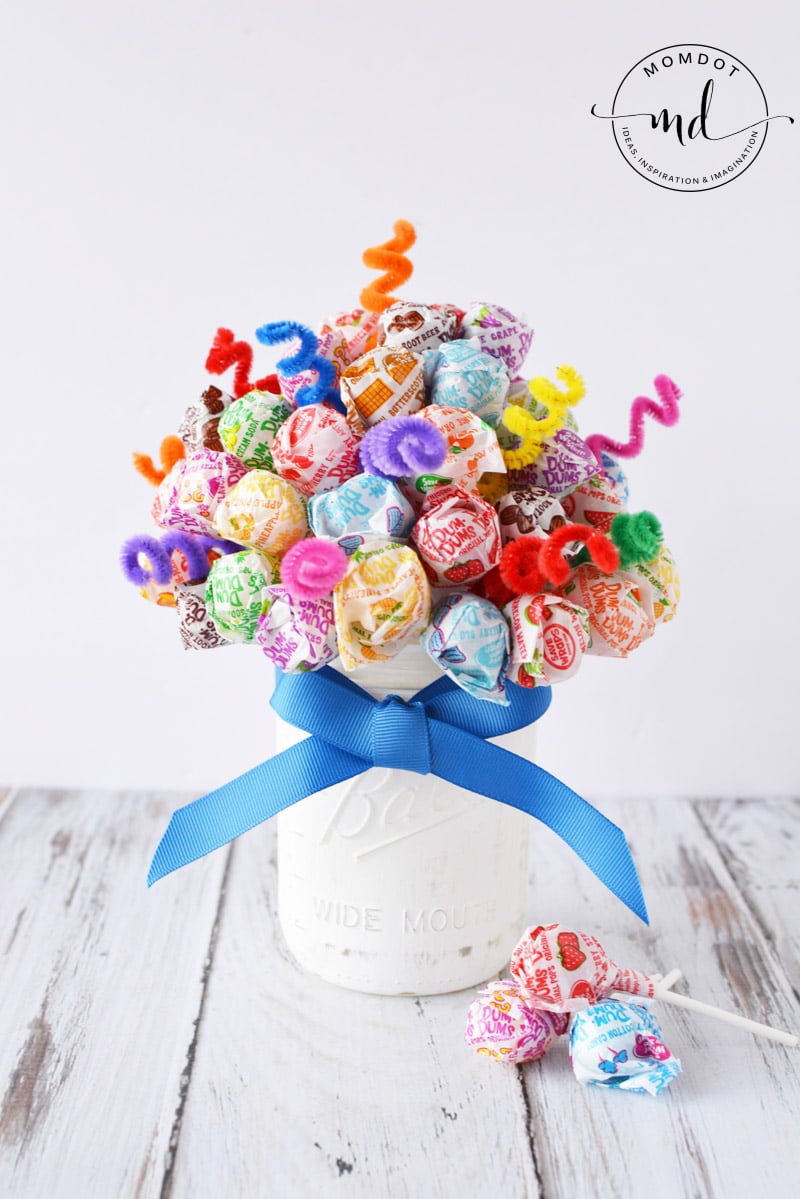 Did you know you can make your own candy arrangements at home? A candy bouquet DIY is so easy that even kids can get involved to cover one table or 20 and the foam ball and pretty lollipop wrapping papers do all the work.
If this project is for an upcoming birthday party you have, you may also want to try this birthday party wreath. It's so cute and also uses these little curly q pipe cleaners.
FREE PRINTED VERSION OF THESE INSTRUCTIONS AT BOTTOM. INSTANT PDF DOWNLOAD!
Candy Bouquet Materials:
For this project, I only used 40 suckers, but I purchased 60. I did this because there seemed to be a large amount of red and blue suckers! So by having 20 extra suckers, I was able to use more of a variety of colors.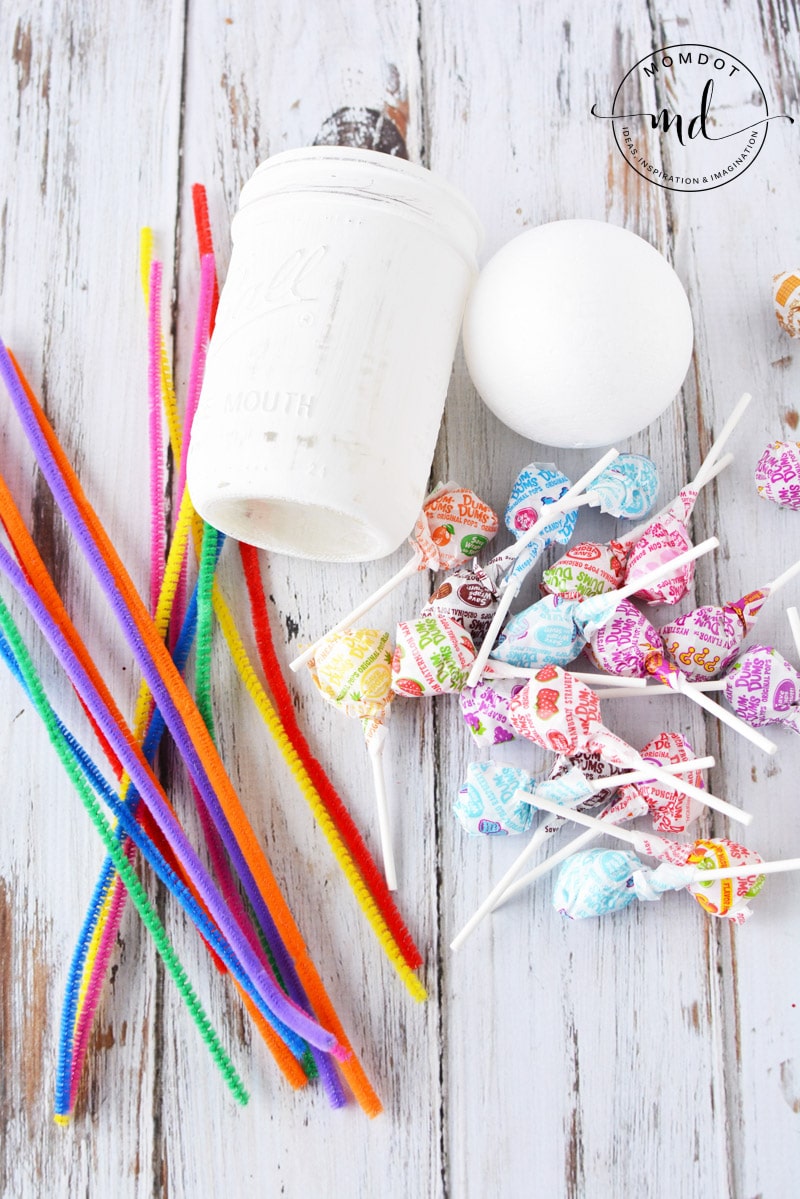 How to make a Candy Bouquet
To get started on making you dum dum lollipop bouquet, you need to first start with your centerpiece jar. In this case, I used a mason jar because I love them! If you also love mason jar projects, check out these element jars and this galaxy jar project, so fun!
If you are unsure how to paint a mason jar, you can also follow long with gold painted mason jar tuturial or even drip paint a mason jar. The big decision is just decided what to do based on your settings.
Once your jar is painted and dry, place the foam ball on the top. In the case of this project, what is shown is a 3″ Styrofoam ball. If you go larger for your choice of vase or jar, you will also need to adjust the amount of dum dum suckers
you need.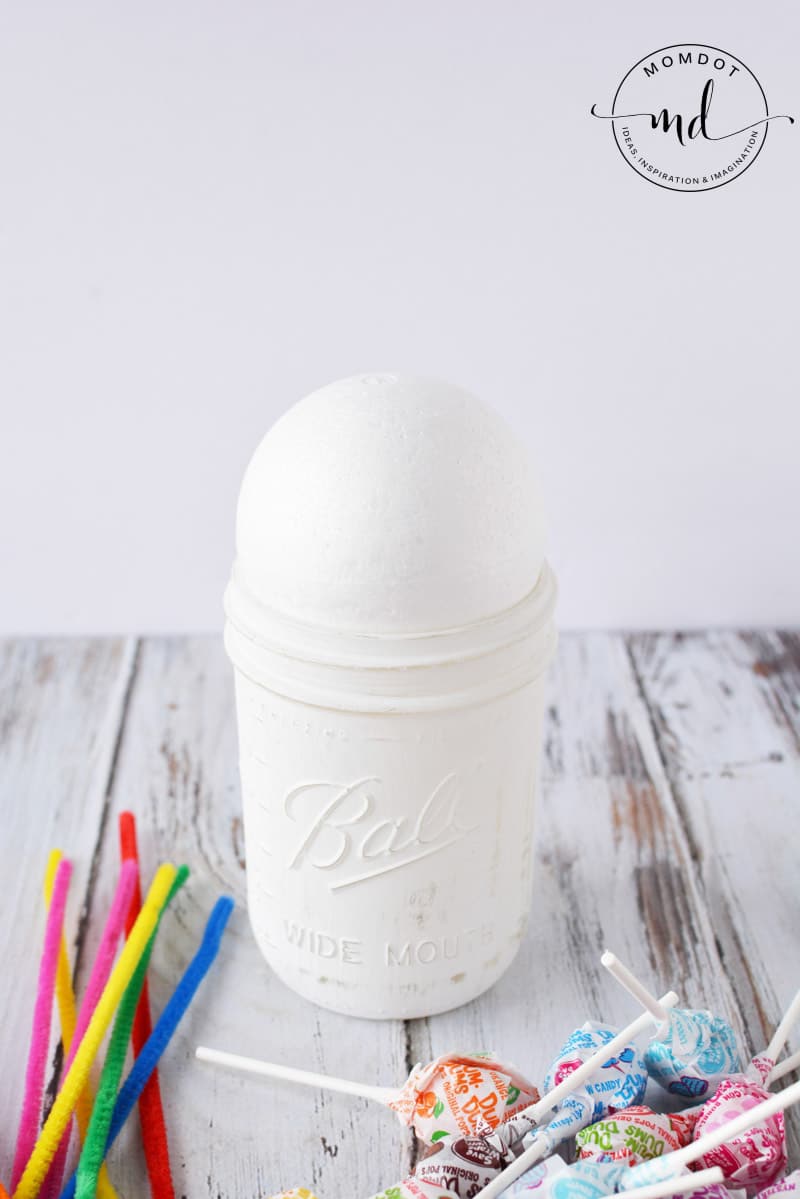 TIP: You can also use chupa chups
or tootsie pops
!
Gently press your foam ball down. It should not go into the actual jar, but simply securing it into the jar.
Begin by pushing sucker sticks into the foam ball at the bottom or top of the jar.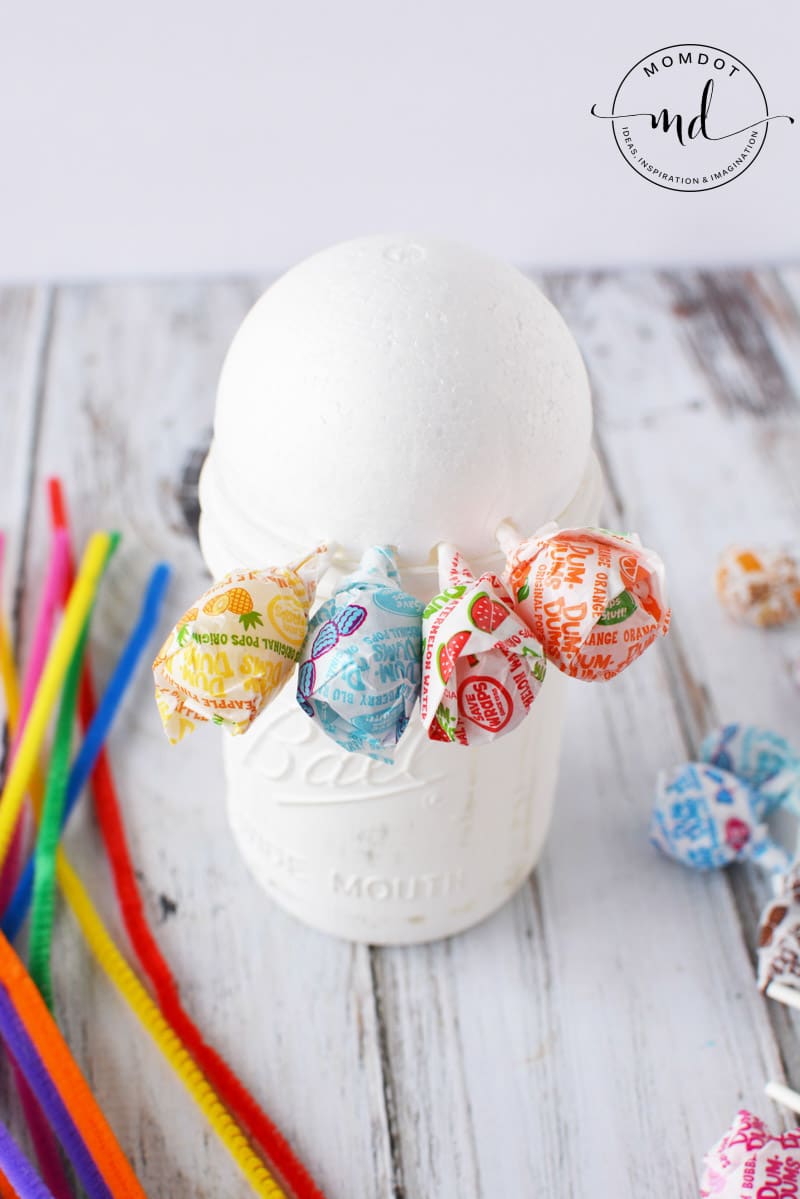 Continue in a circle around the jar. You may need to push the sticks somewhat downward toward the bottom of the jar so they don't all begin to collect and hit each other.
Once the first row is done, begin on the second row, above the first and continue up the ball.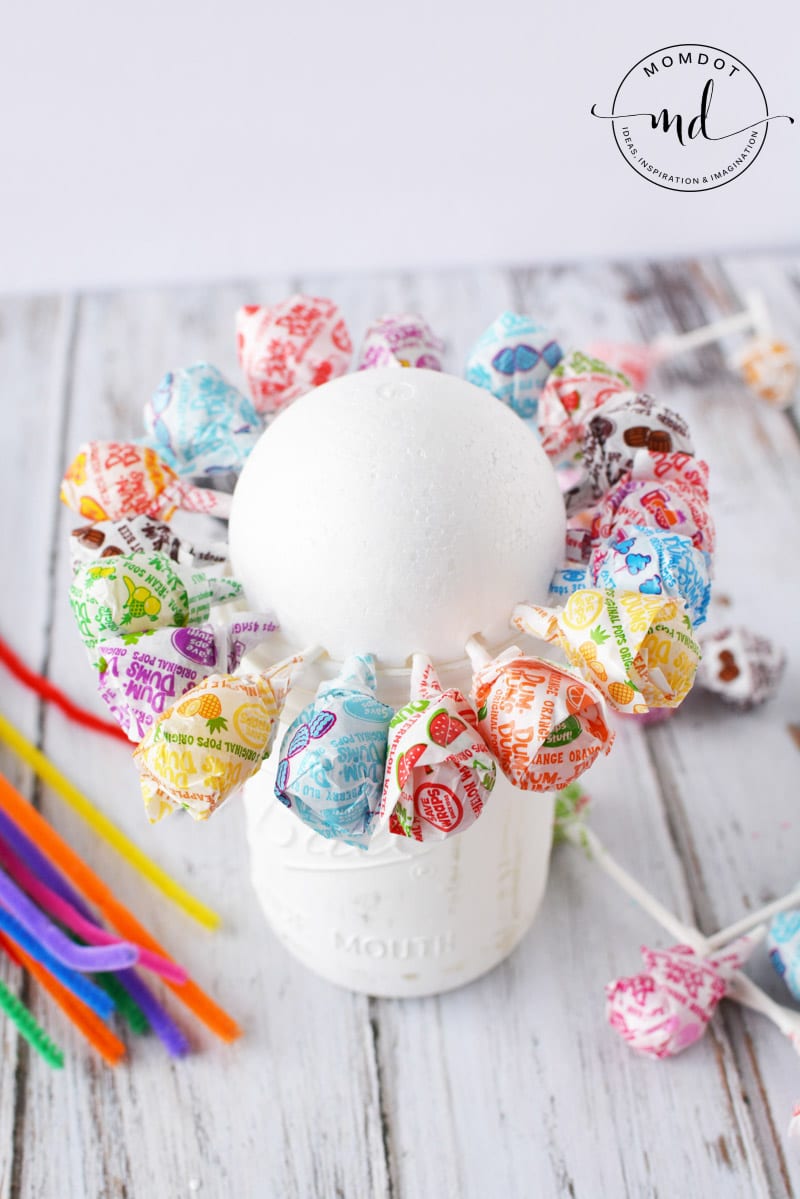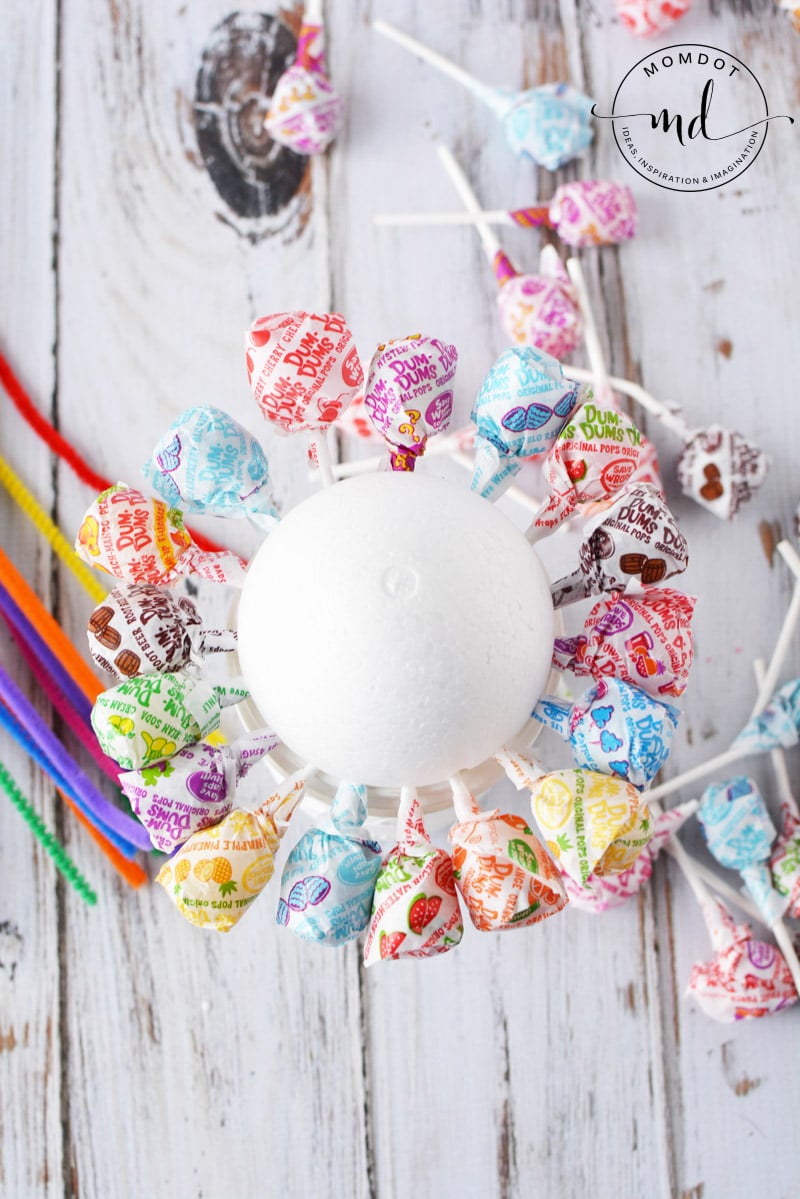 The biggest frustration will be the sticks hitting.
You can choose to cut them shorter if this is going to be just a centerpiece and the suckers won't be pulled out and eaten.
If the sticks do hit, just pull the sucker out a bit and change the angle.
It should stick into the ball just fine.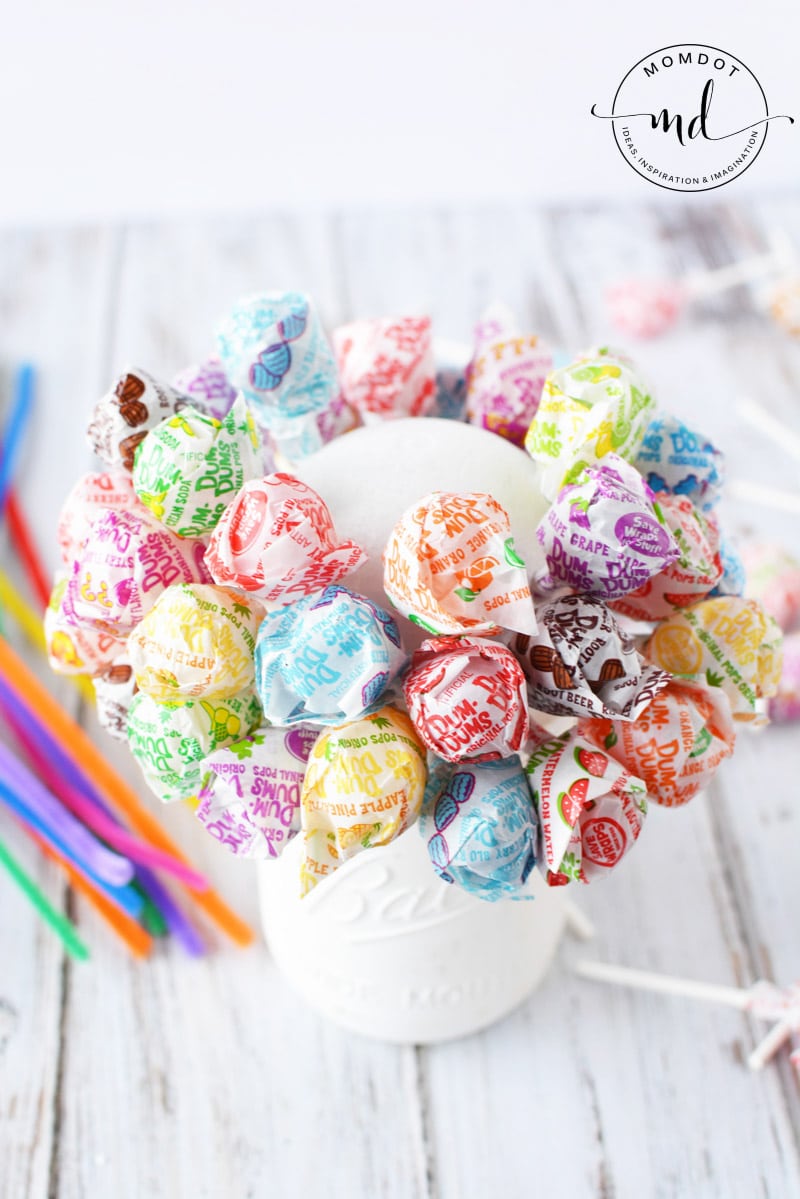 Cut the pipe cleaners in half with diagonal cutters.
Wrap each one around a pen barrel to create a spiral. Now I used pipe cleaners because they really stick and are easy to push into the centerpiece, but you can also use curling ribbon if you like and secure with a pin, like I did with this Christmas wreath DIY.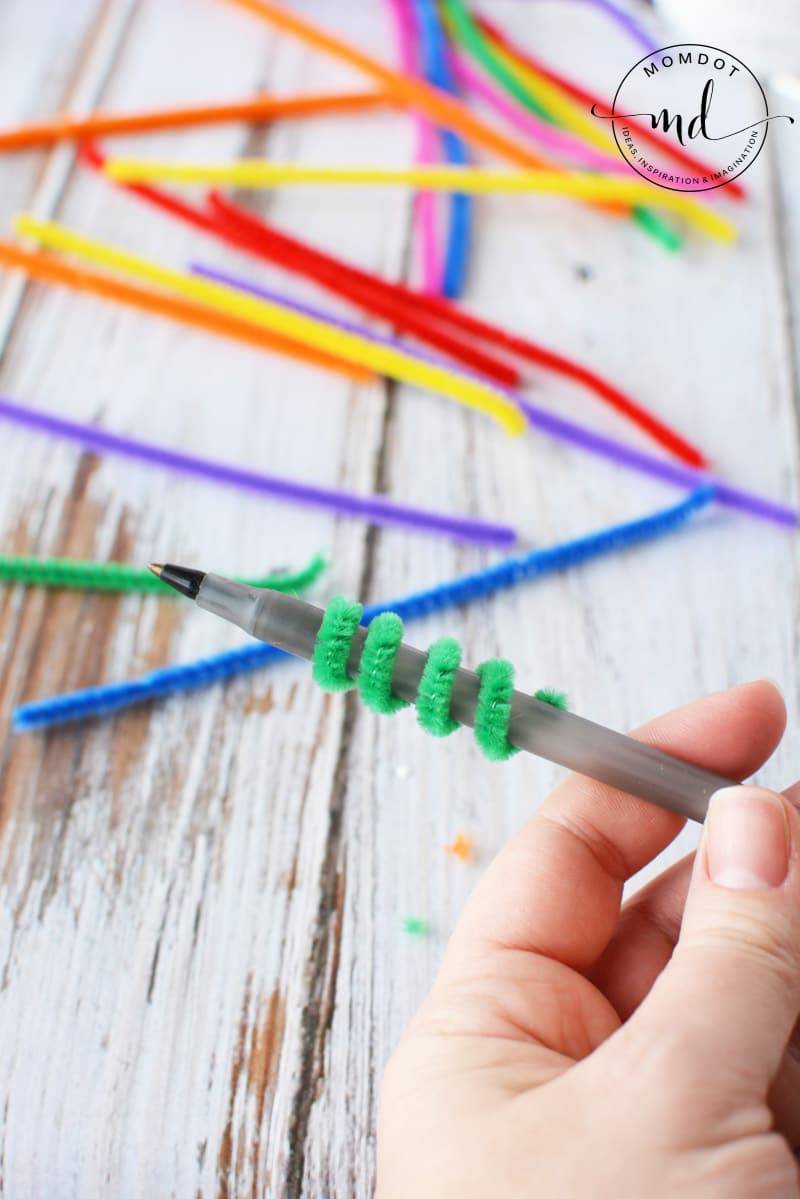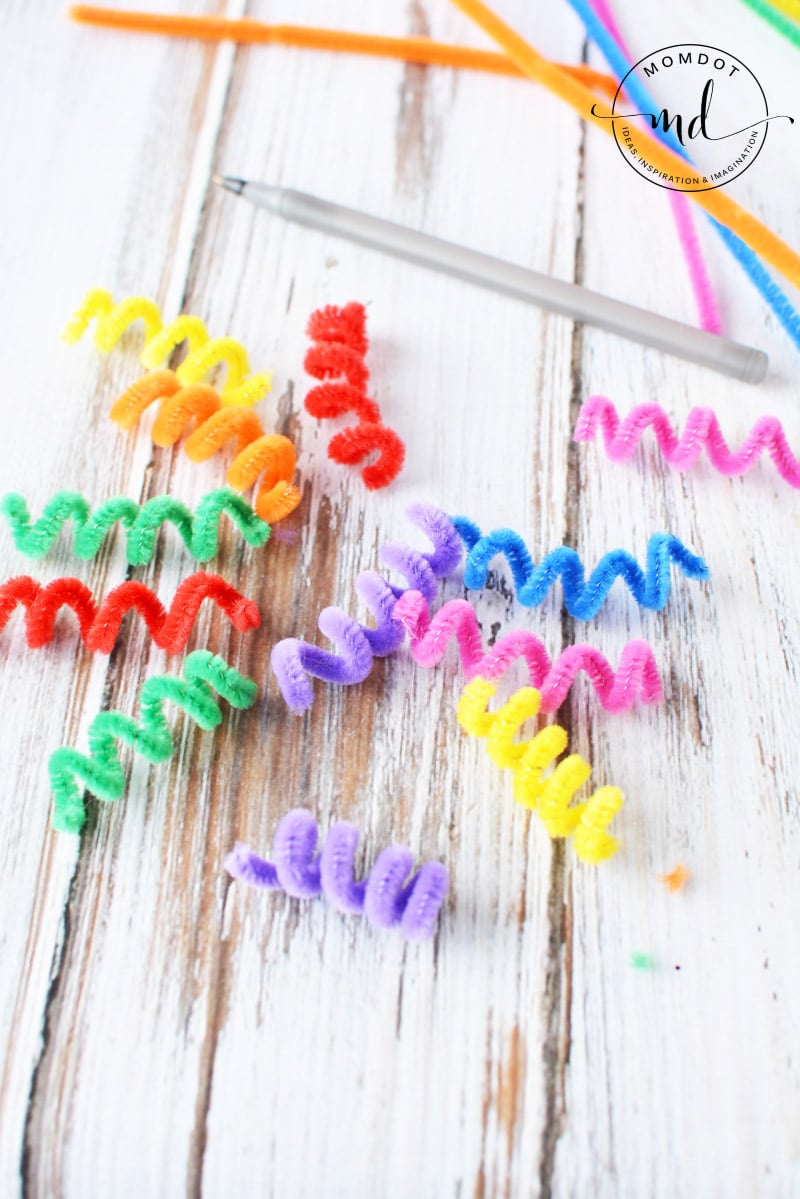 Tuck the pipe cleaners into the lollipops.
Tie a ribbon around the jar and you're finished!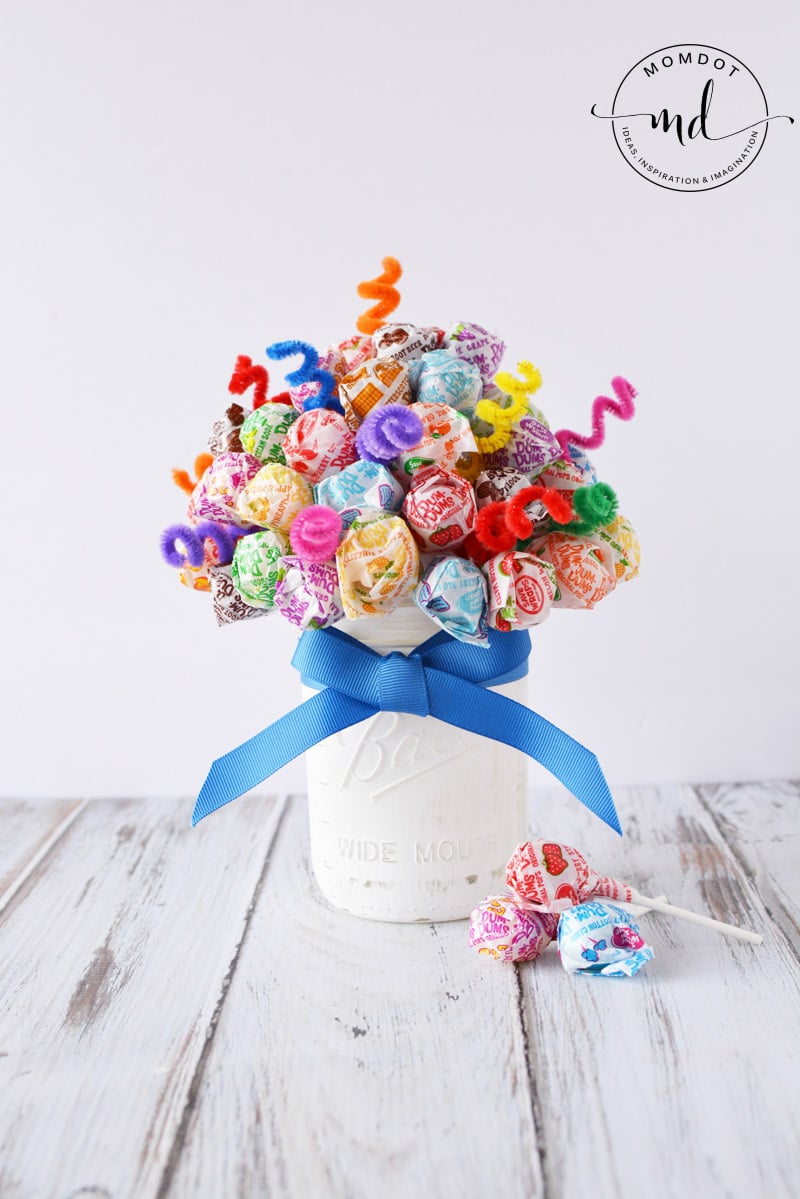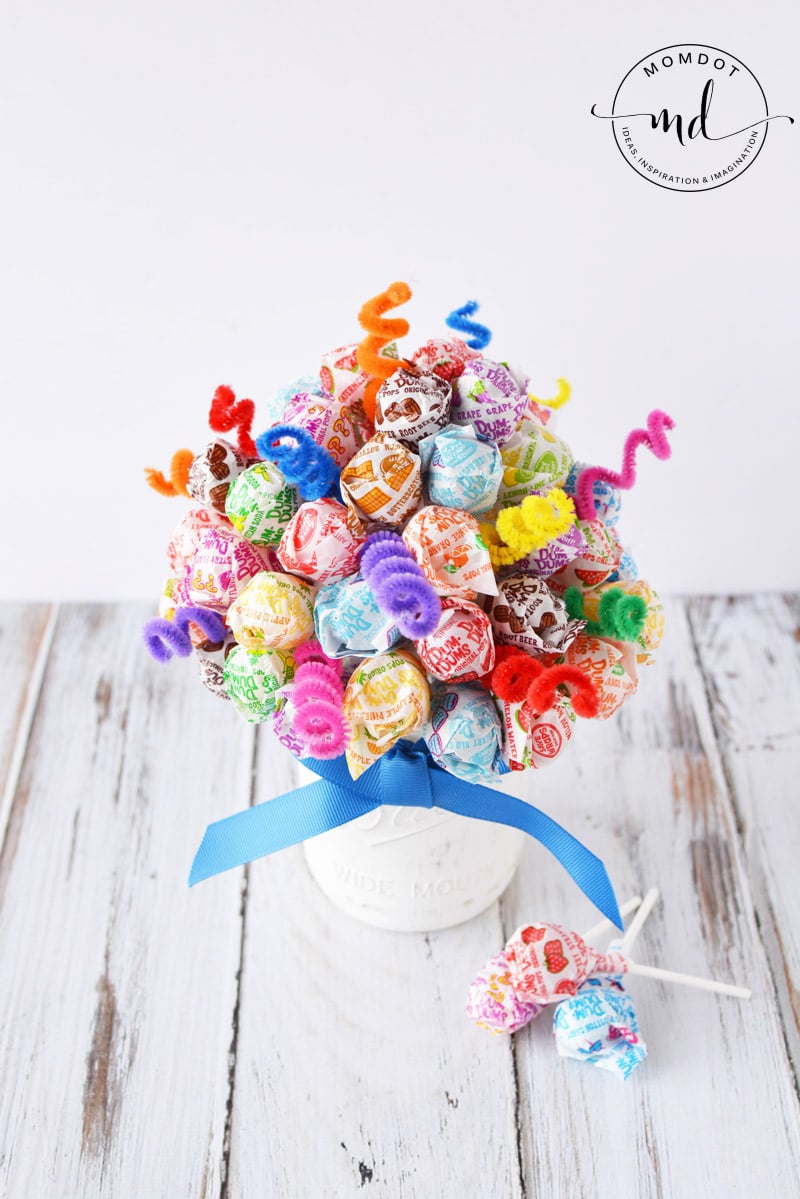 Want to take your instructions with you? Download FREE instructions on how to make this candy bouquet by hitting the image below. This will instantly download a PDF file that I have created to help you in process for those that do not like to stay online while creating projects. You will need to use a DESKTOP for this print.
This PDF file is for personal use only and cannot be reproduced or directly linked to without permission. Thank you for respecting copyright laws so I can continue to make this projects free.