Recently there has been a lot of talk in my Facebook stream about weight loss. I think it's something that is constantly on a woman's mind, especially the year or two after having a baby.
I honestly only have about 5 pounds to lose, but once you realize that 5 pounds doesn't go anywhere fast, its easy to become obsessed with the hows and whats of getting it off. I tried calorie counting but it made me feel punished and obsessed with food, I have been doing some light exercise in the house but so far I have not made real serious exercise a priority and I am aware of that. It is probably where my personal failure is at.
I also have this terrible scar from surgery and it gives me what is fondly known as the "C Section Shelf". No amount of crunches hit that targeted area with the scar, so it's a very difficult and specific way that you have to take it down…IF you can even get it there.
Most people just think you are still pregnant.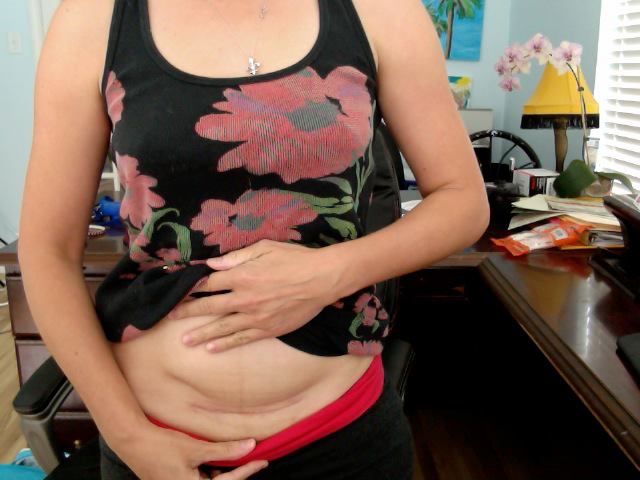 It is super hard to get motivation when you have a 9 month old and a 7 year old and work from home. At the end of the day I want to do…well…nothing.
And I want to do that nothing with a bowl of vanilla ice cream on the couch curled up with  my spouse watching the DVR.
At any rate, my good friends on Facebook sent me a sympathy box of Body by Vi. I have seen it everywhere. People posting how great it is, before and after pics, and how tasty it is. I said OK, fine, send it to me, I will give it a shot and test it out. Personally I am not sure that any sort of diet plan is going to work for someone that needs to lose as few pounds as I do, but hey, if it tastes amazing and will make me look like Bar Refaeli, I am so there.
Maybe.
Yesterday I busted open the box, but before I tried it myself, I asked my babysitter to test it out. She has no affiliation with anyone with Body by Vi, no friends on the system, and isn't a chronic dieter. She does want to lose weight and has been exercising and keeping track of her diet. She has lost four pounds in the past week the old fashioned way.  She had a baby less than 6 months ago and also major surgery.
Here is her completely unbiased and honest opinion on the Body By Vi shakes:
I think I am going to get Lacey to test everything around here.
Have you tried a weight loss program? Did it work? Did you fail? Did you succeed? Tell me!
~Trisha
UPDATE: After trying coolsculpting and it not working, I just got an old fashioned tummy tuck! Read all about it.