Is CoolSculpting Worth It?
Rarely, if ever, does a new weight loss option come into style that offers a non-invasive, safe, and effective treatment to rid your body of fat permanently.  Not anymore.  
CoolSculpting, a procedure developed by Harvard researchers, is an FDA-approved method of destroying fat cells in your body – no knives, no needles, and no recovery.  
Sound too good to be true?  Maybe not this time.
Back in November, as a mom blogger test subject, I had a procedure called "CoolSculpting" done. I am one of the ideal candidates for the process. Someone that isn't really overweight, has the right amount of body fat percentage, and cannot seem to lose this baby fat around my midsection post-C-section.
I am one of many CoolSculpting reviews and I am here to answer the question, "Is CoolSculpting worth it?" or at least "Was CoolSculpting worth it to me?"
Like many considering this treatment, I had been eating right and exercising, but nothing I did ever whittled down the "belly pouch," the "mommy belly," the "muffin middle."  And to be honest, I got a bit self-conscious.
Then I heard about CoolSculpting and I knew I needed to know more!
Understand that there is no way to tell you that my experience will be your experience, but it always helps me when I can read what someone else went through.
So, without further ado, let's see if CoolSculpting is worth it!
Here's what it looked like immediately after the procedure.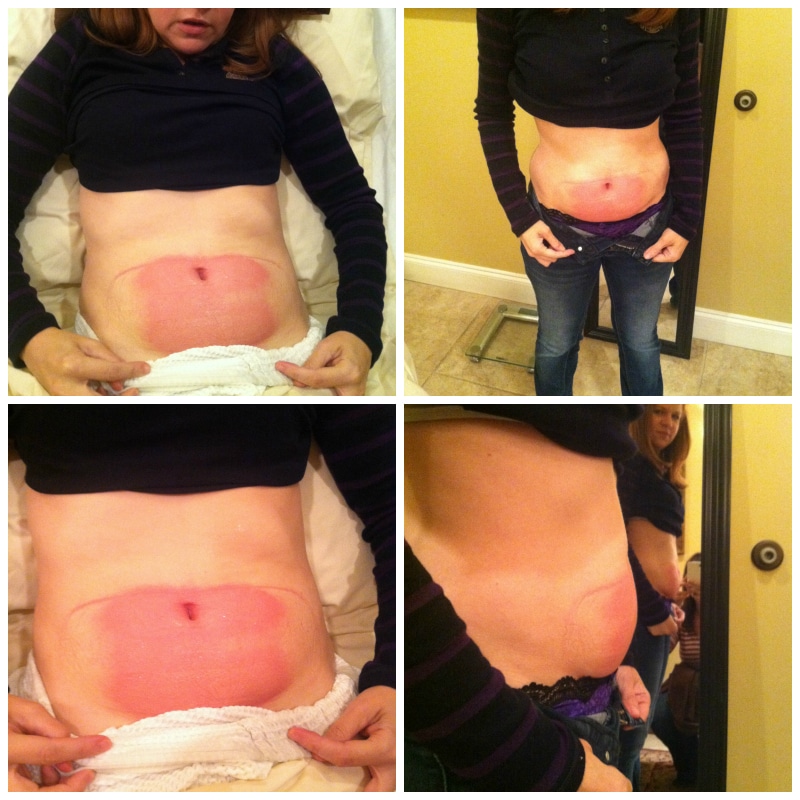 How Does CoolSculpting Work?
To put it simply, I wanted to know if I could have my fat frozen off.  Not sucked out with a needle, requiring surgery and recovery, but frozen. 
So I headed down to The Martin Center, a local plastic surgery office, and met with a board-certified plastic surgeon. This is what I learned about this procedure.
1) CoolSculpting is NOT for everyone. You will watch a CoolSculpting video on the procedure, which gives you some facts to help you decide if CoolSculpting is worth it for you.  A few things to keep in mind: 1.  This is NOT for health. 2.  You do not get this done because you want to lose weight. 3.  It is simply to target stubborn areas of fat and eliminate them.
2) The Dr. I talked to said they do not like their patients to have a BMI over 30%, and that they ideally like it under 25% before they treat someone. My BMI is 21%, so I am an ideal candidate.
3) The nurse showed me a flipbook of past patient results, and we talked about my expectations.
4) This is NOT an instant results procedure. Unlike liposuction, you do not just go in for the treatment and wake up with less fat. You are literally freezing the fat, which kills it.  Your body then absorbs the dead cells over an 8-12 week period, eliminating them from the treated area.
5) I was told it was not going to hurt, but that it would possibly be uncomfortable.
6) CoolSculpting will NOT tighten the skin. The Dr. explained that at my age (34), my skin should have some elasticity and that the up to 25% fat reduction I "could see" in that area should naturally reduce my skin, but there are other treatments and procedures (non-surgical) that I can do to help that if I am interested. Being a mommy is not for the faint of heart, you know?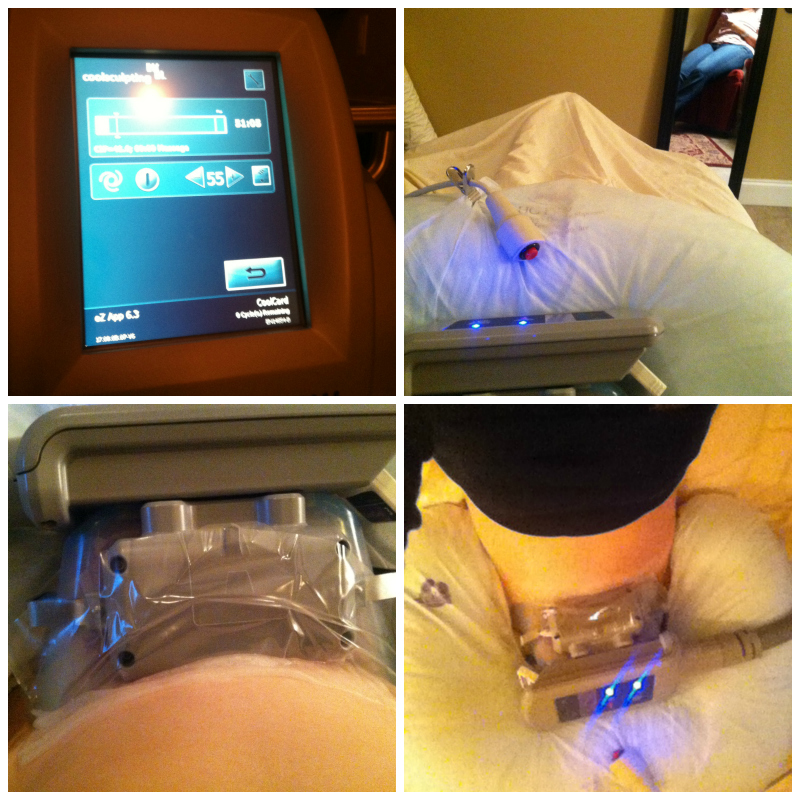 The nurse then measured my body and showed me the applicator suction cups that my fat *cough* was gonna be sucked into. There was some discussion on whether or not I would fit in a large applicator, but that if I used the large one it would cover more of my targeted area, hopefully producing better, more optimally expected results.
No matter what applicator you use, your skin/fat must be able to be sucked in, extending past a "fill" line.  If you have a shorter span on your torso or less fat in the targeted area, you may need the small applicator.
I was also told that cramps or bruising were normal afterward and that if kept on for over a week, they would give me a prescription.  I'm not gonna lie, this was one CoolSculpt side effect I was not looking forward to!
While I was getting a little internally worried here about this cramping and bruising, I reminded myself that none of it was the cutting, tearing, or stapling that Shasta did.  That was why I chose the non-surgical fat freezing treatment option, after all!
Before I left, I took some "Before" shots at the office and signed up for my appointment.
Here it goes…this is me.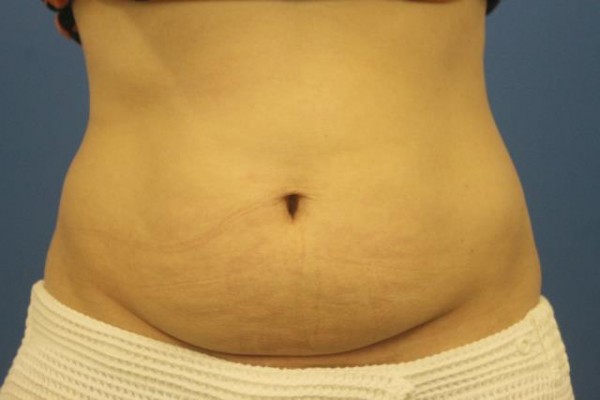 Keep in mind that this procedure is not to help you lose weight or tighten excess skin, but to target areas of fat in your body such as love handles, inner and outer thighs, chin, jiggly underarms, or stomach pouch (often left behind by pregnancy), and help rid that one area of hard-to-shed fat.
You can look at my first post for more information about ascertaining whether I was a good candidate.
Even though I had been to my consultation appointment, watched a CoolSculpt video, and googled like a mad woman, I was still pretty nervous. I had all sorts of questions:
How would it actually feel?
Would it hurt or simply be uncomfortable?
Are they lying to me?
Would I immediately resume normal activities or be curled up in bed in 6 days, regretting this?
Would I be bruised and battered?
Could CoolSculpting actually work?
Worse still, would I be able to function during the day with my 14-month and 7-year-old?
COOLSCULPTING REVIEW
To help ease my (emotional) pain, I invited my friend, Lynsey, to come with me.  Basically, go with me to hold my hand while I got it done. I also asked her to hold my video camera, cause I can tell you all day long, but showing you is so much easier.
Once we arrived at The Martin Center I was ushered into a very nice treatment room, where a nurse verified that no way would I fit in the "large" applicator (truth be told, I breathed a huge sigh of relief) and talked about what she was going to do.
Then I had to strip down and put a spa towel around my waist. The gel for the applicator that goes on your body is much like ultrasound gel: thick and gooey. 
Be warned: If you leave anything on below your belly button, you are most definitely going to leave with wet pants. In this particular office, they had a shower in the treatment room, so I just stepped in there and changed.
Then I laid on the bed while the nurse helped me get comfortable, strategically placing pillows behind my head and back before we got started with the CoolSculpting machine. This resulted in some fabulous bedhead hair you will see in the later video.
What is CoolSculpting?
Procedures that use laser, sonic waves and even surgery to remove fat can actually destroy other tissue in the process by burning, shattering or extracting non-fat cells. This requires downtime for your body to heal. Totally uncool. Fortunately, CoolSculpting doesn't burn, shatter or extract any cells.

Developed by Harvard scientists, our unique, FDA-cleared, patented procedure uses a targeted cooling process that kills the fat cells underneath the skin, literally freezing them to the point of elimination. Only fat cells are frozen. Your healthy skin cells remain, well, healthy. No knives. No suction hoses. No needles. No scars. Once crystallized, the fat cells die and are naturally eliminated from your body. In a few months, boom: say hello to a new you.
Some women are looking to slim down inner thighs, chin, or stomach like I was.
CoolSculpting is a body fat reduction technique that freezes the fat cells in your body, causing them to die, and be naturally removed, or flushed, from the body.  
After Harvard researchers noticed that kids who ate popsicles growing up also had dimples as adults (popsicle panniculitis), they determined the frozen sweat treats were freezing fat cells in the cheeks, removing them forever. Applying that same technology to unwanted body fat, CoolSculpting freezes fat cells in the body, which then die.  
Over a period of 6 – 12 weeks, the body flushes out the dead cells, and voila!  Fat is gone.  Because fat cells freeze at a lower temperature than the surrounding tissue, they remain undamaged and unaffected.
CoolSculpting is approved for use on the belly, inner thigh (can you say, "goodbye, thunder thigh!"), and hip/love handle areas.  It has also been used to sculpt the chin and neck, "bra bulge," and areas on the male chest.  
Doctors offer mixed reviews as to whether one treatment is sufficient to see results; most recommend multiple visits to make CoolSculpting worth it all.  This may be necessary if you have a significant amount of fat to be removed in any one area, or you have multiple areas to treat.  
Treatments are expensive (but not as expensive as liposuction!), with the CoolSculpting price running $800 per love handle or $1,300 for the belly area, but with little-to-no recovery time, it is an attractive alternative to liposuction.

Want to see what I went through when I got CoolSculpting? Here is my CoolSculpting Procedure post (w/ images and video).
Here is also a video of them removing the CoolSculpt machine applicator, which was really weird.
Now comes the BIG question that everyone wants to know.
Does CoolSculpting Fat Reduction WORK?
Unlike many "get thin claims," both doctors and researchers claim that CoolSculpting not only works but that it is effective.  Using rounded paddles that are suctioned to your skin over a period of two hours, the device freezes fat cells while you relax, work, or rest.   
However, the technique is designed for those looking for minor improvements. Unlike liposuction that can target and remove large areas of fat, CoolSculpting is designed to treat much smaller areas and only those that the device can access from the skin.  
Doctors admit that the more treatments you undergo, the better your results.  Obviously, this increases the CoolSculpting procedure cost of treatment as well.
CoolSculpting can target and eliminate specific areas of the body carrying fat, but the amount of fat destroyed isn't enough to decrease your overall body weight.  However, adjusting the shape of your body can get you into a smaller size.  
Doctors also note that the tone of the area can influence the effectiveness of treatment – the rigidity of the skin and other tissue can influence effectiveness.  
Also, because it takes time for the body to remove and flush out the dead fat cells, it's unlikely you'll see rapid results.  Results vary from patient to patient.

Lastly, doctors caution that unless you regulate your diet and exercise, fat cells that are not destroyed by the procedure can expand and grow, bringing you right back to where you were previously.
To maintain any improvements from CoolSculpting, you will still need to implement healthy habits daily.
Based on the reviews out there, CoolSculpting before and after results are mixed.  Some report the experience to be mildly painful or uncomfortable.  Others report severe pain and significant bruising.  
Some had excellent results that were difficult to maintain when their diet slipped; others noticed little to no difference following treatment.
Was CoolSculpting Worth It for Me?
Am I slimmer without going under the knife?  Thinner in certain areas?   Did I lose the body fat I expected to lose?  Was it worth the cost? Is CoolSculpting worth it overall? I will let you decide.
Personally, I believe that CoolSculpting made no difference in my body shape or "mom pouch" area.  It did little to dissolve fat or to decrease skin volume.
And while CoolSculpting wasn't painful in the physical sense, it has the potential to be painful on your pocketbook, with absolutely nothing to show for it.
Here is a photo of my body from November 2012, prior to the doctor's appointment.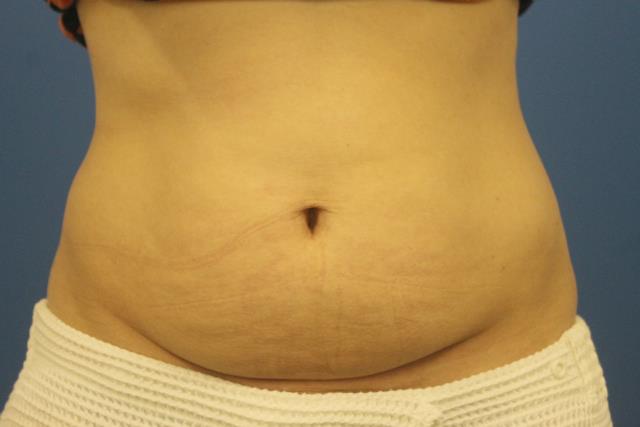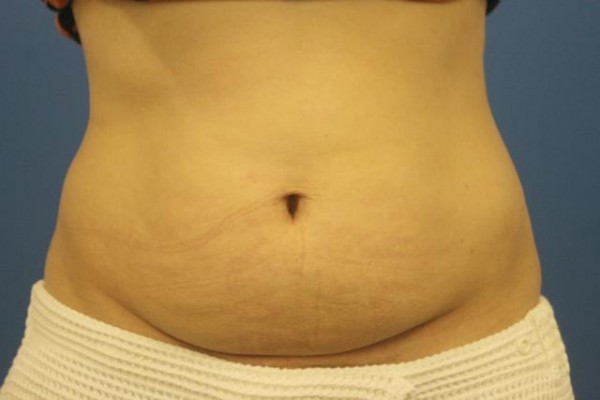 CoolSculpting Before and After
And today, just over 4 months later, after 1 treatment of CoolSculpting, is my Before and After results. Moment of truth, people. Moment. Of. Truth.
(That is my C section scar below that pocket of fat shelf, if you are wondering)
Here is a side-by-side

CoolSculpting Reviews
My thoughts about my personal CoolSculpting results — was CoolSculpting worth it, you ask?
Personally, I don't see enough of a difference in the treatment areas…or really much difference at all that would make CoolSculpting worth it for every woman, in my mind.
When looking at a picture, my husband said that he can see some slight softening of my body, and some lifting of the C section area. For your notes, I have not lost any weight or inches from my CoolSculpting Procedure…sadly.
Believe me, I wish I could stand up here and say that my inches were crazily sculpted, that I avoided going under the knife, that one of these CoolScultping or Zeltiq procedures worked for me, and that CoolSculpting is worth it for you too, but the truth of the matter is, I am just not sure.
Honestly, I can't tell you if it just didn't "work" for me or if I am the type of body that needs more than one treatment. It is highly possible someone else would have a stronger result.
All human bodies are very different, and it's possible that CoolSculpting is worth it for some women.
While I would undergo the procedure again to see if my results were better, I do not believe it made any real difference in my shape or how I fit into my clothing (which was what I was most hopeful for).
Incidentally, I have also had people reach out to me about this article with the same results. However, this does not mean that it will not work for you, just that my results are similar to others, as is the case with most things in life.
These types of procedures are specific to your body and are improving and changing every single day. This is where you really have to decide if it is worth it for you. 
You may need more than one treatment, which means your cost can go up quite significantly for a "maybe."
How Much Does CoolSculpting Cost?
The average cost is approximately $1,600 but can range as high as approximately $4,000 for additional treatments. Most doctors recommend more than one treatment to see results, which means that for a procedure that may or may not work, you're paying a pretty penny. 
There may be something to be said about going under the knife for "exact" expected results.  Only you can make that decision, dependent on your ultimate goal.
Do you think CoolSculpting made any difference that you can see?
Would you get it done? If you did, have you experienced different results?
Tummy Tuck or CoolSculpting?
I think we all ask ourselves when contemplating making improvements or alterations on our bodies, which type of procedure will give us those quick, visible, expected results at the best cost.
Now that you have seen my results and review of CoolSculpting, come check out my Tummy Tuck Before and After pictures! I decided to have a tummy tuck on September 15th, 2017.
You can read all about it here, step-by-step, to see if a tummy tuck is a good option for you.
Read my entire Tummy Tuck Journey——–>
1) How much is a Tummy Tuck?
2) Tummy Tuck Surgery Day: What to Expect
3) Tummy Tuck Before and After pictures
CoolSculpting Alternatives
CoolSculpting may not be for everyone.  However, tried and true methods of changing your body are reliable, safe, and easy to do.  They require the same attention to your diet as CoolSculpting, but they won't devour your wallet at the same time.  
Many different diets and eating plans that can help you slim down, manage your weight, and improve your self-confidence, without ever visiting a doctor's office.
21 Day Efficient Nutrition Portion Control Containers Kit
As I've written about elsewhere, the 21-Day Fix  (here is where you buy containers for the 21-day fix diet) and Cabbage Soup diets are some of my personal favorites.  
These plans can either support a longer weight loss program or get you started on your road to success.  No uncomfortable treatments and no embarrassing consultations necessary.
 Plus, getting control over your eating habits is an empowering habit that will serve you well for a lifetime.
I don't know much about them, but you can also check out at home freezer fat removal systems that are available online. For a fraction of the cost, they may offer some at-home and custom treatments.
This is not a testimonial on them, as I have not personally used them, but you can check them out, along with the reviews here right on Amazon.
While CoolSculpting may provide a safe and potentially effective way of getting rid of a few inches here and there, it is not designed for everyone, and it may not be effective in all cases.  
Either way, you will need to focus on your diet if you are going to see long-lasting and powerful changes in the shape of your body.
FAQs About CoolSculpting
What is the downside of CoolSculpting?
The downside for me was that I put out a lot of money and didn't see any results. The shape of my belly fat was slightly different, maybe, but it didn't shrink even 4 months later. Maybe a second or third treatment is needed, but that is too expensive for me.
What is the success rate of CoolSculpting?
For most patients, the amount of fat in the area is reduced by 10% to 25%.
How long do results from CoolSculpting last?
If you can avoid increasing the size of the remaining fat cells, the results will last forever because the frozen fat cells are destroyed. However, it is possible to increase the size of remaining fat cells and gain weight in the treatment area.
How much weight do you lose with CoolSculpting?
You don't lose weight with CoolSculpting. It is a spot treatment for areas where it's hard for you to lose fat. When the fat cells are frozen some of them will die away, decreasing the look of body fat.
Does the fat come back after CoolSculpting?
Any fat cells that die during treatment will not come back. However, the remaining cells can still gain additional fat and size, decreasing your results over time.
How many sessions of CoolSculpting are needed?
If you are at your ideal weight it should take only one treatment. If you have an extra 6 to 15 pounds you'll need at least 2 treatments. If you're over 15 pounds over your ideal weight then you'll certainly need 3 treatments.
Those who are more than 30 pounds over their ideal weight won't see the results they want from CoolSculpting.
Can you see CoolSculpting results after 1 week?
No, you won't notice much, if any, results after 1 week. It takes 2 to 3 weeks to start to see results, with final results becoming evident after several months.