Does CoolSculpting really work?
Back in November, as a mom blogger test subject, I had a procedure called "CoolSculpting" done. I am one of the ideal candidates for the process. Someone that isn't really overweight, has the right amount of body fat percentage, and cannot seem to lose this baby fat around my midsection post C-section. While I was excited about going in, did you know you can also get an at home fat freezing machine too? There are so many options available out there if you look around and the concept is really the same, freezing your fat so it dies and is removed from your body. I found these options on Amazon, check it out!!
Carer Freezer Fat Removal Lose Weight Fast
Tripollar Pose Cellulite Removal Fat Reduction Stomach
MYSWEETY Portable Mini Led Ultrasonic Cavitation Machine
FAT FREEZER Premium Body Fat Removal Non-Surgical
This article is to show you my personal experience and to answer the question, Does CoolSculpting really work?
About CoolSculpting
Procedures that use laser, sonic waves and even surgery to remove fat can actually destroy other tissue in the process by burning, shattering or extracting non-fat cells. This requires downtime for your body to heal. Totally uncool. Fortunately, CoolSculpting doesn't burn, shatter or extract any cells. Developed by Harvard scientists, our unique, FDA-cleared, patented procedure uses a targeted cooling process that kills the fat cells underneath the skin, literally freezing them to the point of elimination. Only fat cells are frozen. Your healthy skin cells remain, well, healthy. No knives. No suction hoses. No needles. No scars. Once crystallized, the fat cells die and are naturally eliminated from your body. In a few months, boom: say hello to a new you.
To kick start your memory, you can kick here for my CoolSculpting Consultation  and here for my Coolsculpting Procedure. 
Here is also a video of the actual process if you are wondering (and more on that above link).
Now comes the BIG question.
Did Coolsculpting WORK?
Am I slimmer without going under the knife, thinner in certain areas, did I lose body fat and would it be worth the cost? I will let you decide.
Here is a photo of my body from November 2012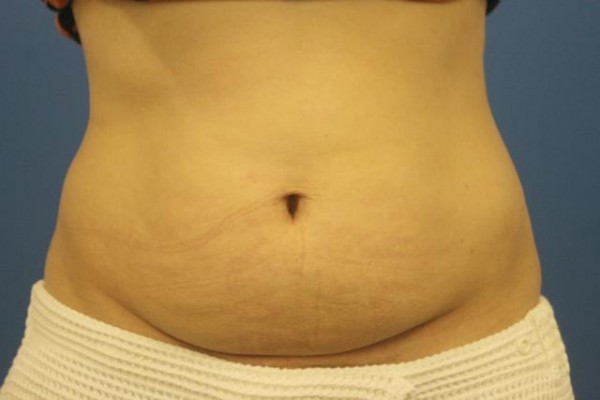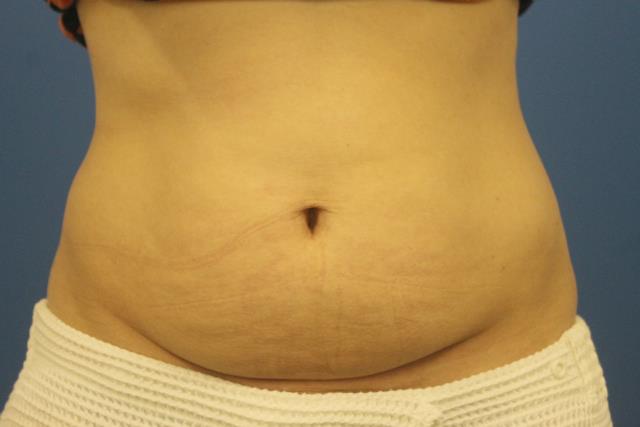 And today, just over 4 months later after 1 treatment of CoolSculpting:
(That is my C section scar below that pocket of fat shelf if you are wondering)
Here is a side by side

Coolsculpting Works ?
My thoughts about Coolsculpting? I don't see any huge difference in the treatment areas..or really much difference at all. When looking at a picture my husband said that he can see some slight softening of my body and some lifting of the C section area. For your notes, I have not lost any weight or inches from my CoolSculpting Procedure…sadly. I wish I could stand up here and say that my inches were crazy smaller, I avoided going under the knife and one of these Coolscultping or Zeltiq procedures worked for me, but the truth is I am not sure.
Now I can't tell you if it just didn't "work" for me or if I am the type of body that needs more than one treatment. Its highly possible someone else would have a stronger result. All human bodies are very different. While I would attempt the procedure again to see if my results were better, I don't believe it made any real difference in my shape or how I fit my clothing (which was what I was more hopeful for).
Coolsculpting Cost
Of course, you may be wondering what the cost for this procedure is. The average cost is approximately $1600, but can go as high as $4000 for additional treatments. Most doctors require more than one treatment to see results. Which means for a procedure that may or may not work, there may be something to going under the knife for exact results. Only you can make that decision on your ultimate goal.
Do you think CoolSculpting made any difference that you can see?
Would you get it done or if you did, have you seen different results?
---
Portable Non-Invasive Body Shaping Ultrasonic RF Massage
Carer Personal Use Cavitation Machine Radio Frequency