How was your Halloween trick or treating on Friday? It got cold here! I mean like…really cold. It so figures that all week it was about 80 degrees and the one day we have to walk around in costumes, the temperature plunged. Actually, let me take that back- Phoenyx refused to walk anywhere so my husband pulled the wagon
with him in it. Charlotte, daddy and I walked and I realized I had the worst tennis shoes ever and those had to go asap.
As far as costumes, Charlotte was a gypsy
(too cold to wear her other costume),  daddy had on his King Costume and P wore SOME of his Knight Costume (he refused the cape which was seriously the best part)- overall it was a fun night that didn't have TOO Much arguing about tasting candy before bed.
Notice I said too much.
And yes- we crafted!
I know what you are thinking-  ANOTHER last minute Halloween Craft. Come on, it's me we are talking about. And you are going to get one more after this, so…let's call this a FALL Craft. This idea was another fun gem that little P brought home from his obviously brilliant preschool teacher- spiders were hanging all over the ceiling in his class and oh so cute! I could not resist adding to the fun once more. We didn't make our at home version with hanging tags, but if that is something you want,  you could add a little ribbon to tie them up or even hang them off a tree.
I am almost super sad that Halloween is over because I could honest paint pumpkins, make Frankenstein's and walk around in a pirate patch pretty much every day of the week.
So dig out your glue, glitter, and paper and let's have a little fun!
Preschool Paper Spider Craft
For this, I am going to make it really simple and include all the instructions on top.
Simply cut out 2 circles the same size (I used a small cup but my tip is to use a plate and make your spider much bigger. I barely had room for his legs making it this small).  Then you can cut out either 4 long strips  or 8 mini strips and glue them on your circle. Once you have the legs placed, just glue your matching circle on the back.
If you are going to do a hanging ribbon, make sure you place that loop there before you glue the back on.
Now all that is left is to create some eyes and a mouth! I kinda got a little crazy with the glitter so I had photoshop scale some of that back for you so you could see what a normal spider would look like.
What can I say?
Glitter makes me
w

i

l

d

.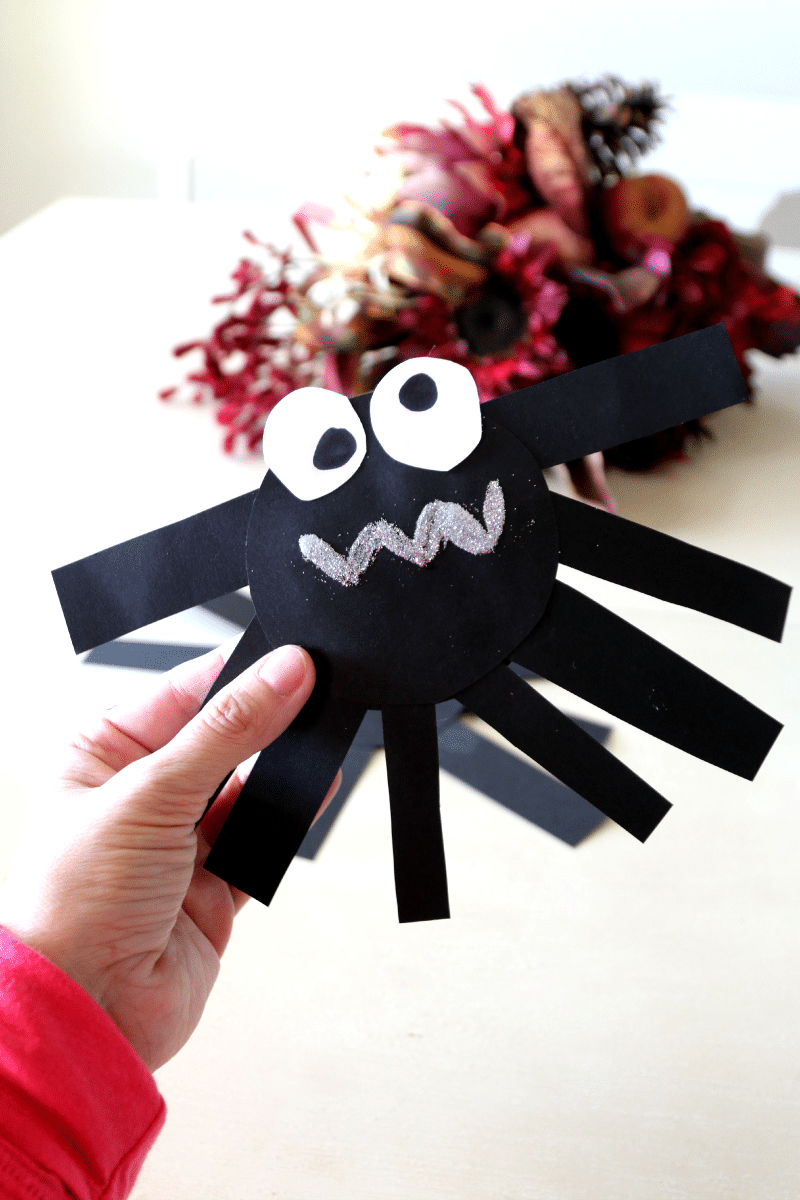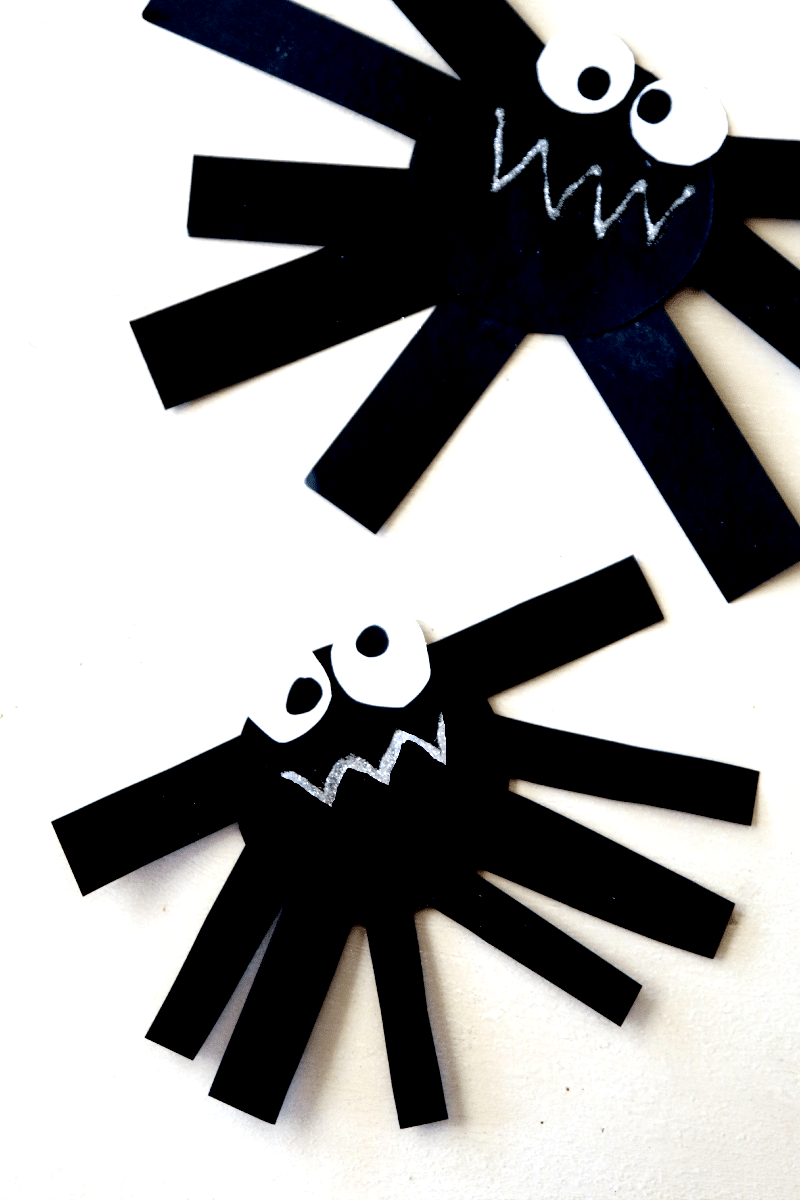 What I adore about paper crafts is that they are SO easy, so inexpensive, and you can get as creative as the paper, glue, and glitter you own is! Heck, you don't even have to make a black spider. Make a red one. Or a rainbow one!
He doesn't even have to be a Halloween craft. Spiders are for ALL parts of the year- or so says the ones that are sneaking in my house every day.
As always follow me on Pinterest for more fun, easy to follow crafting tutorials and activities~
Trisha
PS Click below to see a new craft from Halloween 2016