Looking for 4th of July Slime? What I love about slime, is that it's an endless project. You can make slime to match any holiday, TV show, and book- and it makes the perfect fun day summer DIY that everyone loves to touch! Plus, making slime is easy!
If you have missed any other slime tutorial on MomDot, you might want to check out some of these inspiration fun colors as well.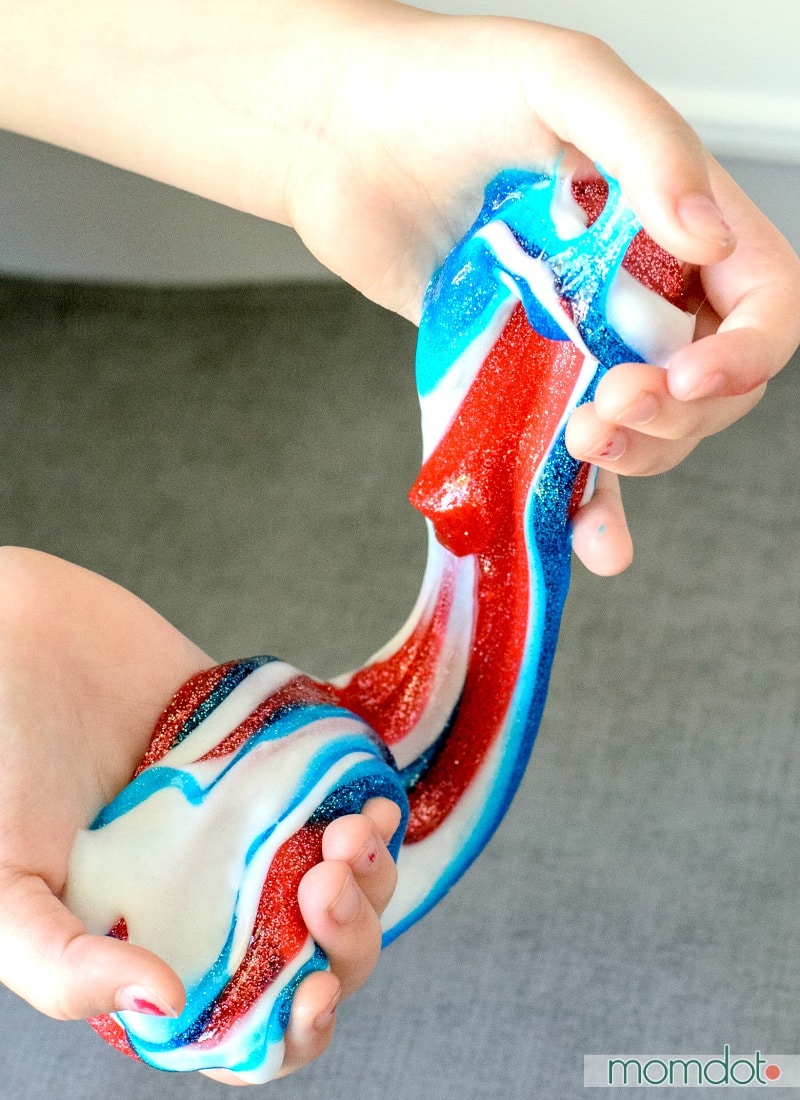 Other slimes here:
Now onto the newest slime recipe!
---
SLIME BOOK AVAILABLE!!
Love the Slime Recipes on MomDot? Our first book has been published and you can pick up a copy right on Amazon for yourself or to gift to a slime fan in your house! It features not only some fun basic slime recipes and how to get started on creating your own, but also some ways to use slime for holidays and gifts! Check out the book here! 
---
This slime is red, white, and blue- perfect for the upcoming July 4th holiday (or any other patriotic holiday) which is why its named Star Spangled Slime! Totally fun, this red, white and blue slime mixes together to be just a gorgeous array of colors. If you don't know How to make slime, well I'm gonna show ya!
---
Slime without Borax
Purex Sta-Flo Liquid Starch, 64 Ounce
PRO TIP: Many people do not like to deal with borax and water when making slime. You can also make slime by using LIQUID STARCH and glue. It's a ton easier. Simply use about 1/3rd cup starch
in 1/2 cup glue
(per color) and add starch little by little until you get the slime consistency you want. Once it's set, then separate the white slime and dye the colors you want in solo cups.
It can be pretty hard to find liquid starch, so pick this one up here (it's the one I use) as well as a huge thing of glue so you can make tons of slime for all occasions. Buying this way is a lot more cost effective and once you start making slime, you will def want to have glue on hand!
&
Purex Sta-Flo Liquid Starch, 64 Ounce
Elmer's School Glue, Washable, 1 Gallon
---
Star Spangled Slime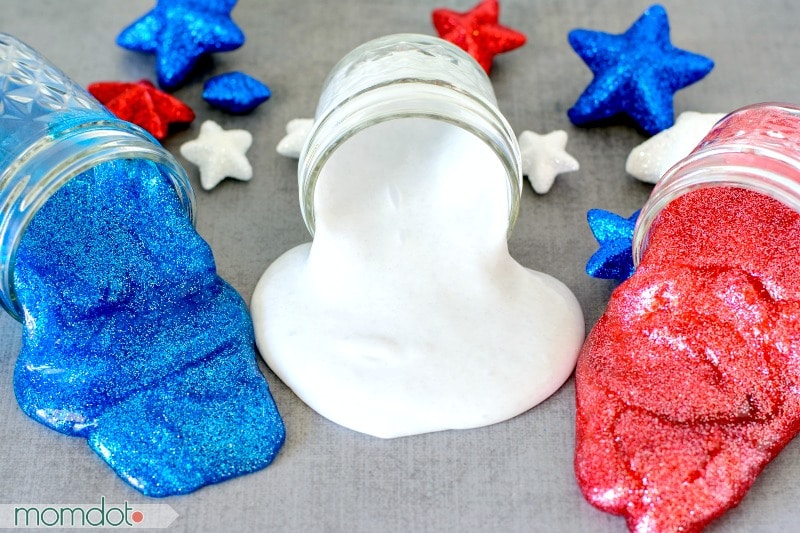 If you already know how to create slime, you can skip this. It makes the same way as all slimes, just mix these gorgeous colors for the result. NOTE: I only use liquid starch
!
Pour glue into a cup (red solo cups
work great for this), add the tbsp. of water, food coloring and glitter and mix well with the craft stick.
Add liquid starch.
 approx 1/4 cup or less.
Keep stirring and it will start to form. Then take out of the cup and begin kneading.
If the slime is too sticky, add a little bit of starch at a time (about 1 tsp or less)
Store in sealed container
Repeat 3 more times to make each of the colors. Braid colors together when finished.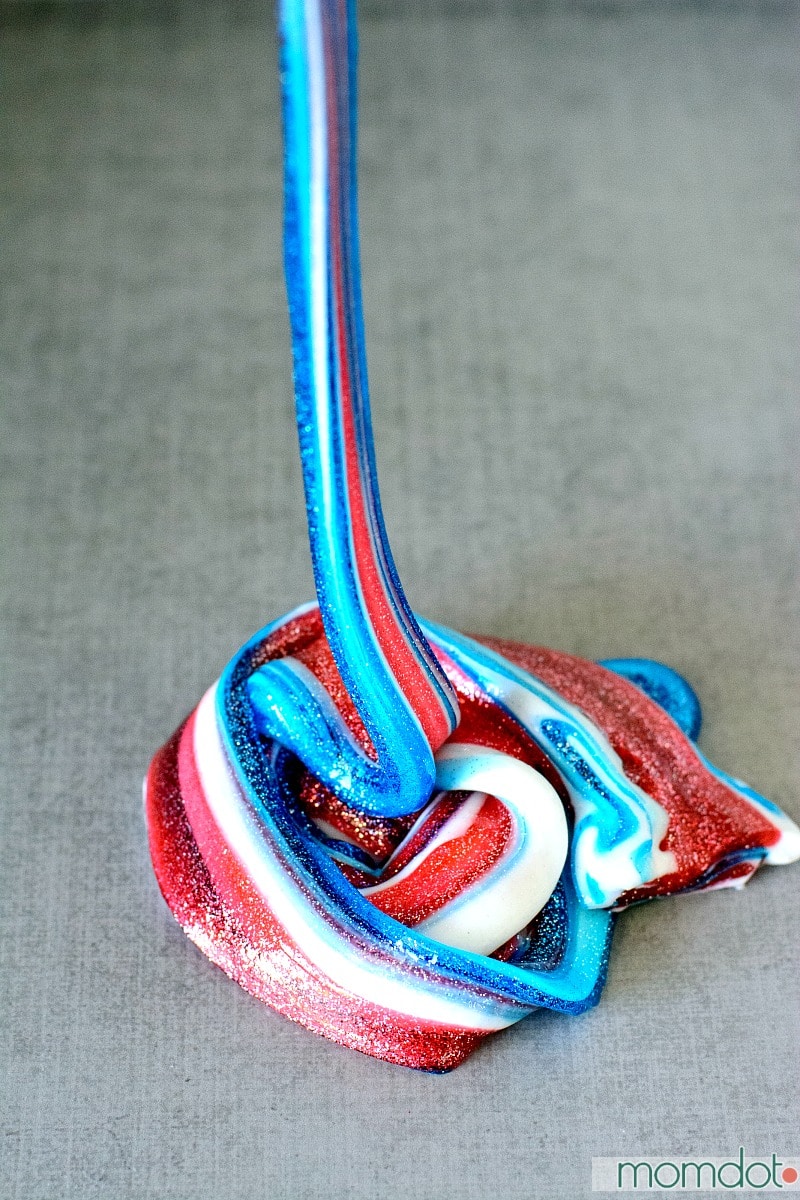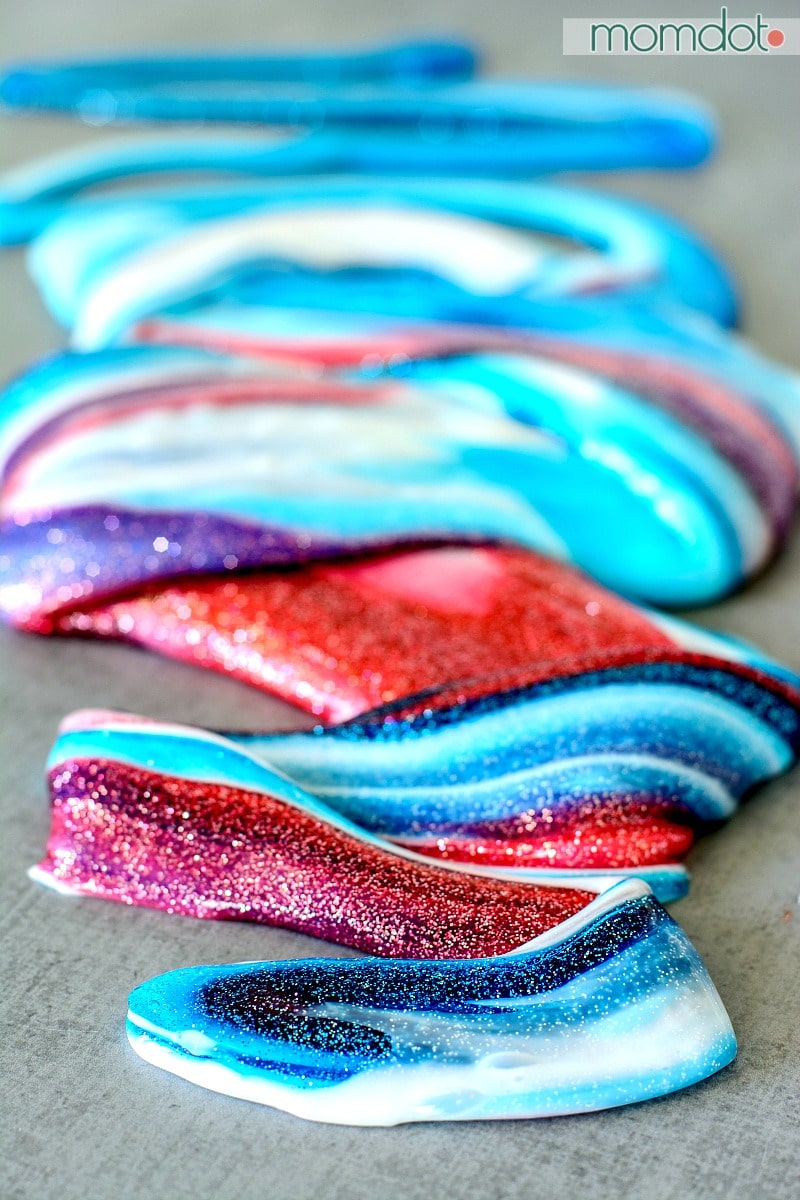 ---
How to Make Slime Video
I have a lot of people message me about this and other slime projects, wondering why their slime is so runny compared to mine. I did a live Facebook video that shows you the stages of slime from the goop to the solid mass above you see, so you can make sure you are on the right track. I also address some of the slime issues! Please watch because it will help you grow some confidence and make sure you get it right! Once you have it figured out, making rainbow slime becomes so much easier.
---
Love slime and ooey gooey fun? Do not forget to follow me on Pinterest!  <————I share awesome stuff like camo slime and this super easy fluffy slime recipe here.