Last month Walmart let me know about some new EXCLUSIVE Hello Kitty room products that were coming out and asked if Charlotte would like to showcase them to you all. To be honest, I wasn't exactly sure what Charlotte would say. Like most little girls she loves Hello Kitty (and call things Kitty and Cat) but her room is her room, so I left it up to her. She said ABSOLUTELY so I gave them the OK and they packed her up some adorable things from their new line!
Her room prior to redecorating was super plain. Other than a horse photo on the wall her daddy bought her shortly after we moved, we haven't really done much other than put away the toys and clothes.
Before Hello Kitty Room Makeover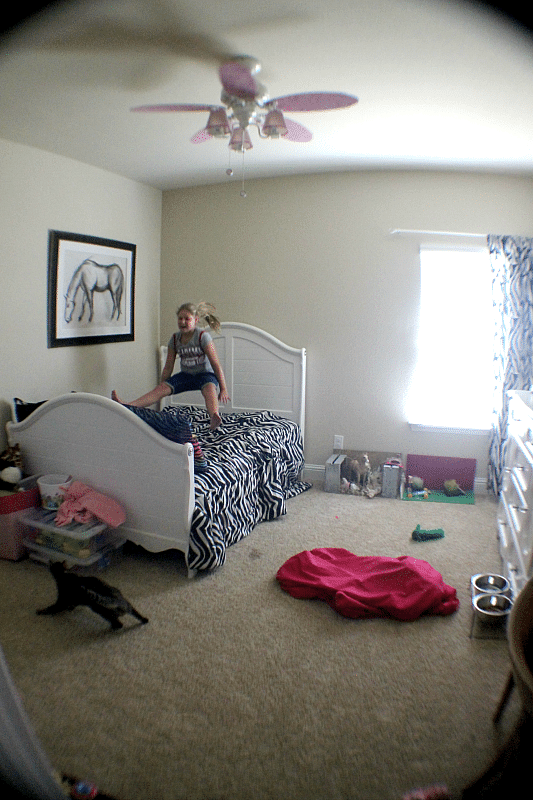 Of course Charlotte was eager to help when the box of mystery items showed up!
Included was a bed set (she has a full size), a set of curtains, a rug, and a stuffed animal. Since we had the blueprint of an adorable direction, we started with the new items and built on it to make her room more personal.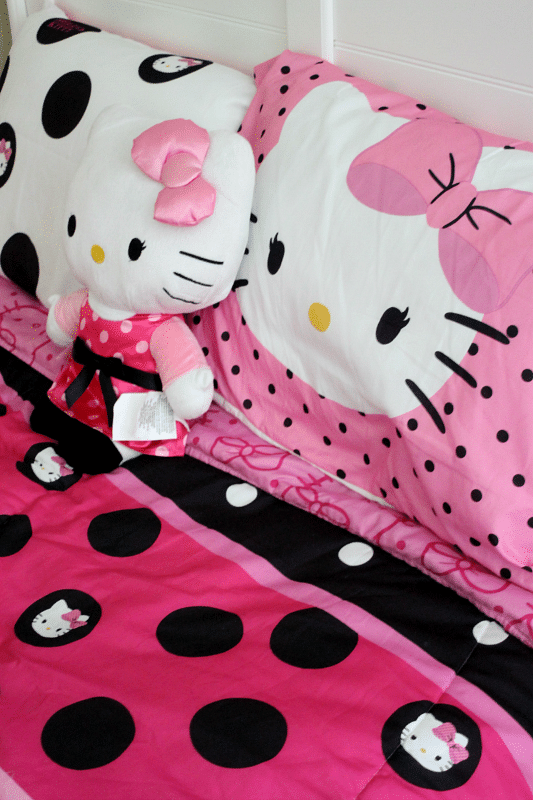 Go back to school in style with the exclusive Hello Kitty Walmart line of clothing, accessories, bags, jewelry, and school supplies. Fall fashion and back to school are easy when you stop by a Walmart store to stock up on the Hello Kitty favorites your family loves.
I didn't really want to paint Charlotte's room.
I do want to paint it but the ceilings are 10 feet tall and my idea of a good time is not to stand on a ladder for 3 days dripping paint into my eyes. That being said there are so many ways to decorate and we started by updating her old desk and chair in her room with a fresh coat of paint.  
The other thing I did was change up her plastic storage to cute matching fabric storage that could be used as a seat and opens up to put toys inside. The overall look is less messy and cluttered.
We also found some cute stickems to put up on the wall so while its not painted, it does have some matching decor that ups the mood.
In the end I would have to say we BOTH loved the difference in the before and after! Her room is one she is proud of and the exclusive Hello Kitty items are perfect for a girl her age!
Check out our #HKSchoolStyle~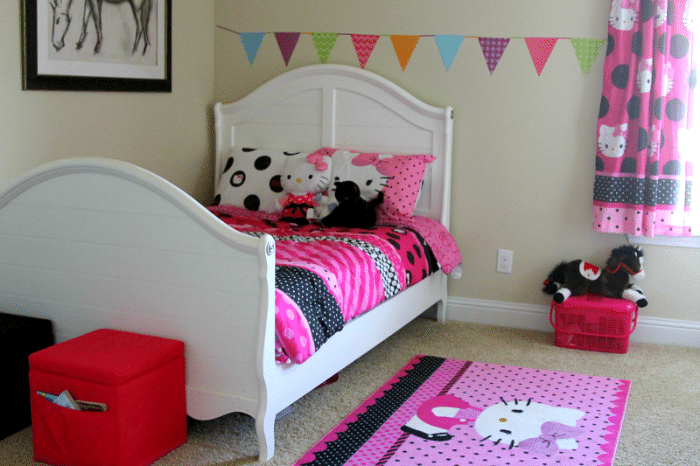 Now its your turn.
Do you have a Hello Kitty fan in your home?
Head to Hello Kitty page on Walmart.com to create your own Hello Kitty avatar! Play dress up by selecting the outfit, bow, extra, adds-on and shoes of your choice. The possibilities are limitless! When you're done, you can email or print your Hello Kitty avatar! Here is the one Charlotte and I made to match her room and style~!
WIN WIN WIN
We are hosting a widget where you could enter to win 1 of 5 $50 Walmart gift cards to help with your Hello Kitty Makeover. Just wait for it to load!