The other night I went out and bought some Christmas crafts with full intentions on making a stand up ribbon Christmas tree with a Styrofoam cone. Then I had trouble figuring out how to wrap it with fancy paper how I wanted and thought…ok, what else can i do with this ribbon.
Here is what I created…A Christmas Tree HairBow holder …you know, if you are in the mood to totally redecorate your house for the holidays. Why not, right? Plus, its a fun and easy project to do while watching TV and really does hold a ton of bows.
How to make a Christmas Tree Hairbow Holder
do it yourself instructions
Materials
Canvas
ribbon spools..i used 8 spools that I got on sale at Hobby Lobby for $1 a piece
hot glue
little dots for "Christmas balls", $1.99 a package, 2 packages
Instructions:
1) The first thing I did was trace out my Christmas Tree. I just used a piece of card board and did two slanted lines. I then added horizontal lines in the middle to create different layers. The lines add as a trace for your craft.

2) Now pick up a ribbon and this is what you will use to measure your bottom row. I left some slack and made a loop, starting at the top line and adjusting so it looped back up. Once I had the right length, i added ribbon from the spool and cut out a ton of green ribbons the exact size I would need to make loops. I trimmed the edges to make sure they were even and hot glued each loop together.
3) Start attaching loops in a row on the bottom line till it goes all the way across your "tree".
4) After I had the row completed, I took a secondary piece and measured out all the way across the loops to "finish" the top. Although you cant see this part once its finished, it made me feel like it was more secure.
5) Continue the same process with all the rest of the layers to the top. I alternated colors and patterns for my tree.
6) Once I got to the top, I made 10 extra loops and glued together in the middle to create a "star" on the top.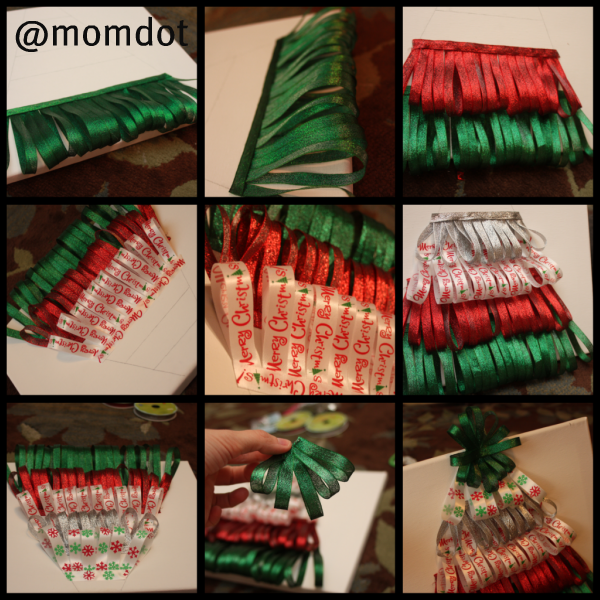 7) Then I took these little tiny dots that looked like Christmas balls and hot glued them all over the tree. My cat later found it and ate off about 10 of them.
You can also buy little buttons that look like snowflakes or gingerbread men and glue those on..or they have ones that look like little light strings.
8 ) Then I hung in the bathroom and you can see how easy it is to attach your hairbows!
And look, your hairbows are providing decoration on your tree…so cute. You could also do this and put your little loops in other patterns like a star, circle, etc and it would all hold bows. Just get out your creative hat for some fun!
If you liked this post, consider sharing the link with your crafting friends, teweeting, or stumbling…
Happy Crafting!
~Trisha
PS Check out my other How to make a Hair Bow Holder  Or how to make a tutu hair bow holder if you are really adventurous post.