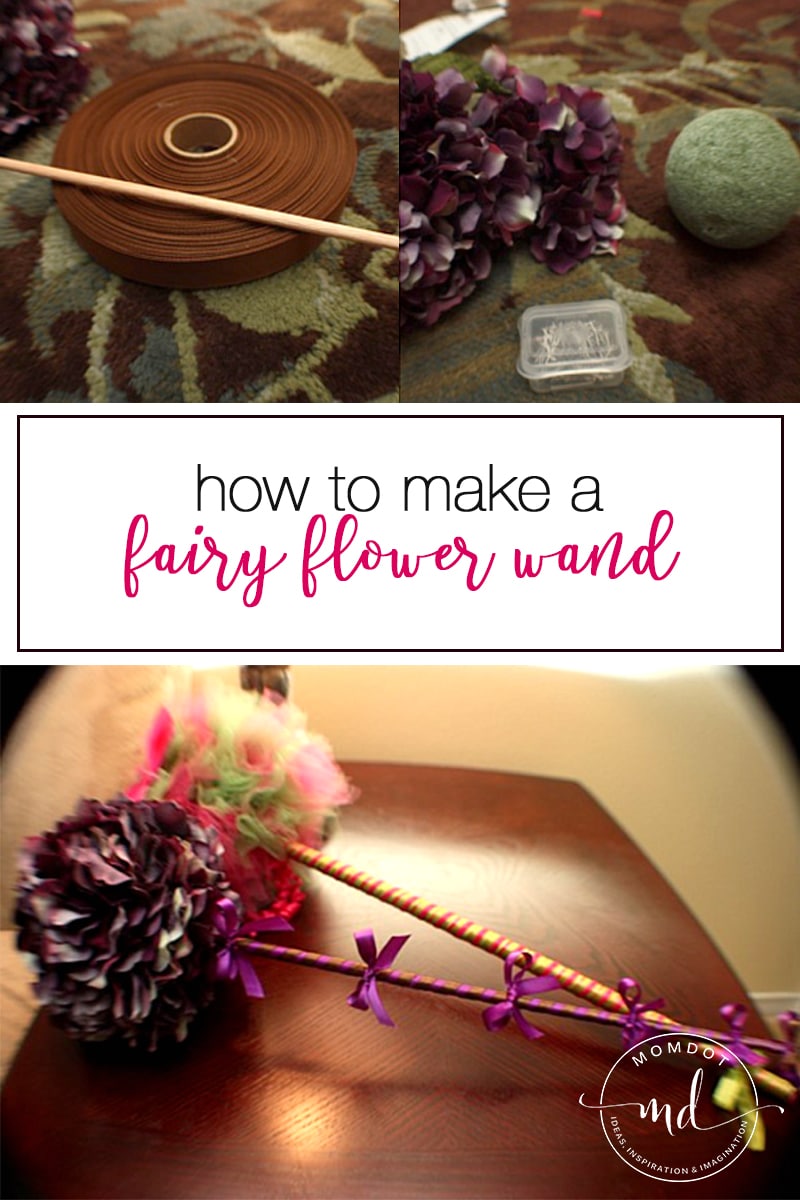 The other day I made a sweet little fairy wand, a tulle wand, and showed you how to make a tulle pom pom. I had some left over materials, so I decided to make a flower fairy one.
Again, this type of wand (at least the way I made it) is meant for older kids that don't have the curiosity to pull things apart. Because I chose to make mine with pins that go through the center of the flowers, please take care not to create something that you know for sure your child will pull apart and become a household hazard. Pins are no fun to step on.
Disclosure over.
How to Make A Fairy Flower Wand
Items needed:
box of lace pins
Styrofoam ball
dowel ribbons for the dowel
favorite flowers
glue/glue gun
1) Start by just taking the back off of each flower and pushing the pin through the middle and into the styrofoam. It took about 2 bundles of flowers for me to complete the entire ball. I made sure I pushed the flowers together because I liked the look of having all the flower petals mushed up, but you can choose to lay them flat.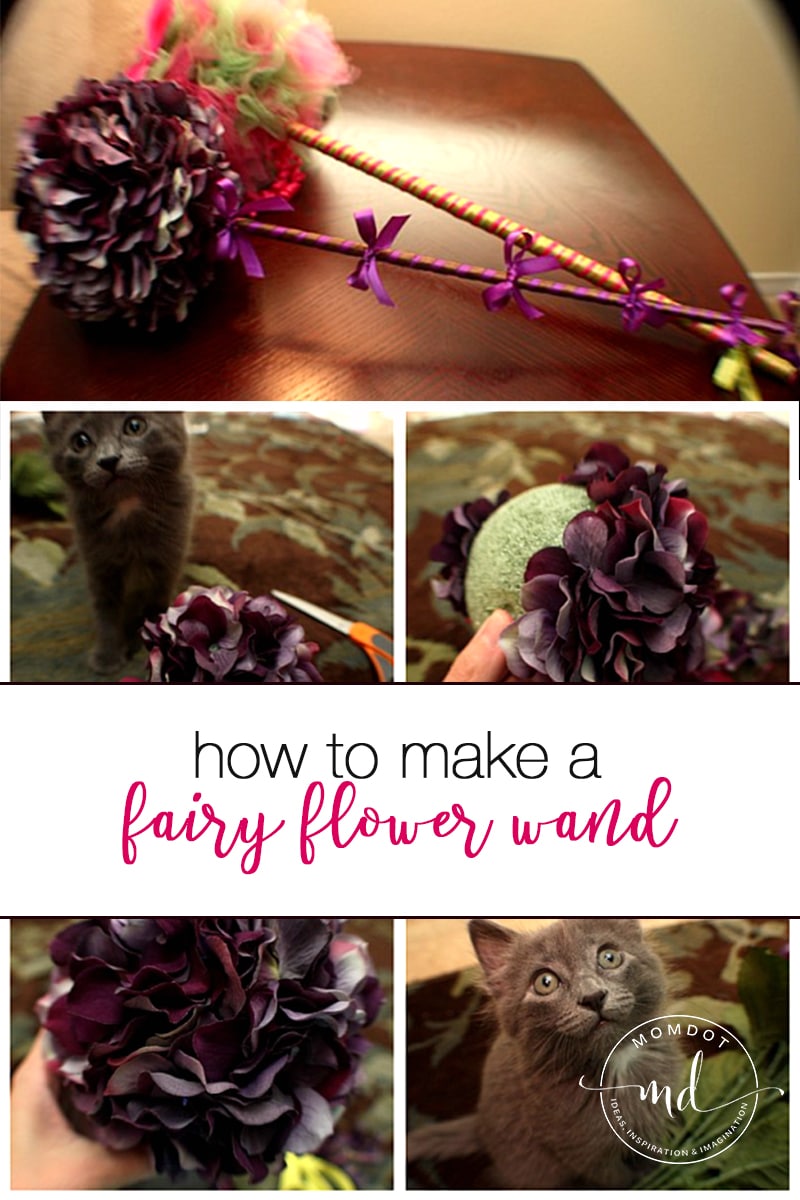 Another thought is adding a rhinestone to the center of the flower once its pushed into place. That way the pin top is completely covered and it would add some bling to it.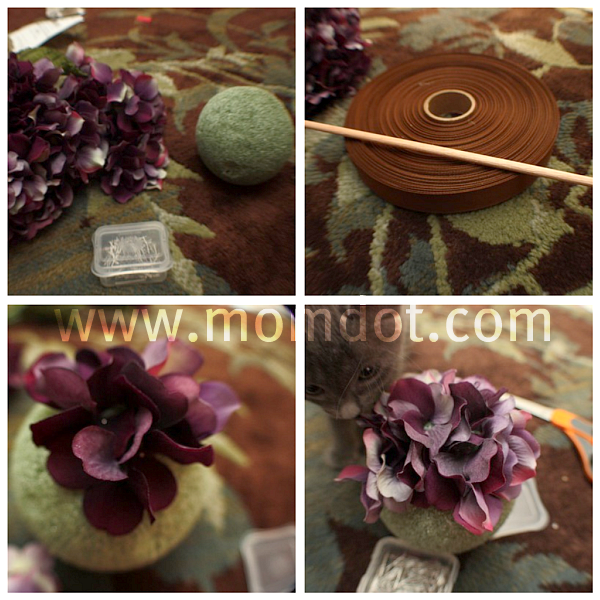 2) Let your kitten help. Its more fun.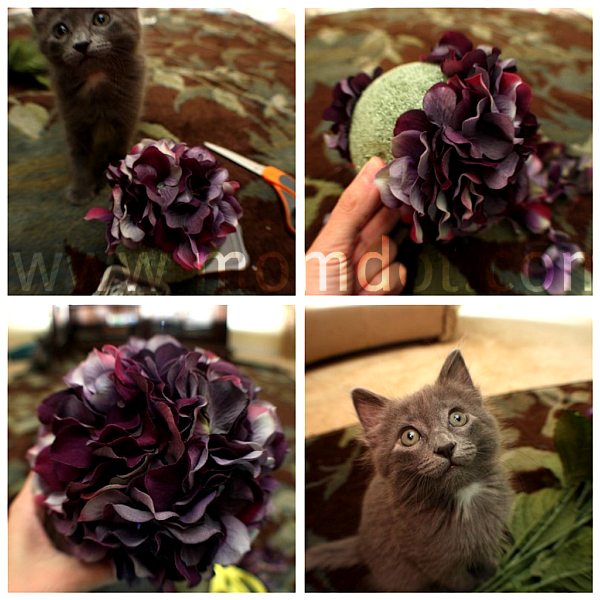 3) I then covered my dowel with my chosen ribbons, in this case it was purple and brown. I originally did it all in brown, removed it, did it in stripes and then thought I would add some leaves to the stem. Ultimately I didnt like the look so I tore it all off.
I think its ok to experiment because you can always start over!
4) Lastly I added a loop on the bottom so it was easy for my daughter to carry around with her.
I hope this inspires you to create some fun and fabulous fairy wands in your own home. And if you love girl fun crafts, you can also learn how to make a tutu hairbow holder or how to make a tutu before you leave!
Happy Crafting!
~Trisha
Like this post? Consider tweeting or stumbling in order to help others let loose on their inner crafty mom!