A long time ago I made a How to make a tutu tutorial. It's very popular and widely used but my images are small so this weekend when I was making one for my daughters Halloween costume, I wanted to update the images for those of you looking to make a tutu for some reason. Now at home DIY tutus are EASY.
How to make a no sew tutu
They require almost zero skill and even young girls can make them as long as you know what a slip knot is. A "no sew" tutu doesn't actually mean no sew in some cases. If you want to sew the waist elastic together, you wills till need to do that (as shown here) ,but if you want to get out of that, you can also supply some velcro with self-adhesive. Although depending on the weight of the final tutu, you still may not get out of using a needle and thread around the waist.
---
BEFORE YOU GET STARTED – BUY YOUR TULLE
Before you get started, you will absolutely need a ton of tulle.  These look best when the skirts are super full and you need to purchase tulle on a BOLT. Bolts can be expensive at the craft store, so I highly recommend you purchase a bolt (or two or three to mix colors) to make this craft.
Make sure you have your tulle ready for this craft because it takes a LOT. Buying it by the bolt is the smartest thing you can do.  It's pretty inexpensive on amazon and often with free shipping for less than half what you can get at the craft stores!
&
Ever Shine Tulle Bolt, 54
Craft and Party, 54
Ever Shine Tulle Bolt, 54
Tulle Bolt, Apple Green, 54
---
How to make a no sew tutu
Gather up:
Tulle (shown here is approx 50 yards of tulle)
Elastic
Needle/Thread
Extras like flowers, glitter, ribbons for decoration
1) First measure the waist of the person wearing the tutu. Then MINUS 2-3 inches from the elastic and CUT. You take off about that much because as you add tulle, the elastic stretches out and makes the waist larger. For example, if you are making a tutu for someone with a 22 inch waist, your elastic should only be about 19 inches.
2) To measure the tulle length, measure out how long you want the skirt to hang and DOUBLE it. If you want a skirt that is approximately 20 inches long, your tulle will need to be 40 inches long. Lay it out and cut until you have all your lengths of tulle done. This prep for your tulle is very important and will allow you to continue moving quickly while creating your no sew tutu.
Tip: Tulle comes in bolts and is already folded. Do not unfold the tulle from the bolt. Simply measure the length and cut, leaving your tulle doubled up. You can see an example of how to fold tulle for a skirt OR a tutu bow holder here on my video. This video was made for a How to make a tutu hairbow holder article, but the concept for folding is exactly the same.
3) Sew your elastic together on either side so it's a circle and place it around the back of a chair or something tight. An example is located here. Once you have your elastic done and your tulle cut, you simply SLIP KNOT it on. A slip knot is simply a loop in the middle, tuck behind the elastic and pull the bottom tulle through the loop and tighten.
The tighter you do your loops the more your elastic will stretch making your waist bigger. As you get closer to the end of filling up your waist, make sure you take it off and try it on the model so you can readjust the waist if you need to.
That's it! It's really simple and once you get the hang of your no sew tutu making, you will want them for every holiday and occasion.
Love working with Tulle? Try this Tutu Hairbow holder Tutorial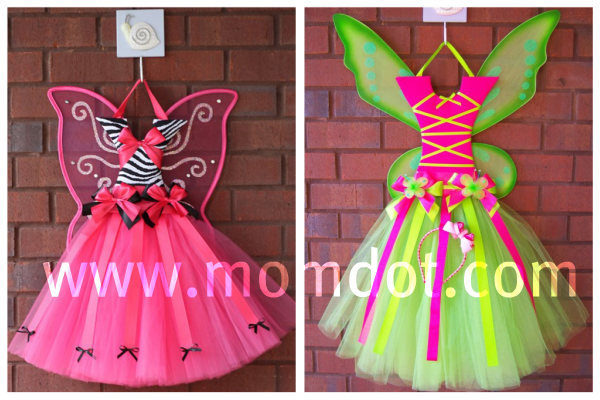 ---
Remember to grab your tulle! There are so many amazing things to make with it, so fantastic to have on hand!
emember,&
Ever Shine Tulle Bolt, 54
Craft and Party, 54
Ever Shine Tulle Bolt, 54
Tulle Bolt, Apple Green, 54
---