Instant Pot Lemon Cheesecake is a recipe that is so easy that you will opt for perfectly homemade every time! Top with whipped topping, lemon curd, or primped up with candied lemon slices. You won't mind tossing the no bake recipes when your Instant Pot
 does all the work.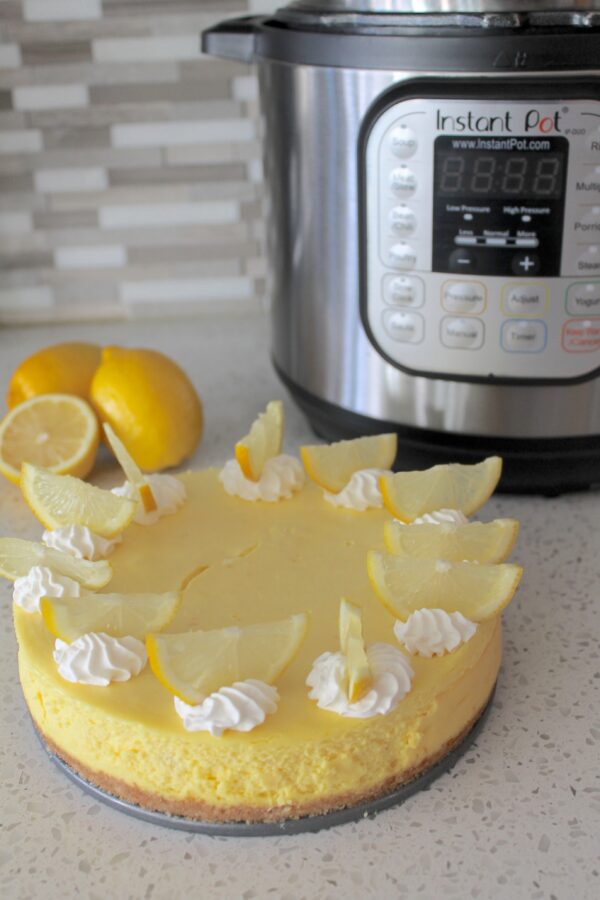 CHEESECAKE IS WORTH THE WAIT
Worth the wait, your pressure cooker can help you make a stunning and tasty cheesecake with just a little bit of prep. Because you are using your instant pot, you will need an instant pot cheesecake pan, otherwise known as a spring form pan, in the correct size.
The fresh crust with graham crackers makes the cheesecake, but do not be afraid of experimenting with other crusts like Oreo cookies.
Looking for another Lemon dessert?  Try our Lemon Oreo Truffles!
If you need some additional help, try our Pressure Cooker Guide!
Ingredients:
1 full sleeve (9 full size) graham crackers, finely crushed
3 tablespoons sugar
1/4 cup melted butter
2 bricks, 8 oz each, cream cheese, softened
1/2 cup granulated sugar
2 eggs
1/4 cup lemon juice
lemon zest of one lemon
10 drops yellow food coloring
1 cup water
Need:
PRESSURE COOKER CHEESECAKE IS EASY!
Cheesecake is wonderful no matter how you make it. No matter whether you are baking a no bake rainbow cheesecake, eggnog cheesecake, or a classic cheesecake recipe, there really is no wrong way to slice the cake. In my house, the richness of cheesecake makes it reign supreme as one of the most decadent desserts hands down. I also love how versatile it is for toppings and it stays pretty good in the fridge for a bit.
The problem is for many is that they want a traditional cheesecake but do not want to do the entire hours long process of slow baking. Fret no more! Due to the popularity of Instant Pot Pressure cookers, we have translated one of our favorite cheesecake recipes into an Instant Pot cheesecake recipe.
You're welcome!
Making Cheesecake TIP: Before you get started, many people recommend bringing your ingredients to room temperature. To be honest, I am too impatient for that, but if you want it to be perfect you may not want to skip this step.
Looking for other instant pot desserts? Try this Instant Pot Banana Bread!
HOW TO MAKE INSTANT POT CHEESECAKE
Mix finely crushed graham crackers, white sugar and melted butter together until coated well.
Press firmly into the bottom of a 6″ springform pan
 using the back of a spoon or a pastry tart shaper.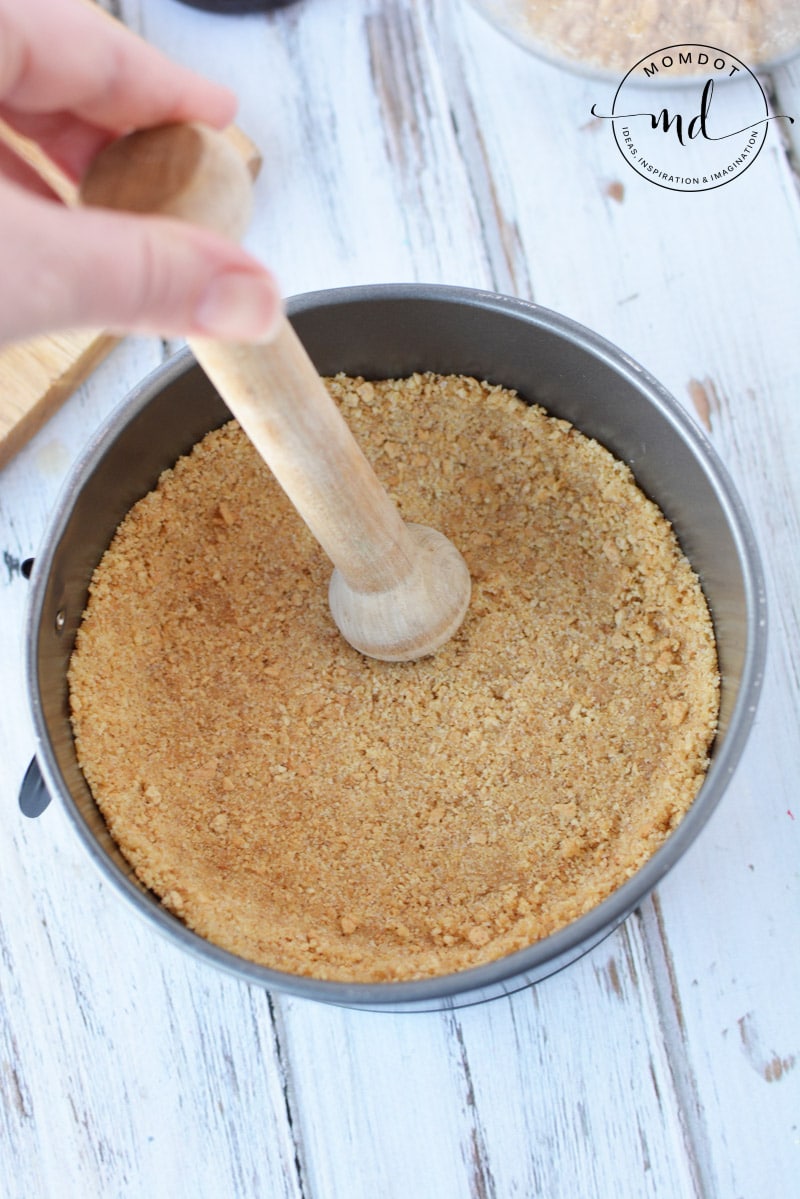 Place into the refrigerator.
Beat cream cheese in a mixing bowl until smooth.
Beat in sugar and mix well.
Add lemon zest, lemon juice and eggs, one at a time, beating well after each addition.
Stir in 10 drops of yellow food coloring until evenly distributed.
Pour onto prepared crust.
Cover the cheesecake with a single layer of paper towel.
Cover the paper towel with foil and wrap the pan until foil is snug.
Fold a 2 ft. piece of foil in half and place under the cheesecake pan.
Fold up the ends to form a sling.
Place the trivet into the bottom of the instant pot bowl and pour in 1 cup of water.
Using the sling, place the cheesecake into the instant pot.
Tuck in the foil sling ends if it extends beyond the top of the pot.
Close the instant pot lid, as well as the pressure release valve.
Set the instant pot to Manual, High pressure, for 35 minutes.
Release steam immediately, making sure you open the valve away from your face.
Remove foil covering and paper towel, and discard.
Allow to rest for 1 hour before placing in fridge to set for 4- hours, or overnight.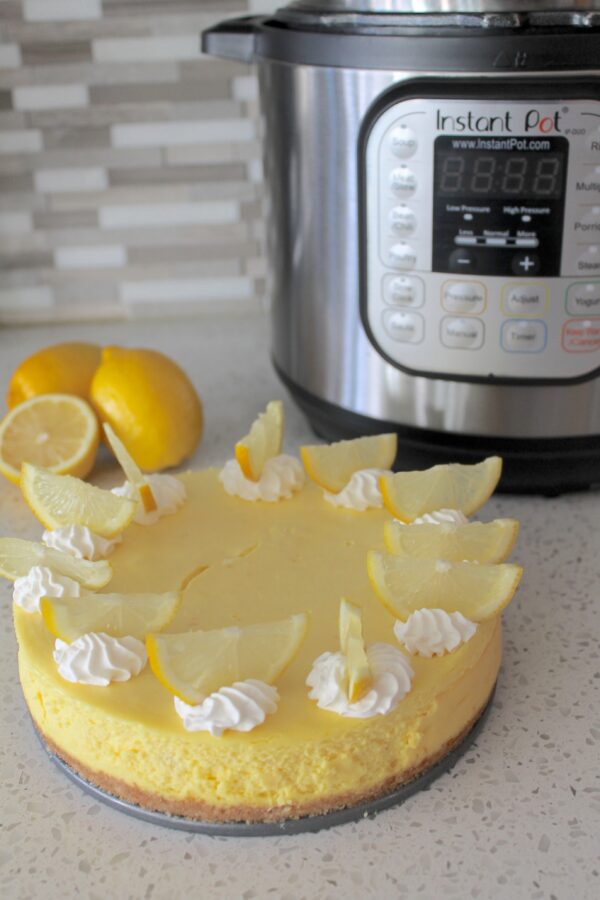 Instant Pot Lemon Cheesecake
Zingy Lemon Cheesecake, made in minutes not hours using your Instant Pot. Perfect for any, picnic, dessert, and occasion.
What You Need
1

sleeve

graham crackers

Finely Crushed

3

tbsp

granulated sugar

1/4

cup

butter

melted

2

8 oz.

cream cheese

softened

1/2

cup

granulated sugar

2

eggs

1/4

cup

lemon juice

1

lemon

zest

10

drops

yellow food coloring
Instructions
Finely crush 1 sleeve of graham crackers.

Add 3 tbsp. granulated sugar and 1/4 cup melted butter.

Mix well.

Press firmly into the bottom of a 6" springform pan.

Place in the fridge.

Beat cream cheese until smooth.

Add in sugar, lemon zest, and lemon juice until smooth.

Add in eggs, beating well after each addition.

Add in 10 drops of lemon juice.

Pour into springform pan over graham cracker crust, leveling smooth.

Place trivet in the bottom of the Instant Pot bowl.

Add 1 cup water to the bowl.

Cover the springform pan with a single layer of paper towel.

Cover with a layer of tin foil, pressing all sides down snug.

Fold a 2 ft. layer of tin foil in half to make a sling. Placing the covered springform pan in the center, fold up sides of sling.

Using the sling, place springform pan in prepared Instant Pot bowl, folding the sling handles down.

Place the lid on the Instant Pot and secure.

Pressure valve in the Sealing position.

Manual on High pressure for 35 minutes.

Immediately release pressure when finished.

Using sling, remove springform pan from Instant Pot.

Remove foil and paper towel, discarding sling, foil, and towel.

Allow to rest on the countertop for 1-hour before placing in the fridge to set for 4-hours, if not overnight.
Lemon is not just for dessert!!  Try these Lemon Chicken recipes, too!!