Did you know that this exists?
Um. You should.
To quote my husband, who ate the entire container of "caramel frappuchino" before I had so much as snapped a picture, "this is the best ice cream I have EVER had."
And how.
Some how Starbucks has captured what makes their coffee flavors so fantastic and had it frozen into little heavenly bites on your spoon. Soooooooo I was wondering if I could make the "best ice cream he ever had" even better. That answer it turns out is NO, but I can make other things taste better by adding Starbucks ice cream to it…so here we go.
Java Chip Frappuchino and Ganache Brownies
Ingredients
Starbucks Java Chip Frappuchino ice cream
brownie mix
heavy whipping cream
butter
1 bag semisweet chocolate chips
1) Make brownies as directed on box. You can always use a homemade recipe if you have one as well, but no matter what I do, I always prefer boxed brownies so that is the route I went. Make sure you use a pan that will leave you with a lot of room after baking. I used loaf pans because they have high sides and split the batter into two loaf pans. Once done, let cool completely.
I found it easiest to put parchment paper on the bottom to help with removal. The last thing you want is the brownie sticking to the bottom.
2) Make ganache. There are many ways to do this. The way I did it was take 1/2 cup heavy whipping cream and heated it up on stove. I brought almost to a slow boil and added butter. Then I took off heat and added 1 cup of semi-sweet chocolate chips and stirred with wooden spoon continuously till completely mixed.
This took approximately 3-4 minutes of constant stirring.
3) Soften up your ice cream in the microwave for about 10-15 seconds and then spread on the top of brownies. Don't put in too long or it will melt completely!
Now pour on your hot ganache  and it will melt the ice cream and mix together.
4) Pop in freeze for a few hours…cut and enjoy!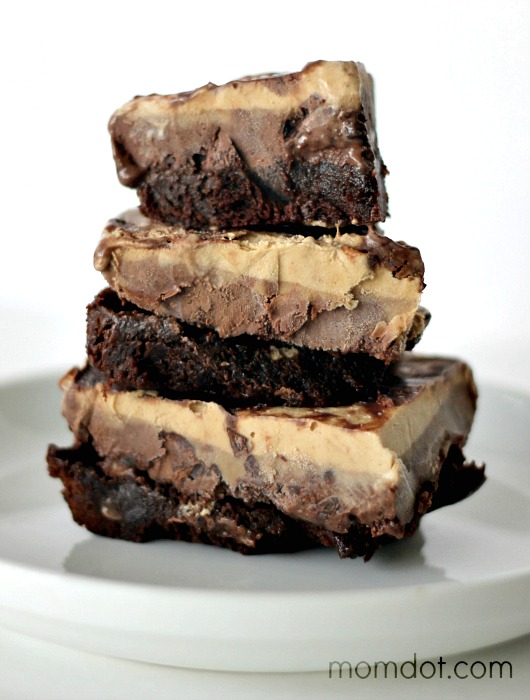 As you can see, the ganache floated more towards the bottom and while it melted the ice cream, it did all harden to three definable layers of yummy goodness.
5) Guard your plate….or this happens when you walk away.
~trisha
———————————————
*I was provided Starbucks ice cream to facilitate a fun recipe.