Free fire safety scavenger hunt to help your family get on track with safety while making it fun for kids to find escape routes and fire safety equipment in your home. Scroll below to download this printable that could help your kids be prepared in the event of an emergency.
Fire Safety Tips
It's been 9 years since our house fire but I still remember it better than almost any other event in my life. I know where I was sitting when it happened, I can replicate the fear when I think about it, and I understand how easy it is for things to get out of control. My story is simple.
My husband and daughter had gone out to the mall to do some shopping and I was at home working on a craft project and making dinner. I was getting all house wife and making homemade chicken fingers, the kind you fry up on the stove top. Like any other time, I filled my frying pan with oil, dipped my chicken in flour, and laid into the oil. However, this time I did two things different.
First, I put a lid on my frying pan. In my head I was trying to prevent the oil from splattering out and causing a fire. And two, I walked out of the room. It was less than 5 or 6 minutes later, that while sitting on the floor of my living room, I saw a fireball whoosh through the kitchen and dining area.
I found out after the fact that they determined the condensation from the lid inside the frying pan built up and splashed into the oil, causing pressure to shoot off the lid and catch my cupboards on fire.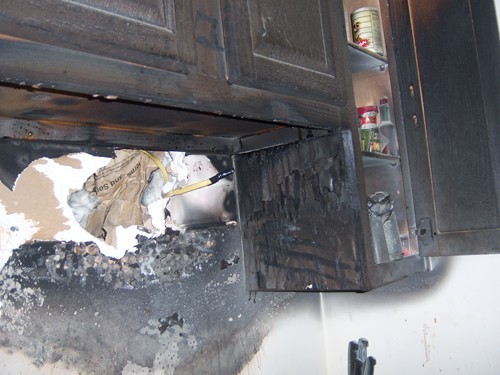 What did I do? I ran in there looking, panicking, trying to FIND the fire extinguisher. We lived in base housing and we had gone through where they put the fire extinguishers but at the time only my husband was able to attend. He never thought to share the information with me and I never asked. After all, when were we gonna have a fire? After about 30 seconds of trying to find the fire extinguisher with no luck, I ran out of the house and into a neighbors' home.
The neighbor came rushing over with his and put out the fire. All of this took place in under 5 minutes but by that time, the soot had covered nearly every belonging in our home and had completed over $20,000 in damage.
5 minutes.
The fire department showed up not long after and I was treated for smoke inhalation, they got all our pets out of the house and we spent a month living in a hotel with 5 animals and a 4 year old.
But we were safe. And it was just stuff.
Thankfully we were covered by renter's insurance (GET IT!) and no one lost a life. But my ignorance on fire safety could have cost us a lot more.
Home Fire Drill Day
Home Fire Drill Day is coming up on October 14th and MomDot is partnering with Nationwide. On this day, families across the country are encouraged to practice their home fire drills, ensuring that American families, especially children, know the escape plan and are prepared in the event of a home fire.
This is the time where parents can check and upgrade smoke detectors, carbon monoxide detectors, and fire extinguishers. It's also the perfect time to talk about what happens in the event of a fire in your home and all the exit points.
The Nationwide's Make Safe Happen program is helping out by providing this fantastic safety plan printable!
Using these tools are one of the many ways you can help your family be prepared but nothing prepares them more than actually having a home fire drill. Please join me October 14th where we all do a little better for our home and our children by providing them solid tools to make quick decisions in the event of a fire.
Head to HomeFireDrillDay.com to learn more!
Fire Safety Scavenger Hunt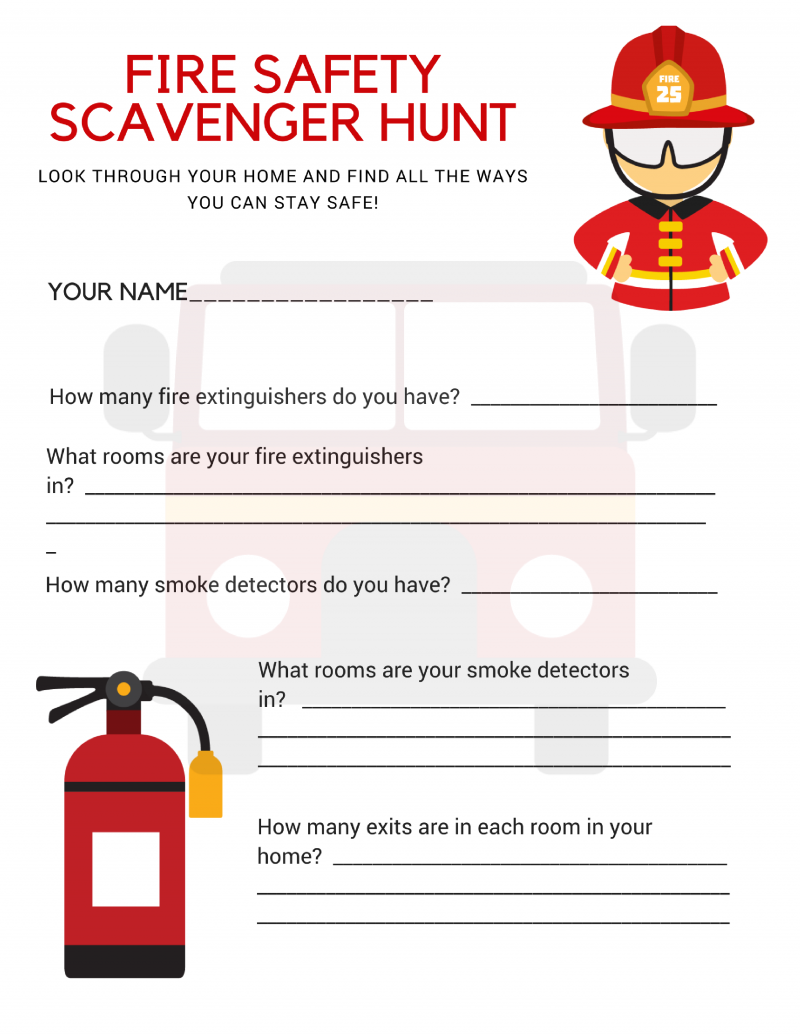 It is absolutely vital that you create a fire evacuation or emergency plan and that you regularly practice your plan.
Your kids are doing it at school – even preschools regularly practice fire drills – and you should be practicing at home, too. Think about it, if they can evacuate 50 or more tiny, pre-speech, pre-walking people from a building in enough time to keep them safe, you should be able to do the same in your home and it could save your life.
Download my free FIRE SAFETY SCAVENGER HUNT PRINTABLE to help kids become familiar with your home!
Asking simple questions like how many smoke detectors and how many fire extinguishers can help them understand the layout of the home.
It's also a great reminder for parents!
I realize that some parents might be holding back on discussing fire safety to protect their kids or keep them from being afraid. It's the same reason you don't let them watch the evening news, and you don't talk about current events over the dinner table.
But knowing what to do in the event of a fire is life-saving information. You don't not tell your kids about the dangers of playing in the street for fear of scaring them, do you? No!
You're constantly talking about the horrible and instant deaths they'll experience if they get hit by a car running after their ball in hopes of preparing them. You can also help identify problems in your home regarding fire safety by taking the time to look for them!
Head over and download my free fire safety hazards and solutions printable here.
Fire Safety for Kids
After you've spent some time rehearsing the plan in the abstract and reviewing the procedures, it's time to practice. According to the Red Cross, 62% of us believe we will have 5 minutes to escape a burning building, 18% believe we will have at least 10 minutes. In reality, the window is about 2 minutes.
You and your family members have 2 minutes to evacuate. Remember, in my situation, it took less than 5 minutes to have complete destruction and my kids were not even home.
Fire Safety Coloring Sheet
The only way to be sure all your planning and endless discussions are having any effect is to run a fire drill at home. The first few times, you might want to give advanced warning about the fire drill so everyone is somewhat prepared. Kids should know where the nearest exit is, leave everything behind, and meet in the designated area.
Eventually, you'll work up to unrehearsed drills at various times of the day. While I've personally rehearsed what to do in the event of a night time fire several times, what would happen in the middle of the day when we're spread out all over the house, can be very different.
Practice your drill regularly until you can get everyone out in 2 minutes or less.
Then have regular follow-ups to make sure it stays fresh in everyone's mind. You might feel silly hauling out of your house and setting off that embarrassing alarm, but it can save your family member's lives.
DOWNLOAD FREE FIRE SAFETY COLORING SHEET HERE
Using these tools are one of the many ways you can help your family be prepared but nothing prepares them more than actually having a drill. Please join me October 14th where we all do a little better for our home and our children by providing them solid tools to make quick decisions in the event of a fire.
Head to Make Safe Happen to learn more!
This is a sponsored conversation written by me on behalf of Nationwide Insurance. The opinions and text are all mine.