Make Safe Happen in Your Home
It won't be too long from now when we'll be changing our clocks and messing up everyone's sleep for a couple of weeks. On the day of the time change, what else will you remember to do? I sincerely hope you'll be checking the batteries on your smoke detectors. While most adults I know are vaguely familiar with this memory device, I started to wonder how many of us actually do test our smoke alarms twice a year at the time change.
You can download a smoke alarm check list here on Nationwide's Make Safe Happen – Home Fire Drill website. How many practice other fire safety tips in their homes? As it turns out, we're doing a pretty poor job protecting our families from a home fire – the place where 90% of fire related deaths will take place. We can do better, and we really must. Having personally experienced a fire, I can tell you it was a very panicked situation.
A few times of year in most schools and offices, the alarm goes off and everyone begrudgingly tramps outside for 15 minutes, gets the all clear, and heads back in. Most everyone can tell you exactly what the fire alarm sounds like and exactly where to exit the building and go to. But at home? Now that is a different story.
At home if the alarm goes off we all wake up in a cold sweat panicking about grabbing the kids and pets and getting out. Only about 47% percent of families have created a fire safety plan, and only 55% believe their children would know what to do if there was a fire. That statistic is simply just too high.
Commit to Fire Safety
To inspire everyone to be safe and to be prepared in the event of a fire-related emergency in their home,, Nationwide's Make Safe Happen is partnering with Nationwide's Children Hospital, the National Fire Protection Association (NFPA), the American Red Cross, and other Advisory Council members for Home Fire Drill Day. If you've been putting off developing and practicing your fire safety plan, circle October 14th on your calendar as the day you finally get prepared.
If you're one of those diligent families, who are assured of your preparation, designate this day for one of your regular drills. By visiting the MakeSafeHappen.com, you can find additional resources about how to prepare for and talk about fire safety in your home, and also download the Make Safe Happen app.
Not only can you learn about fire safety, but a wide range of other hazards lurking in your home. You cannot entirely prevent a fire in your home, despite your best efforts. However, you can be confident that your family could evacuate should the worst happen.
Don't delay any longer – take control of your family's safety, regardless of the season.
Don't be silent about fire!
Older kids can draw a map of the house, and younger ones can help color and identify the rooms.
Show them where the exits are on the map and get out some toy characters or Lego mini-figures to demonstrate which exits are closest to the various rooms in your house.
Talking about your evacuation plan is also a great time to talk about clutter. At least one of my kids' rooms is an absolute disaster at any given moment. There are toys and clothes and all kinds of hazards laying everywhere.
Once, I refused to tuck my youngest in bed until after he'd cleared his floor – the entire path from door to the bed was engulfed in toys, clothes, and really, who knows what. While on the best days this clutter might seem like just an annoyance, it can be life-threatening in case of a fire.
Teach your kids tidy habits and how to keep their rooms clear. Not only will it be easier for them to evacuate, but items scattered on the floor can give a fire additional fuel, stealing precious seconds for you to get out. You'll also want to talk about leaving items behind.
This is a difficult one, especially for lovies and other precious items. You'll be tempted yourself to go back for your laptop full of family photos or a file of important documents. It is essential kids understand, get out and don't take anything with you. Fires are quick and "things" can be replaced.
Helping kids understand and identify hazards and solutions on fixing them is an important step to having them understand their environment. Download my free fire safety printable by clicking the image below and going over this with your kids!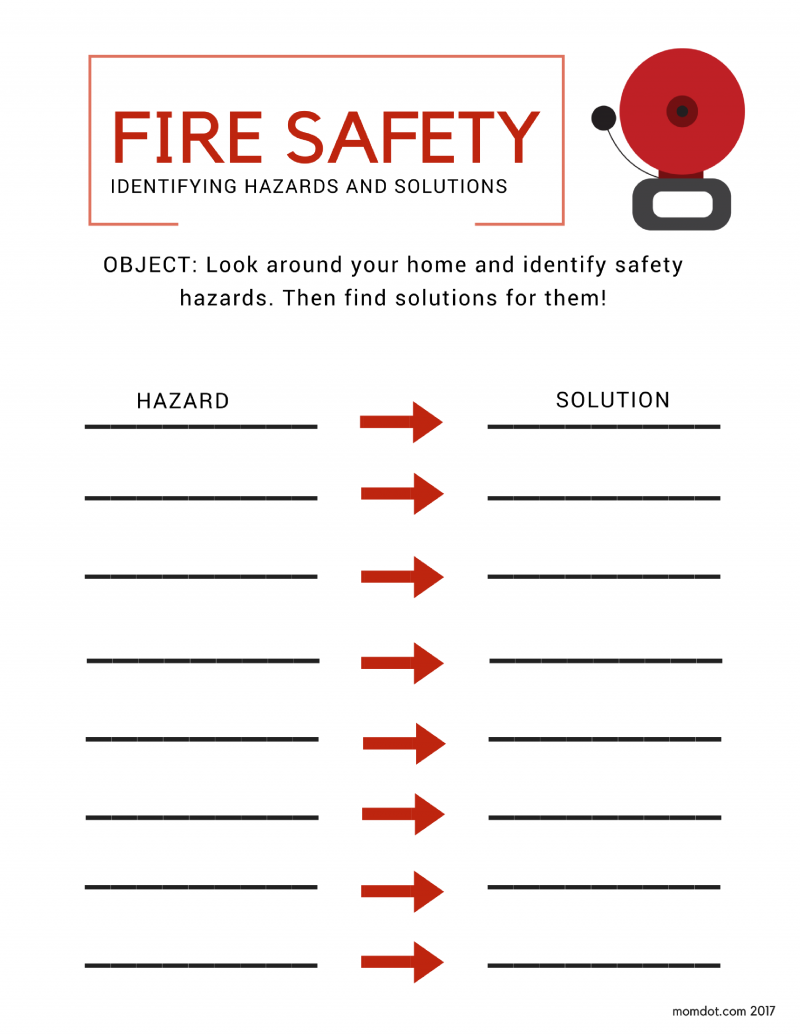 Another important topic is to talk about how many exits are in each room.
If you have a fire ladder you want kids to be able to use, show them how to use it. Talk about where your family will meet in the event of an evacuation or emergency.
Choose a meeting place and be certain there is no doubt where the meeting place is.
Is there a specific tree in your front yard?

A mailbox?

A lamp post near the street?
Quiz kids on the plan periodically until you're certain they have it down. Be certain.
Have the right equipment
While you're doing your drills, you'll obviously be testing your smoke detectors, which is great. However, many older homes don't have the number of smoke detectors that might be required with new fire codes, or they are not in the proper location.
At a minimum, you should have detectors inside each bedroom and one on each level of your home, near the main living areas. However, consider areas like utility rooms, laundry rooms, and garages – places where fires are likely to start but unlikely to have dedicated smoke detectors. If a fire starts in your garage, you may not notice for some time, but the damage to the house can make it difficult or impossible for those in bedrooms over a garage to get out in time.
Consider upgrading to smoke detectors that include both photoelectric and ionization sensors. Whereas photoelectric sensors use light to detect smoke, ionization sensors rely on chemical reactions to activate the alarm. Because smoke disrupts metal plates in the detectors and activates the alarm, less smoke is required to set off the detector.
If you own your own home, you should strongly consider having your smoke detectors hard-wired. If you're regularly checking your batteries, the likelihood of a failure is low, but this can remove most of the fear as to whether your detectors are functional or not.
If you would like a free fire safety scavenger hunt, head over to my other post to download!
This is a sponsored conversation written by me on behalf of Nationwide Insurance. The opinions and text are all mine.
This is a sponsored conversation written by me on behalf of Nationwide Insurance. The opinions and text are all mine.