If you are here randomly, you may be wondering where the other tutu hair bow holder instructions are. This is the 3rd step, so you may have to go backwards to one of these posts:
This is step 3, finishing work to include details and your back.
Last we left off was #15 doing the middle of the skirt. On we go!
16) At this point the main part of your bowholder is complete. What you want to do now is some finishing work. Initially I said that a few creases on the front were not a big deal for me because I knew I would use some tricks to cover them up. If you are going to keep your bodice plain, just make sure you work on that a little longer so it has no mistakes on the front.
For the middle, my two favorite ways to do the middle part are three ribbons on the front and flowers. In this case, I used flowers. I just buy the ones from Hobby Lobby and pop the tops off and hot glue down.  I prefer Gerber Daisies in the middle because they seem to have them in lots of colors and have good coverage on a bow holder.
17) I also love a criss cross bodice. Take two equal length satin ribbons and hot glue the ends on the bottom and flip over and cross and glue in the back. I dont bring my ribbons all the way over and around because its a waste of ribbon, so I just double back. You can use this to cover up creases fairly well by strategically placing ribbons over those spots. The criss cross has a very practical purpose as well by allowing your smaller tinier clips to be placed at the top.
18) I also always add a shoulder bow. Just create your bow with your satin ribbon. I prefer matching double bows to pull it all together.
19) Now you are ready to do your back. (Tired yet?)
For this part you need a piece of felt that goes about 2 inches all the way around your bodice. The easiest way to do this is to lay your felt onto the back of your bodice and TRACE IT with a pen, and then cut out. Your piece will be bigger, obviously, but will give you a starting point.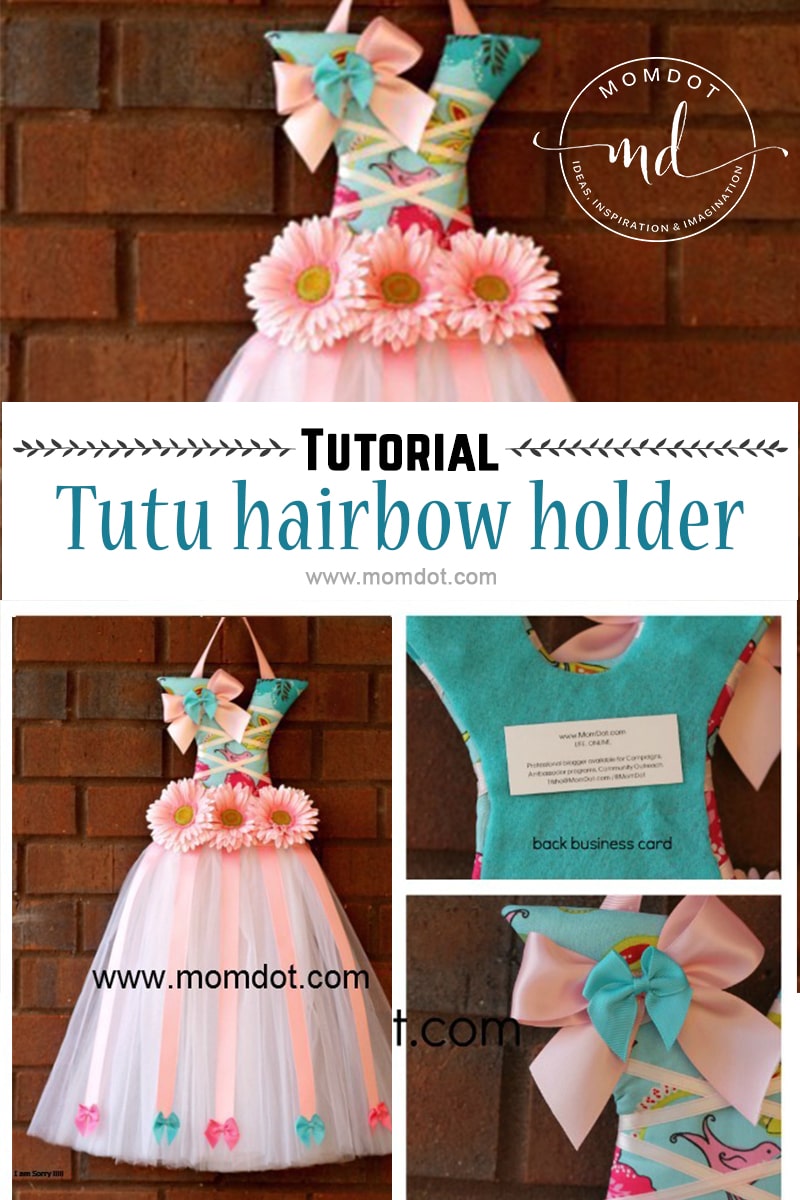 20) Starting with the neckline, hot glue around the edges to seal up the bodice. I always start in the neck area, work across the shoulder, then do the other neck area and shoulder. This will leave you with some excess felt. VERY CAREFULLY start to trim around the back and then glue down. Do one side at time. If you trim too much, felt as a tiny bit of give and you can pull it, but heed my warnings on this. Take your time trimming up. Once each side is done, you can trim the bottom in a straight line.
That's it!! Now all you have to do is hang and enjoy.
The other parts of this post:
NOW AVAILABLE: Go here get your FREE DOWNLOAD for the Tutu Bodice Pattern
---
Want to make more? Get your tulle and start creating!
These look best when the skirts are super full and you need to purchase tulle on a BOLT. Bolts can be expensive at the craft store, so I highly recommend you purchase a bolt (or two or three to mix colors) to make this craft.
Make sure you have your tulle ready for this craft because it takes a LOT. Buying it by the bolt is the smartest thing you can do.  It's pretty inexpensive on amazon and often with free shipping for less than half what you can get at the craft stores!
Stock up here at the best prices I have found.
&
Ever Shine Tulle Bolt, 54
Craft and Party, 54
Ever Shine Tulle Bolt, 54
Tulle Bolt, Apple Green, 54
---
If you liked this tutorial, please consider sharing the link on facebook, stumble, or twitter for others to enjoy and learn to create! Want to learn more? I love tulle and if you do too learn How to Make a Tutu
If you create a bowholder based on my tutorial, I would love to see it so email me your pictures! (trisha (at) momdot.com)
Browse more bowholder style inspiration.
~trisha
I am so excited if you love this post and want to share this tutorial with your audience. The rules on this post is that you may use (1) photo and a link back to the article with proper credit. You can email me at [email protected] if you would like to share any other part of my content on your site.